Want healthy plants? Start by building healthy soil. Your soil health can affect your plant's productivity, disease and pest resistance, and more. Use these ten strategies to improve your soil and build a healthier, more productive garden.
1. Start composting.
Compost enriches the soil and adds structure and beneficial fungi and bacteria. It's an excellent amendment for any garden and easy to make yourself. Check out our post, Black Gold: Making Compost, for easy directions to get started in your backyard.
Those without yards can consider vermicomposting or check with community gardens or city compost facilities to bring kitchen scraps to and access aged compost.
2. Grow cover crops.
Cover crops are not just for big farms! Cover crops help improve the soil in many ways. Some are "nitrogen fixers" like clover and vetch and add nitrogen to the soil as they grow; other crops like buckwheat help quickly build up organic matter and make excellent mulch.
All cover crops are a good way to cover the soil. They shade it holding in moisture, provide habitat for beneficial insects and pollinators, and their roots hold the soil preventing erosion.
You can read more about using cover crops in your garden here.
3. Get a soil test.
Testing your soil can help you make the best choices for your garden, saving you time and money. You'll learn what nutrients may be missing and whether you should amend your soil's pH. Check out Understanding Soil Tests for a more in-depth explanation.
You can purchase at-home soil tests at most garden centers or send your soil to be tested. Many universities and state and county extension services offer very affordable soil testing.
4. Understand the soil food web.
The soil food web is similar to a "food chain" but is non-linear. It's made up of plants, animals, and all the organisms in the soil from visible insects and fungus to microscopic bacteria. A healthy soil food web is key to a healthy garden and ecosystem. Learn more by reading our post, The Soil Food Web.
5.
Reduce erosion.
Not everyone is blessed with a large, perfectly flat garden site. Even if you are, wind can still wreak havoc on exposed soil. Don't lose soil to the effects of wind and water.
If you live in a windy area, utilize windbreaks. These can be fencing, shrubs, or trees. Even young shrubs and trees can make a surprising difference.
To prevent water erosion, you should try to keep your soil covered. Use cover crops whenever possible and keep the soil around plants mulched. Permanent pathways with a cover crop like clover are ideal.
If your property is sloped, look into permaculture methods like planting on contour and building swales. These can help you stop erosion and collect water for your plants!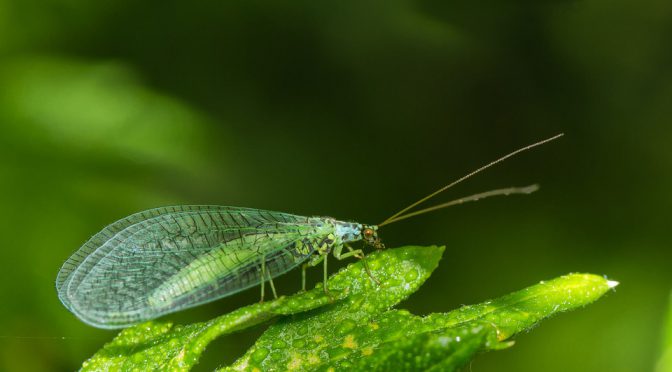 6. Provide habitat for beneficial insects.
When people hear beneficial insects, they often think of bees, butterflies, and other pollinators. While you should strive to help these species, there are many more that also play key roles in keeping your garden healthy. These include many predatory species such as wasps, beetles, and mantises.
You can support beneficial insects in many ways. Using cover crops and mulch, as I mentioned above, helps provide habitat as does planting native species and leaving dead material in your garden (unless it has a pest or disease issue). You can also create your own habitat by building an insect hotel.  Of course, it's also important to avoid using pesticides. Even organic pesticides can spell doom for beneficial insects as they usually affect more than one species. 
7. Use mulch.
I've mentioned mulch a couple of times now, but it's incredibly helpful in the garden. It helps to block weeds, keep the soil cool and moist (or warm in the winter), and provides structure and organic matter as it breaks down.
Check our post, Mulch Ado…, to learn more about why mulch is important and how we use it at SESE.
8. Rotate your crops.
Whether you have an acre in garden or just a tiny little plot, you should rotate your crops. Rotating crops prevents pests and diseases from building up the soil where you grow a particular plant. It also helps to reduce nutrient depletion. One year you grow heavy feeders like tomatoes or corn, and the next, you grow nitrogen fixers like beans and peas or a cover crop.
Need advice? See Planning Crop Rotation by Plant Family.
9. Amend your soil.
As you'll learn from your soil test, it is sometimes necessary to add amendments to your soil. These amendments can be used to change the soil's pH like lime, wood ash, or peat moss. Other amendments allow you to add the macro and micronutrients that are necessary for plant growth. These include manure, compost, eggshells, greensand, and fertilizer.
Learn more about amendments and common nutrient deficiencies in plants here.
10. Reduce or eliminate tilling.
Rototilling may seem like a crucial part of gardening, but many farmers, gardeners, and scientists have discovered that it's possible to grow a more productive and more environmentally friendly garden by ditching the tiller.
Going no-till reduces compaction and keeps the soil structure intact. It allows you to use plant and cover crop residue as mulch that will decompose as it would in a natural ecosystem. It also allows beneficial bacteria, insects, and fungi to thrive in the soil. 
Follow these tips to build healthy soil in your garden.