This time of year is all about planting. We're transplanting cabbages and broccoli this week in our zone, but soon it'll be time to start setting out tomatoes, peppers, and other warm-weather crops. While transplanting is relatively straightforward, there are a few things you can do to ensure your seedlings grow successfully.
Hardening Off
The first thing you need to do is harden your seedlings off. Seedlings accustomed to the relatively stable conditions in your home just aren't up to coping with the outdoors just yet. For best results, move your plants outside for a few hours each day, gradually increasing the time over a week or two. This process allows your seedlings to become accustomed to the sunlight, wind, outdoor air temperature.
Prepare Your Soil
Transplants do best when they have fertile, soft soil to grow in. You can prepare your bed by incorporating a couple of inches of finished compost and loosening the soil with a garden or broad fork. It's also a good idea to dig a larger hole than your transplant needs and fill in around your plant with compost.
Choose an Overcast Day
Even though you've hardened off your seedlings, it's best to plant them on an overcast day. Transplanting is a bit stressful for plants, and a lot of heat and sun can make it harder for them to recover quickly. If you have to transplant on a sunny day, you can use shade cloth or similar material to create a bit of temporary shade.
Water Before Planting
Ensure that your seedlings are watered well before planting, preferably paying extra close attention starting a day or two ahead of time. Dry seedlings will have a more difficult time recovering from transplant shock.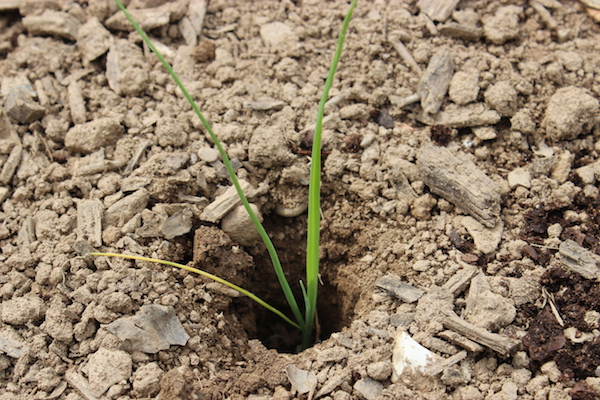 Gently Break Up Roots
If you notice that your transplants are root bound, meaning the roots have formed around the container's inside, it's a good idea to break them up a bit gently. Gently pinch apart the bottom and sides of the roots in a few places. These breaks will encourage the roots to grow outward.
Proper Planting
For most crops, you should plant your seedlings so that the soil is at the same level as it was in the pot. However, tomatoes will grow roots from farther up their stem, so it's helpful to buy them deeply. You can plant tomatoes so that their first set of leaves is just above the soil (if the first set is yellow or dying, remove it and plant up to the next set). Another exception is leeks which you should plant in a hole to create the nice white, blanched stems.
You can also give your plants a bit of extra help by creating a small basin around your transplant. The basin will help catch and hold water while the plant is young.
If you're using peat pots or other pots that you plant into the ground, it's essential to avoid leaving any sticking up. You may need to tear a bit of the top off the pot. Leaving any material such as peat pot or newspaper sticking out into the air can wick moisture away from the plant's roots.
Press the Soil in Gently but Firmly
Once your plant is in the hole, you should gently but firmly press the soil around it. If you don't press the soil in, you may leave air pockets around the plant, preventing root growth.
Give Your Plants a Boost
After you've got your transplants in, you'll want to water them. If you can, it's best to provide extra nutrients with the water. Liquid kelp or seaweed liquid fertilizer is excellent for this. You should follow package instructions, but you typically only add a tablespoon or two to every gallon of water. Alternatively, you can use mild compost tea. Water at the base of the plant and avoid pouring all over the leaves.
It Will Take Plants a Little While to Take Off
Don't be worried if you don't see a lot of new growth quickly. When you first plant your seedlings, they'll be working hard to establish healthy root systems. This will happen before you get to see any foliar growth. However, once their roots are established, you should see good growth.
Spring planting is a fun time of year for many gardeners. It's good to be out in the garden finally and starting to see plants on their way. Make sure that your seedlings transplant well this year by using these simple tips. Getting your plants off to a good start can help ensure a good harvest.