I'm a firm believer that having a good, productive garden is a lot more about hard work than having a green thumb. That being said, there are some things I've learned along the way that I wish someone had told me from the start.
Use supplemental light when starting seeds.
Popping your seed trays into a sunny window just won't cut it. You'll end up with weak, leggy seedling straining for more light. Use supplemental light and keep it a couple of inches above your plants. You don't need fancy grow lights; old shop lights will do! Need more advice? Here are 8 Common Mistakes to Avoid When Starting Seeds. 
Make room for flowers.
When I started my first garden, I didn't plant any flowers. After all, why waste space and effort on something you can't eat? I like to think gardening has helped me grow a bit wiser, and now I always make room for at least a few. Flowers are beautiful, and they help attract beneficial insects which pollinate plants and kill pests! Plus, if you want to maximize their utility, you can plant edible flowers.
Those little tomato cages they sell at the store are useless.
Your tomatoes will outgrow and topple those dinky little wire cages, I promise. Save yourself some money and disappointment and use a different trellising method. You can use fencing to create your own larger, sturdier cages or use a tried and true method like the Florida weave. Check out our post, Vertical Gardening: The Beginner's Guide to Trellising Plants for more ideas and advice.
There's a difference between open-pollinated, heirloom, hybrid, and GMO.
When you're new to gardening, all the seed-related jargon can be a bit confusing. At Southern Exposure, we carry, almost exclusively, open-pollinated varieties. Open-pollinated means that a variety will "breed true" and produce a reliable seed crop year after year so long as it isn't crossed with another variety. At SESE, we believe that all gardeners and farmers should be able to save seed if they so desire.
At Southern Exposure, we define heirlooms as open-pollinated varieties that date to 1940 or before. These varieties have withstood the test of time and have been selected over years and years for incredible flavor, disease and drought resistance, and other helpful features.
Hybrid seeds are the careful cross between two specific varieties. This process has to be completed each year. While hybrids aren't our favorite because they don't allow growers to reliably save seed, having a few in your garden isn't the end of the world either. We carry hybrid sweet corn because many market growers prefer it for its uniform size and maturity.
GMO seed is seed that has been genetically modified in a lab. The use of GMO seed in the United States is widespread among large industrial farms growing corn and soy though other crops are grown as well.
Get a soil test.
You'll save yourself a lot of trouble by having your soil tested. You can purchase home test kits at most garden supply shops, which do a decent job. You can also send your soil in to be tested. Check with your county or state extension agency or a local college with agricultural programs. Most offer affordable, if not free, testing.
Once you've had your soil tested, you'll know what amendments you need to add. Check out our post Understanding Soil Tests.
You'll save a lot of money starting your own seeds.
Buying transplants gets expensive quickly. If you have a good-sized garden, hope to preserve food, or are growing for a family, it's worth starting your own tomato, pepper, eggplant, broccoli, cabbage, cauliflower, and more indoors.
Always put up a garden fence.
Even if you've never seen so much as a squirrel in your yard, the local wildlife will find your garden. You'll wake up one morning to what was carefully tended rows of carrots, beans, and cabbages mowed off by the local animals.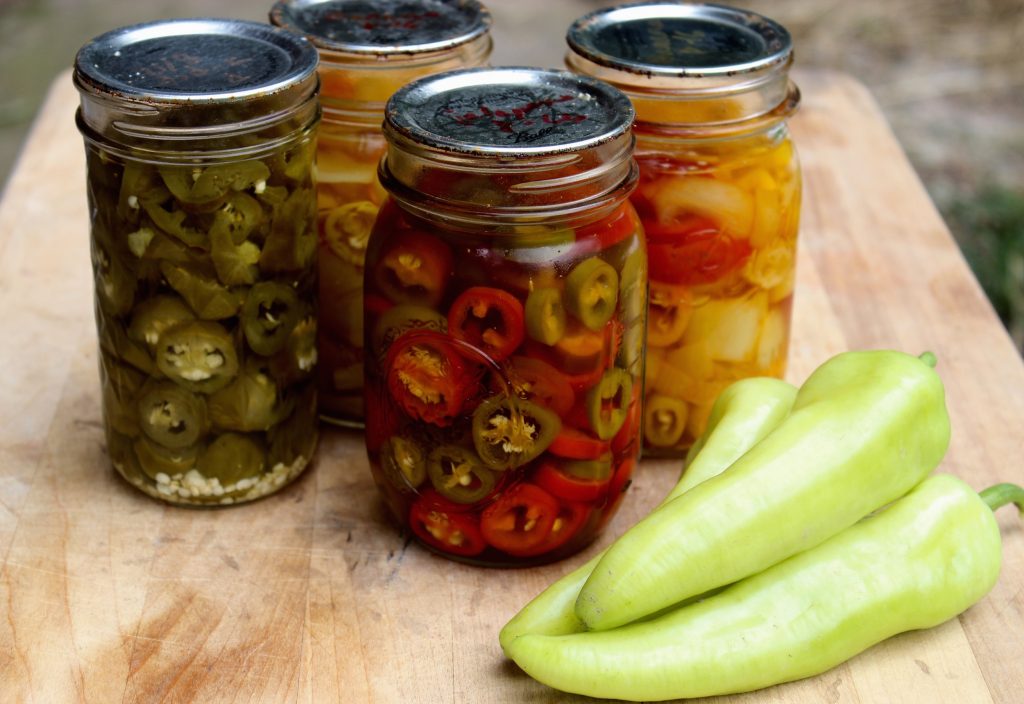 Preserving vegetables isn't complicated or dangerous.
I was anxious that my homemade pickles could kill someone. I also worried that I would be spending hours in the kitchen over a hot stove. Thankfully, safely freezing, canning, drying, and even fermenting vegetables can all be done safely and easily. You also don't have to can 100 pounds of tomatoes because your grandmother did (unless you want to and then go for it). You can do all kinds of preserving in small manageable batches.
If you've got extra produce, give it a try. You'll find a few recipes here on the blog, or the Ball Fresh Preserving site is an excellent resource.
Buy canning supplies ahead of time.
Especially during the pandemic, canning jars and other supplies like vinegar, lids, and rings can be in short supply during the height of the season. If you're hoping to do a lot of canning, it's prudent to buy supplies ahead of time.
Gardening will make you a vegetable snob.
This sounds bad, but it probably isn't. Even if you're new to gardening, you've probably heard someone talk about just how amazing a homegrown, sun-ripened tomato is compared to the watery, mealy store-bought ones. What I quickly learned is that that is true with all vegetables. From beets and carrots to lettuce and collards, once you've had the homegrown version, what's available at your local supermarket will never taste as good.
Perennials are your best friend.
Perennials are those plants that come back every year without you having to replant them. They're often some of a garden's earliest producers too. Crops like rhubarb, asparagus, and lavender are a joy to have in the garden and often require less effort once established.
You can learn a lot about what will do well in your garden and when to plant by understanding your hardiness zone.
We have a whole post about this, but basically, each area of the United States has a different hardiness zone depending on its climate. Each hardiness zone has different first and last frost dates and typical summer temperature highs and winter temperature lows. Your hardiness zone will determine what perennials you can overwinter, when you should start seeds, when you should transplant out, and when you should expect to pull your last crops before the fall frosts.
Ask the locals.
Find out what people are growing in your area and what they struggle with. If everyone on your road has excellent luck with a particular type of tomato, it can be a great starting point, even if there are other varieties you'd like to try too. Other local gardeners will be able to help make your first garden successful by recommending varieties that work well in your area.
Some of these 13 points were tough lessons for me in my first year or two of gardening. Hopefully, keeping these in mind can help you have a happy and successful season.