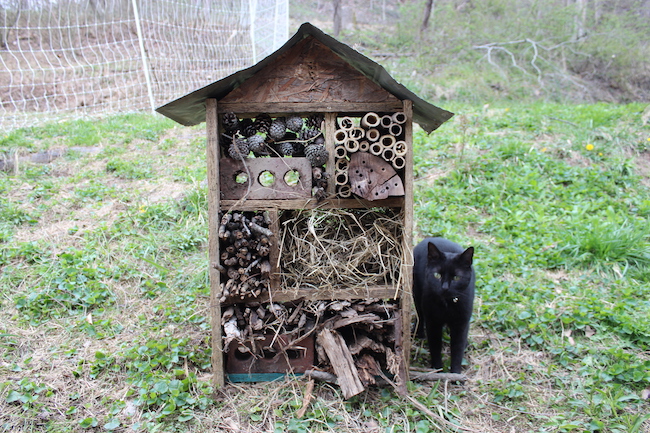 Insect hotels are an easy way to create habitat for beneficial insects in or near your garden. It's basically the same concept as a bird house but for bugs instead. You can make yours to help attract solitary bees, wasps, predatory beetles, lacewings, hoverflies and more. These insects play an important role in your garden's ecosystem, pollinating plants, and feeding on pests. 
To get started I'll discuss the insect hotel I made as an example. It is made entirely from scrap and natural materials. The outside is scrap plywood and tin and the compartments are filled with bamboo, a log with drilled holes, pine cones, sticks, bark, hay, and bricks. What you make yours from is up to you. You can utilize what you have to create something fairly rustic like I did or get real fancy.
Materials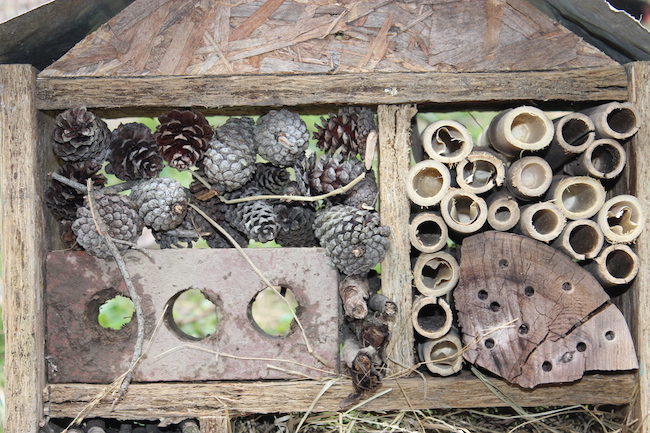 The bamboo and logs with drilled holes were added with solitary bees and wasps in mind. They both use or create holes, frequently in woody material, to lay their eggs. Predatory beetles and hoverflies can find places to hide and over winter among the pine cones, sticks, and bark. The hay provides good habitat for lacewings and the bricks add larger holes for spiders and other insects to use.
The most important part is add a mix of materials. Think about all the crevices and spaces you normally find insects in and mimic these in your design. If you'd like to attract a specific insect to your garden you can also search for its habitat preferences. Does it like cool damp places close to the ground? Or sunny, dry places up high?
It's okay if your insect hotel is completely different from the one I created. Just as there's a wide variety of insects that could use a helping hand there's a wide variety of habitats you can use your insect hotel to create. A quick Pinterest or Google image search will turn up hundreds of inspiring ideas to help you create something that fits your needs. People have made giant insect towers from stacked pallets and little painted boxes that hang on the wall or fence. You can use hollow logs, stacked cinder blocks, or old terra-cotta pots to stuff with material. 
Construction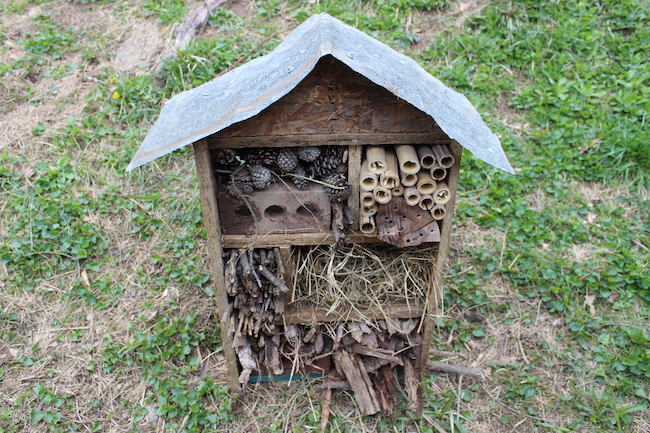 To put mine together I measured and then cut the plywood using a circular saw. From there I screwed the plywood together to form a box using some screws leftover from another project. Then I decided to add more plywood to create small compartments or shelves so I could easily add different types of material. I found a perfect size scrap piece of tin that I hand for the roof and screwed that on as well. I haven't yet, but I need to staple on some scrap chicken wire I have to hold in loose materials like the pine cones. This will also allow me to stuff the materials in tighter.
If you don't have access to power tools think about ready made containers you could use rather than building a box like I did. Maybe you have an old wooden crate handy or could use an old pot, block, or hollow log like I mentioned above.
Tips
There are a few general ideas that can help you make the most of your insect hotel. First while some insects like damp conditions you might still consider putting something that sheds water on the top. That way your materials will last longer and even if it sits directly on the ground you can keep the upper layers dry for certain species. 
Secondly it's best to use compostable or recyclable materials. Your insect hotel probably won't last forever. Building one that can easily be recycled or returned to the earth at the end of it's use is good planning. Just because straws and pvc pipe have the same shape as bamboo doesn't mean that they're good alternatives. 
Consider your hotel's location carefully. If you have a small space you might have limited choices. However if possible it's best to place your hotel where it's sheltered from some of the prevailing winds. If you like bees you may also want to look for a sunny location as they rely heavily on the sun for warmth.  
Lastly don't stop with just your insect hotel's structure include some "landscaping" for it too. Insects are more likely to utilize your hotel if you add features around it they like. You can plant a flower mix around it, add a lot of mulch to that area of your garden, let the nearby grass grow tall, or add a place for them to access water.
Insect hotels are a great weekend project. They're a quick and easy way to help your garden and the natural world. They're also an excellent project to get kids involved with. Remember that you can make an insect hotel with anything you have on hand, there's no right or wrong way to make one, and even if it comes out a little wonky it's okay. The bugs don't care if you measured everything perfectly!
Pin it for later.