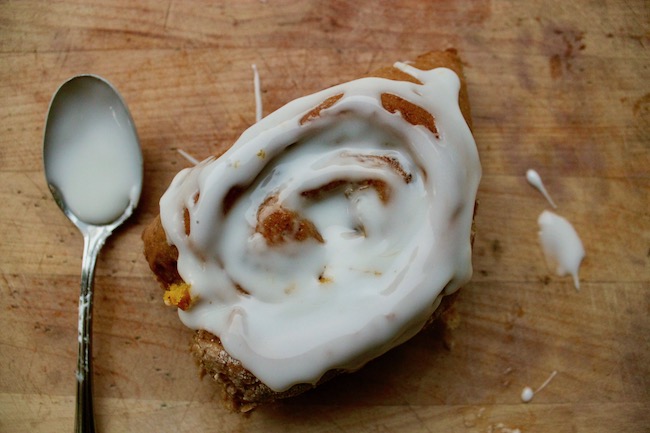 Even though the temperature isn't really saying "fall is here" in our area the garden certainly is. We've been harvesting pumpkins, winter squash, and popcorn and sowing fall successions of beets, lettuce, and cabbage. With this and my love of all things autumn in mind I decided it's time to bring out the fall recipes.
These cinnamon buns are a delicious way to start enjoying the autumn harvest without breaking out the pumpkin pie. They're delicious and fairly easy to make.
Ingredients
Dough
2 1/2-3 C all purpose flour
2 TBS sugar
1 tsp salt
1 tsp cinnamon
1/2 tsp ginger
1/4 tsp allspice
1/4 tsp nutmeg
2 1/2 tsp yeast
1/2 C water
1/4 C milk
3 TBS vegetable oil or butter
1 TBS molasses
1/4 C pumpkin puree
Filling
3 TBS butter
1 C pumpkin puree
4-5 tsp cinnamon
2 tsp ginger
1 tsp nutmeg
1 tsp allspice
1/4-1/2 C brown sugar
Icing
1 C powdered sugar
1 tsp vanilla
2-3 TBS milk
Never made your own pumpkin puree? Check out this post.
Directions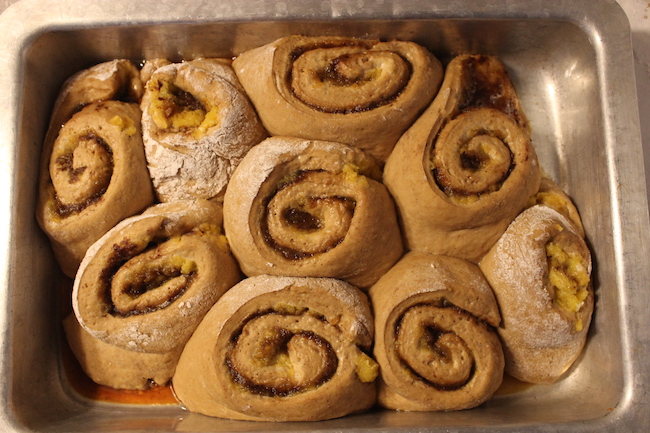 Preparing the dough.
To begin combine the milk, oil or butter, molasses, puree into a microwaveable bowl or small saucepan. Heat these ingredients until they're quite warm but not hot.
In a separate bowl combine the sugar, spices, salt, and yeast. Once the liquid ingredients are warm pour them into the bowl as well. Stir until well mixed and then begin adding the flour a little bit at a time. As the dough gets hard to mix you can turn it out onto a well floured surface and knead it with your hands.
You'll know you've added enough flour when the dough forms a nice ball and is tacky but not sticky. Now allow the dough to rest for about 5 minutes.
Next roll the dough into a rectangle. I generally roll the dough between 1/4-1/2 inch thick though you can change this to suit your preference.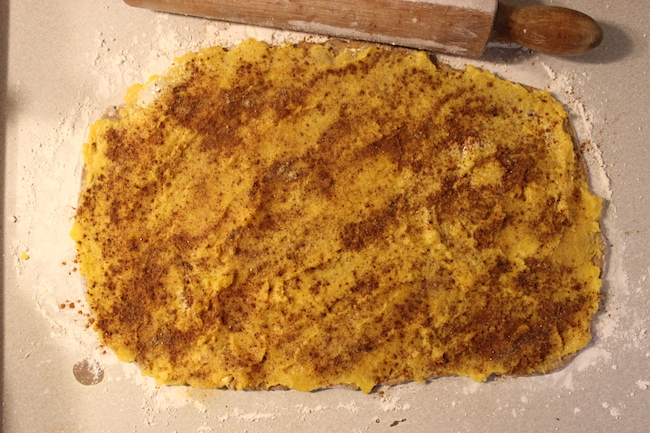 Filling
Now you can spread the filling. First soften or melt the butter and mix it with the pumpkin puree and spread this in a thin layer on the dough. Then sprinkle the spices (alternatively you can use a pre-made pumpkin spice mix) evenly over the dough. Do the same with the brown sugar. I rarely measure the spices or sugar and just go by eye.
Roll the dough into a long tube and slice it into 8-12 pieces and place them into a greased, 9×13 inch baking pan. Place the pan somewhere warm and let them raise for 2-3 hours until they have doubled in size.
Bake at 350°F for about 25 minutes until they're golden brown.
Icing
To make icing combine the powdered sugar and vanilla and stir in the milk a tablespoon at a time until it reaches your desired thickness. Icing should be added after the cinnamon rolls cool.