As grocery, fertilizer, and other prices continue to rise, many backyard gardeners are digging deep to grow their own food. Whether you've been gardening for 20 years or planted your first plot this spring, maintaining or building healthy, fertile soil is probably a top concern. If you're on a budget, purchasing fertilizer or other organic garden amendments can be a strain or even out of reach entirely. Thankfully, there are a few affordable or even free ways to improve soil fertility. 
Start composting. 
In a previous post, I referred to compost as black gold, and I wholeheartedly believe that good finished compost is one of the best garden amendments you can have. It adds fertility, improves soil structure, encourages beneficial fungi and bacteria, and more. Composting also helps keep unnecessary items out of landfills. 
Here are a few of the items you can compost and keep out of a landfill:
Vegetable Scraps

Stale or Moldy Bread, Crackers, Chips, etc.

Egg Shells

Grass Clippings

Coffee Grounds

Tea and Tea Bags

Leaves
If you want to learn more about composting from what bin or system to use, maintaining your compost, and what to put in it, visit our post, Black Gold: Making Compost.
Water with compost, comfrey, grass-clipping, or manure tea.
If your plants need a fast-acting boost, watering with a bit of one of these DIY liquid fertilizers may do the trick. It may sound a little gross and can be a bit smelly, but it's easy to do and worth it!
All you need is compost, comfrey leaves, grass clippings, or manure, a five-gallon bucket or another similar container, water, and some material for filtering like an old pillowcase or cheesecloth. 
Get the details from our post, DIY Compost Tea.
Bag and use your grass clippings.
While I'm all for going no-mow whenever you can and using alternatives like wildflower plantings in place of lawns, I do understand that mowing some areas is nice or even necessary. Whether you're mowing around your garden to keep the grass from creeping in, a play area for your kids, or just around your home, you can put those grass clippings to good use!
A mower with a bagger will allow you to collect and use grass clipping as mulch or ingredients in compost or liquid fertilizer. However, you may not want to bag your clippings all the time. Just like grass clipping add fertility to your garden, they help keep your yard fertile and grass looking nice as well.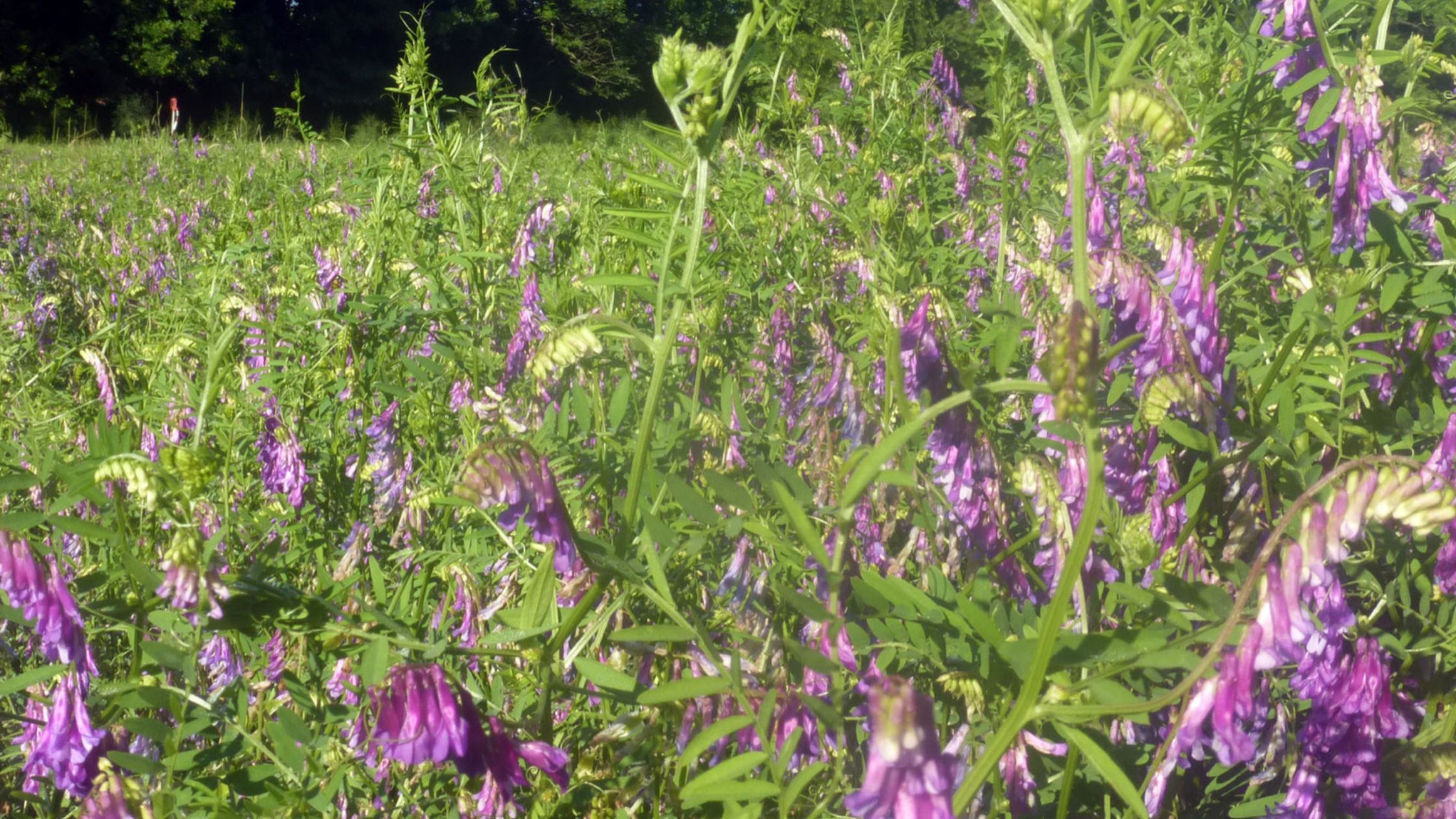 Grow cover crops. 
Cover crops aren't a quick fix, nor are they free, but I think their benefits still outweigh their negatives. Cover crops add fertility and organic matter to the soil, help keep down weeds, provide habitat for pollinators and other beneficial insects, and prevent erosion. They're also more affordable than buying fertilizer over the long term. 
Different cover crop species come with different benefits, and you may want to do a bit of research before selecting one. 
Some cover crops like buckwheat are "winter-kill," meaning they die back with frost. Some no-till gardeners use these as mulch for the following spring. Just rake the dead plant material back to seed or transplant your crops.
Clover and other cover crops in the legume family are nitrogen-fixers meaning that they take nitrogen from the air and add it to the soil as they grow. You can read more about how nitrogen fixation works in our post, What's a Nitrogen Fixer?
If you have a hardpan or compacted soil, you may want to look into cover crops like Deep-Till radishes. These and other large rooted, tough cover crops will help break up compacted soil and hardpan, aerate the soil, add organic matter and allow water to soak in faster.
Here are a few great cover crop options:
While many cover crops are planted in a rotation, leaving beds free of crops for a year or in seasons when beds are not in use, there is another great option, especially for no-till gardeners. You can grow a crop like white clover in the paths between permanent beds. White clover will tolerate being walked on and mowed, providing a great path and source of mulch.
Look for people getting rid of "mulch hay" or straw.
Sometimes, you can find old or "mulch" hay or straw listed for cheap or free on sites like Facebook Marketplace. Often, these are bails that have gotten wet, moldy, or are just no longer fit for animal feed or bedding, but they're perfect for the garden! 
Use old hay or straw to create lasagna gardens, mulch around plants, add to your compost, or create hugelkultur mounds.
Talk to the farmer you're purchasing or getting the hay from and make sure it's not from a field that has been treated with herbicides. Some folks also don't like using hay because it contains weed seeds. Straw is the stalks from a wheat harvest and is generally free of seeds.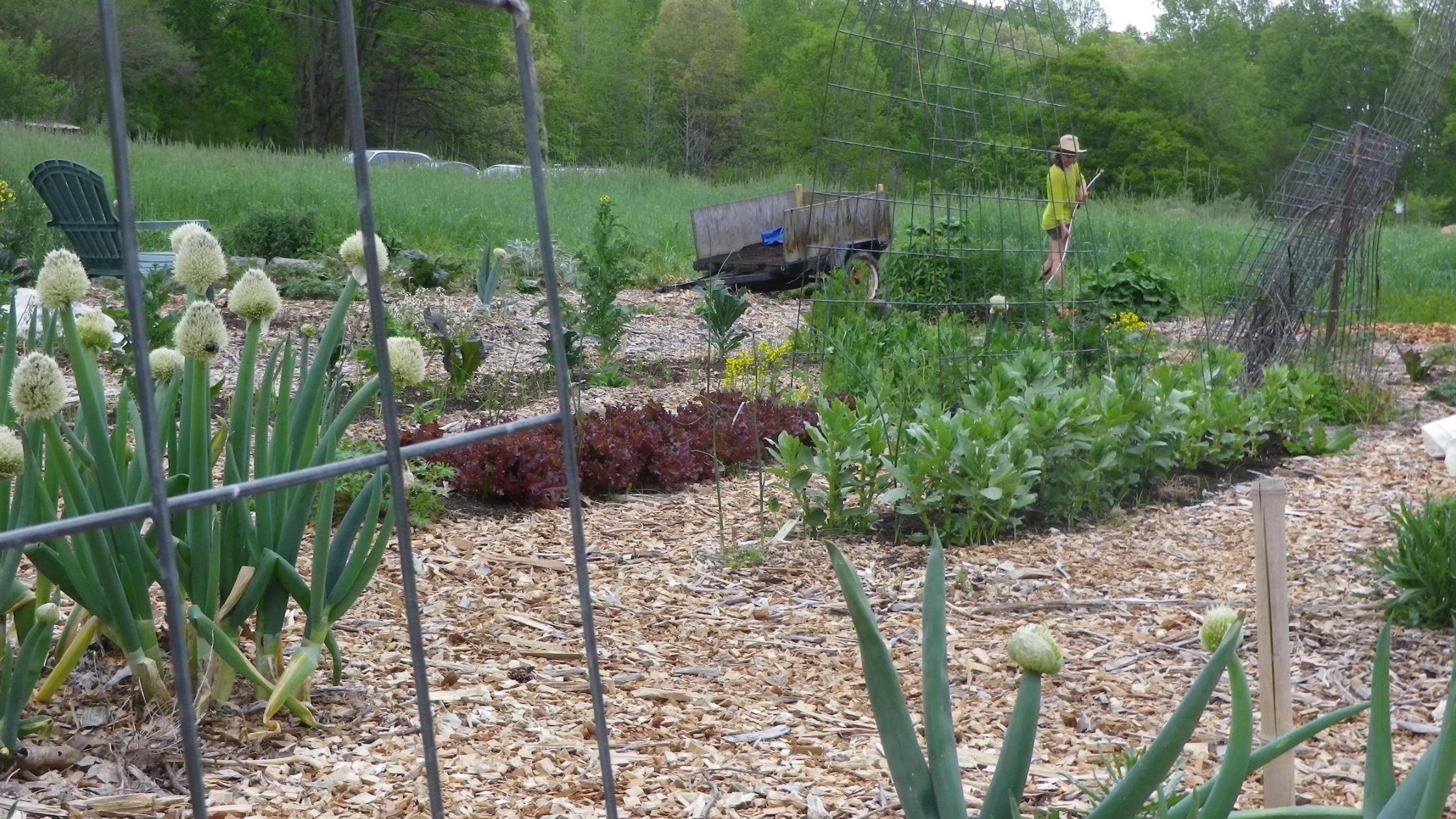 Search for free wood chips.
Wood chips are another great source of organic matter and work well as a mulch, helping keep the soil cool and moist and blocking weeds. They're slower to break down than other mulches like grass clippings, hay, or straw but will eventually turn into good quality soil. They're also an excellent habitat for beneficial insects.
It's often easy to find free wood chips in the summer when power companies are cutting trees and limbs away from power lines. Contact your local company or stop and ask workers you see. Sometimes, they may even be willing to dump a whole truckload at your home for free if they're working nearby. Occasionally, local garden or hardware stores will source wood chips from electric companies, and you can go and fill coats or a truck for cheap or free. 
Avoid using the dyed black or red wood chips that come in bags from hardware or big box stores. These aren't organic and are generally much more expensive.
Improving your garden starts with the soil. Using these methods and amendments, you can add fertility to your soil on any budget. They're great for your garden, good for the environment, and generally pretty simple. How do you add fertility to your organic garden?