Choosing plants for your garden can be challenging. There are so many incredible flowers, herbs, and vegetables to choose from. While everyone should make a garden that is uniquely theirs, one plant that I think deserves a spot in every garden is echinacea.
Echinacea is beautiful.
This one is a bit of a no-brainer, but echinacea is a gorgeous addition to the garden! They look lovely, added to cottage or potager-style gardens.
We carry four varieties of echinacea:
Echinacea Pallida (Pale Purple Coneflower)
Drooping flower petals are 1½-3½ in. long and may range in color from pink, purple, or white, but are typically rosy purple, with a purple-brown flower disc. Long, narrow leaves.

Echinacea Angustifolia (Narrow-Leaved Coneflower)
The plants are the smallest of the echinaceas (8-18 in.) and the spreading pink ray petals are the shortest (¾-13⁄8 in. long). The leaves are long and narrow.

Echinacea Paradoxa (Yellow Coneflower)
The most exceptional of the echinaceas because the petals are yellow rather than purple, hence the name E. paradoxa. Leaves are long and narrow.

Echinacea Purpurea (Purple Coneflower)
The flowers are 3-4 in. across with pink-orange cone-shaped centers and purple-pink rays.
Echinacea is a native plant.
Selecting native species for your garden, whenever possible, is an excellent idea. Native species like echinacea tend to be low-maintenance. They've evolved to handle the climate conditions and pest and disease pressure found here in the Eastern United States. They also help provide food and habitat for native species.
Echinacea attracts butterflies.
As a native flower, echinacea is an excellent food source for native insects. You'll frequently see native butterflies like yellow swallowtails and great spangled fritillaries visiting echinacea blooms.
Beneficial insects like bees and predatory beetles may also overwinter in dead foliage and stems. It's best to avoid trimming back dead material until the temperature is consistently over 50°F in the spring.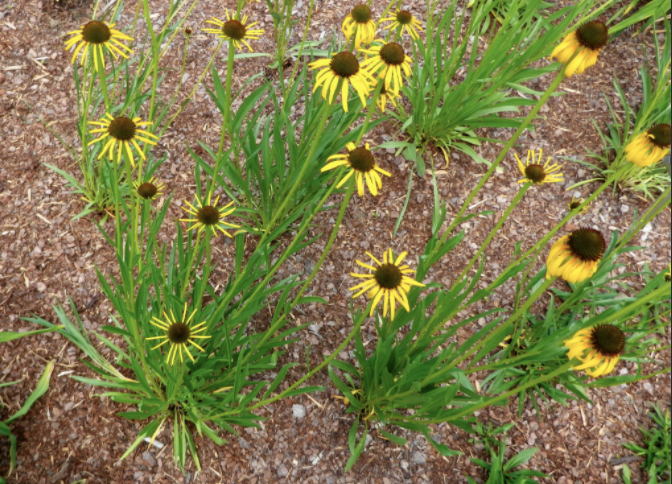 Echinacea attracts birds.
Along with helping native insects, echinacea also helps native birds. You may spot goldfinches and other seed-eating birds visiting the flower seed heads in late summer and early fall.
Echinacea is a hardy perennial.
It's easy to fall in love with flowers that bloom year after year. Echinacea will bloom for about two months each summer with little care and maintenance. It's a great plant for busy gardeners. Also, echinacea will self sow and spread on its own. It isn't so vigorous that it will take over your garden, but once you have it growing, it's easy to transplant to other sections of your garden or share with friends.
Echinacea is drought-tolerant.
Echinacea has extensive root systems, and most varieties have a long taproot. These roots make them incredibly drought tolerant. If you live in an area experiencing more droughts or don't get around to watering as often as you should, echinacea is a great choice.
Be sure echinacea gets enough water while the seed is germinating and it's first getting established.
Echinacea is a potent medicinal herb.
You may have noticed that echinacea is frequently listed as an ingredient in "cold and flu" tea blends from your local grocery store. This is because studies have indicated that echinacea has immunostimulant, bacteriostatic, and anti-viral activity. It's believed that echinacea can help your immune system respond and shorten the length of your cold or flu.
It can be used in teas and tinctures or infused in salves. A great thing about echinacea is that the entire plant is medicinal, including the roots, leaves, and flowers.
Additional Herbalism & Garden Resources