Most seed savers get started with a few large-seeded, easy-to-grow and harvest crops, like beans, corn, tomatoes, peppers, and squash. If you're ready to take the next step in your seed-saving journey or have an adventurous spirit, you may be ready to tackle cabbage. Saving cabbage seed can be tricky for a couple of reasons, but it is doable. Keep reading to learn the steps to save seed from your favorite cabbage varieties. 
Choose a Variety
To get viable seed, you want to grow an open-pollinated cabbage variety. All the cabbages we carry at SESE are open-pollinated. To learn more about what open-pollinated means, check out our post, What's in a Seed: Open-Pollinated Vs. Hybrid Vs. GM.
Consider Isolation Distance
One of the tricky parts about saving seed from cabbages and other brassicas is that there are so many brassicas. This makes it difficult to save seed from more than one variety each year. For example, you may want to save seed from cabbage, but you can't just isolate it from other cabbages. Cabbage will cross with kohlrabi, Brussels sprouts, broccoli, cauliflower, and kale!
To prevent this problem, all you need to do is only let one of your brassicas go to flower each year. Harvest the others before they bolt. Unlike many brassicas, cabbages are biennial, meaning they flower and set seed the second year. This can be helpful when preventing them from crossing with other seed crops. 
If you're determined to save seed from multiple brassicas or cabbage varieties, you'll need to isolate them. For home use, isolate your cabbages by 1/8 of a mile. For pure seed, small plantings need to be isolated by 14 to 1/2 a mile!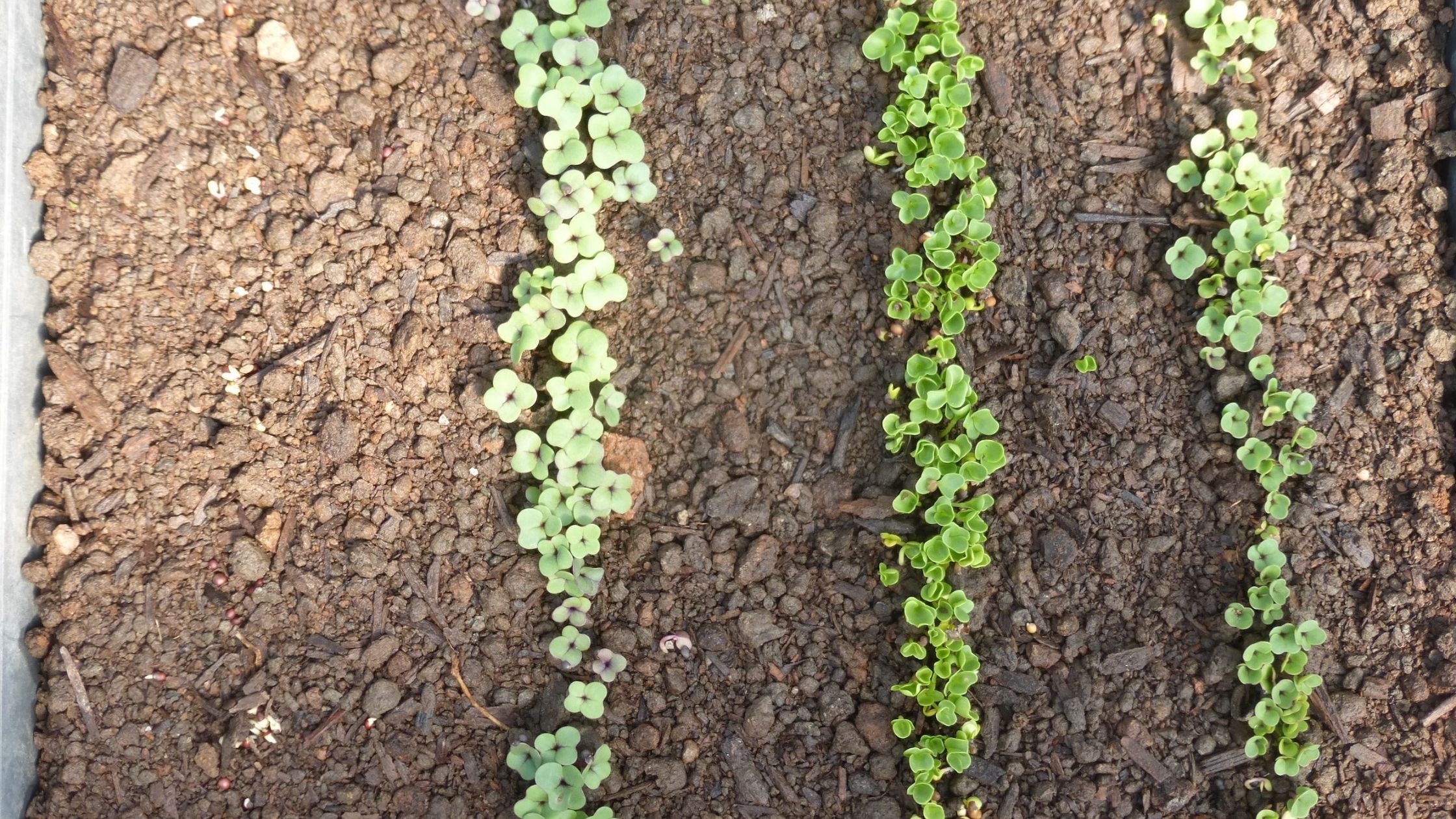 Select Your Best Plants
When you save seed, you want to think about maintaining the quality of a variety or maybe even improving it each year. To do this, you should save seed from your best plants. You can consider disease resistance, drought tolerance, earliness, flavor, and more when selecting plants. Check out our blog post, Selecting Plant Characteristics, to learn more.
You also want to ensure you save seed from enough plants to preserve viable genetics. For home use, five plants may be enough. However, to maintain a variety over a long period, you want to save seed from 20 to 50 plants each year. 
Overwinter Your Cabbages
Cabbage is a biennial, meaning that it flowers and sets seed during its second year of life. To get your cabbage to set seed, you'll need it to overwinter. In areas with 10 to 12 weeks of cool weather below 50°F that doesn't regularly dip below 35°F, you can overwinter cabbages in the field.
If you live in a colder climate, you'll need to overwinter your cabbages in a sheltered location. Dig them up and pot them in large containers filled with damp potting mix or sand. Leave the heads intact but trim off any loose or dying leaves. Keep the roots as intact as possible.
Move the containers into a root cellar or unheated basement, garage, or shed. Ideally, you want to keep them between 34 and 40°F. In the spring, plant them back out in the field. You may need to stake them.
Ensure Seeds are Fully Mature
You need to catch cabbage seeds at the right time. They won't continue to mature once removed from the plant, so it's crucial to ensure that the seed pods and the seeds inside become dry and brown. Don't wait too long, though! Dry pods may begin to shatter and drop seeds, or birds may take them.
Harvest Your Seeds
It's easiest to harvest seeds by cutting off entire branches. Then place them on an old sheet. You can use your hands to break the pods or thresh them by hitting them with a thick stick or rod. Mature seed should separate from the pods readily.
Store Your Seeds
Once seeds are fully dry they can be stored somewhere cool and dark in airtight containers. Cabbage seed should remain viable for several years. Learn how to do a simple germination test here.