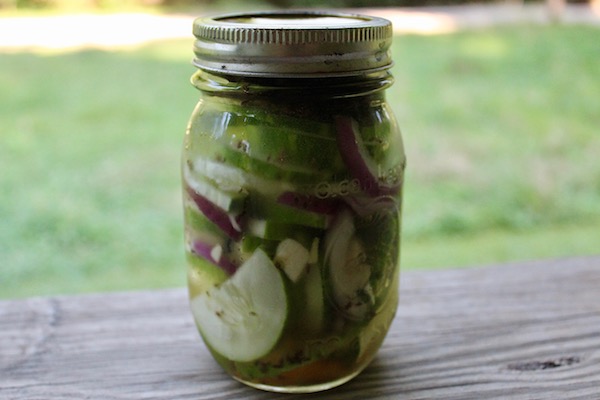 Fermenting food is actually one of the oldest and safest methods of food preservation. Despite this fermenting food as a means of food preservation has largely been replaced by canning and freezing. While fermented foods may require a little extra care and attention they are still pretty easy to make and are beneficial to eat. Eating a diet that includes fermented foods promotes healthy gut flora and good digestion.
Fermented cucumber pickles are an easy way to get started with fermented foods and they're just as tasty as home canned ones! They're also easy to make in small batches, perfect for people with smaller gardens.
Here's what you'll need:
fresh cucumbers
filtered water
salt 
onions
spices (dill, pepper, garlic, etc.)
jar or crock
crock weight
*optional – grape leaves 
Directions
Rinse your cucumbers and remove any that are bruised or damaged. If you're making a large crock and can fit them in whole they're ready to go. If not slice your cucumbers however you desire. Spears and slice both work fine.
Mix your cucumbers, onion slices, and spices and pack them into your jar or crock leaving an inch or so of head space.
Don't worry that the recipe isn't specific. It doesn't matter! Unlike canning you can mess around with ingredients without making your food unsafe. If you're not sure what spices you'd like small batches are wonderful for trying different combinations.
In a quart jar mix 1 1/2 TBS salt and water until the salt is dissolved and pour over your cucumbers. Repeat this process as needed until they're completely covered.
Place some sort of weight over your cucumbers to hold them under the water. You can purchase a crock weight, use a plate, or use a clean rock. In my mini batch pictured above I washed a small rock and used it.
If desired you can also layer clean grape leaves over the top of your cucumbers before weighing them down. The grape leaves help keep the air away from your cucumbers and the tannins in them help the cucumbers stay crisp.
If you're using a jar you can now lightly put the lid on. Don't screw it down tight. If gases can't escape your jar will explode. If using a crock you can lay a clean towel or cloth over it. Let your pickles ferment for 2-3 days on the counter.
Once they've fermented they can be moved to cold storage like a refrigerator or root cellar and they'll last for months!
Pin it for later.