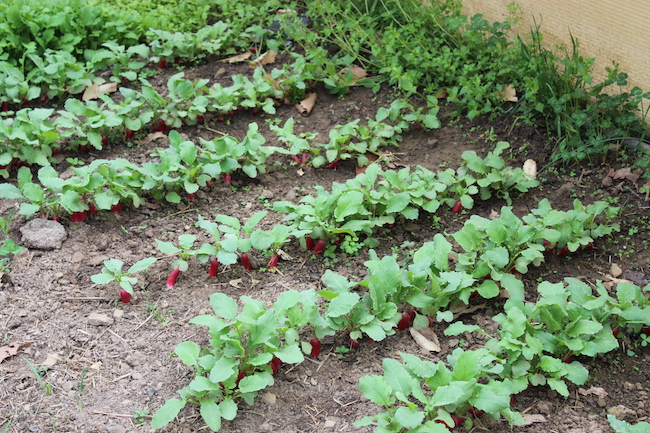 Everyone complains about weeding but that may not be the worst gardening job. There's nothing I dread more than having to thin my seedlings. Thinning isn't the most labor intensive job but it feels sad to kill plants I've worked hard to keep healthy. However it is an incredibly important step if you want a good harvest.
While you may be tempted to plant to your desired spacing and avoid thinning altogether this is not ideal. First and most obviously, starting more seeds will ensure you get a harvest even if you have less than ideal germination. Secondly many plants thrive with a little competition in the beginning. Thinning is important for plants to grow well but in the beginning competing with other plants can make your seedlings more vigorous.
Ultimately though plants will need to be thinned. As plants grow they compete for resources and this can weaken them and hurt your harvests.
Thinning ensures growing plants have adequate space.
Some vegetables can be grown in small areas if they get enough other resources such as plentiful water and nutrients however there's always a limit. For example, root vegetable harvests will suffer tremendously without optimum space. Avoiding thinning will leave you with spindly carrots and thumbnail size beets.
It ensures plants have proper air circulation.
If plants don't have plenty of air circulation they can be prone to pest and disease issues.
Thinning also helps ensure healthy plants.
When you thin plants you should thin any that show any signs of weakness or disease. You want to keep your best plants for a productive harvest and if you choose to save seed you'll know you're saving from plants that performed the best from the start.
Plants that are properly thinned will get adequate water.
In some areas you may be able to provide plenty of water to thinly spaced plants however if you experience any droughts it's always better to have a safety buffer.
Properly spaced plants will get enough nutrients.
While you can sometimes grow plants closer together than recommended if you are meticulous in your soil management and add a lot of amendments it's not a always a good idea. If your plants have to compete with each other for nutrients they'll be less productive and more prone to disease and pest issues.
Tips
To avoid damaging other plants roots as you thin you can just use scissors to cut your plants off as close to the ground as possible rather than pulling them.

Water your plants after thinning to ensure any that may have been disturbed re-establish well.

Check out this post to learn about when we thin corn plants.
Thinning plants is never easy but it must be done! Overall the best advice for thinning plants is simply, be ruthless. No one likes to thin their plants but trust me, a poor harvest will be more devastating than killing a few now.
Pin it for later.