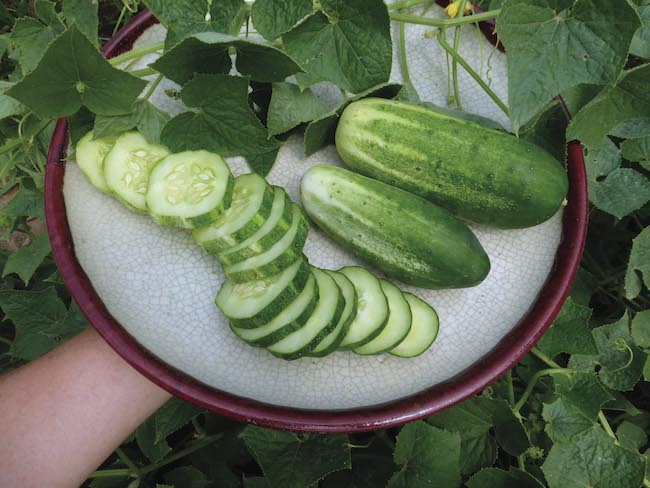 Enjoying something you grew at home months after the garden season is over is a satisfying part of being a gardener. If you're new to food preservation canning pickles is a great place to start. They're easy to make and are highly acidic meaning that they're safe to process in a water bath canner rather than a pressure canner. 
Here's what you'll need:
12 quart-sized canning jars with lids and bands

water bath canner

about 20lbs of pickling cucumbers

12 cups of water

12 tbs of canning salt

6 cups of vinegar (5% acidity)

fresh dill or dill seeds

fresh garlic

optional: other spices and pickle crisper
Preparation
To begin you'll need to sanitize your jars and rings. Boil them in your water bath canner for 10 minutes. I've found it helpful to tie a cotton string through all the rings so they're easy to retrieve from the water.
While that's happening wash and slice your cucumbers. I usually do spears for dill pickles but you can cut them any way you'd like. Bring the water, vinegar, and salt to a boil, stirring it until all the salt is dissolved.
Packing Jars
Pack each jar with 2 fresh dill sprigs or 2 teaspoons of dill seed and 4 cloves of garlic (I like to mince mine but you don't have to), and cucumber slices, leaving about 1/2 inch of headspace. You can also add other spices like mustard seeds, red pepper flakes or even a fresh hot pepper to each jar depending on your taste. If desired you can also use a product like Ball Pickle Crisper to help ensure your pickles stay crunchy. It can be added to jars at 1/4 tsp per quart.
Pour the hot brine into the jars, covering the cucumbers, and leaving 1/2 inch of headspace. Wipe the jar rims with a clean cloth and place new lids on, securing them with sanitized rings twisted finger tight.
Canning
Place your filled jars into your water bath canner (you may have to do several batches), making sure they're covered with water. Bring them to a boil and process them for 15 minutes (adjust for altitude). Turn off the heat, remove the lid and let them stand for 5 minutes. Remove the jars and check their seal after 24 hours. The lids shouldn't flex up and down in the center when pressed. 
Any unsealed jars should be refrigerated and used up first. The rest can be stored out of direct sunlight for use throughout the coming year. 
Enjoy your pickles!