It's now believed that farmers have been using manure to fertilize their crops for at least 8000 years! Spreading manure on fields and gardens to increase soil fertility has long been common, especially when most folks were keeping livestock. Today, it can be more tricky. So whether you've got your own backyard farm or not, here are a few things you should know about using manure in the garden. 
Pros
It's full of nutrients! Manure is an excellent source of primary plant nutrients nitrogen, potassium, and phosphorus. It also includes secondary nutrients; calcium, magnesium, and sulfur that may not be found in commercial garden fertilizers.
Manure adds organic matter and improves soil structure. This allows optimum root growth and increases the soil's ability to hold moisture.
You can often find manure for free or use your own from your own livestock.
Cons
Fresh manure can contain bacteria that can contaminate crops and make you sick.
It often contains weed seeds.
It may contain pesticides, herbicides, or other chemicals.
Fresh manure contains high levels of nitrogen, ammonia, and salts which can burn crops. 
Sourcing Good Manure
If you own livestock, using their manure is the best choice. To fertilize your garden, you can use chicken, goat, cow, horse, rabbit, and other livestock manure. Avoid cat and dog waste as their feces can contain toxins and heavy metals that will remain in your garden. 
If you don't own animals, it may be possible to source manure from a local farm. However, you may want to ask some questions. Herbicides can stay in manure and ruin your garden, so it's essential to ask if the animals were allowed to graze where an herbicide was sprayed. 
It's also worth noting that not all animal manures are the same. Manure from herbivores like horses and cows has a lower nitrogen to carbon ratio than omnivore manure like that from pigs and chickens. Therefore herbivore manure won't burn your crops even if it's fresh. You should also note that horses don't digest seeds, so horse manure will have more weed seeds in it.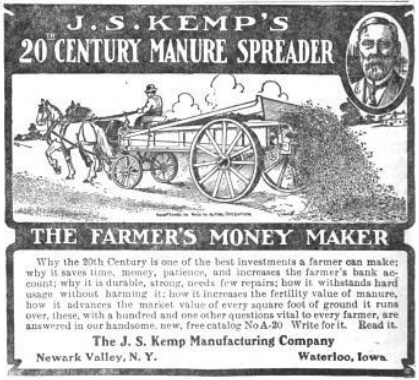 Composting Manure
Some of the "cons" of manure are easily taken care of by composting it. Composting your manure will kill any bacteria and allow it to mellow, so it's not high in nitrogen, ammonia, or salts and won't burn your crops. A good, hot compost pile can also render weed seed inviable. 
To compost manure, you'll want to follow the same techniques we discussed in Black Gold: Making Compost. Mix your nitrogen-rich manure with good sources of carbon such as old leaves, straw, or shredded paper; alternate layers as you build your pile. Keep the pile moist and turn it over every few weeks to encourage aerobic decomposition. It's ready when it looks like black, crumbly soil and is no longer hot or smelly. 
You can apply composted manure to the garden the same way you use your regular compost. Spread a few inches on a bed before planting, add it to homemade potting mixes, or side-dress crops. 
Aging Manure
Your other option is to age manure rather than compost it. It's exactly like what it sounds. You pile it and leave it. This process can take longer than composting, particularly if you're starting with manure that's high in nitrogen, like pig manure. 
Applying Fresh Manure
If you want to apply fresh manure, you need to select "cool" manure like horse, cow, or rabbit manure. Other manures, including goat, poultry, and pig, may burn your crops. Goat and sheep manure may be okay if it's mixed in with carbon-rich bedding like straw or hay.
One of the safest ways to use fresh manure is to follow the USDA National Organic Program Guidelines. They state that if the crop may come into contact with the soil, whether it's touching them directly like with beets or splashing on them like with Swiss chard or cucumbers, it must be applied 120 prior to harvest. If the crop won't be in contact with the soil like corn or dry beans, the manure must be applied 90 days prior to harvest. 
It's a long time! This timeframe keeps crops safe from bacterial contamination such as E. coli and Salmonella. However, many home gardens don't feel the need to follow such stringent guidelines. Just make sure you wash your veggies well if there's a chance they've come into contact with the manure, especially if you don't know where the manure came from.
Can You Use "Humanure?"
Using composted human waste to fertilize crops used to be common throughout much of the world. Composting human waste can reduce pollution and water consumption. Setting up a composting toilet is also much easier and cost-effective than installing a septic system and is a popular choice for off-grid and tiny homes. 
So is it safe? Yes, when done correctly. There are a number of fairly basic considerations to composting human waste. For example, you want to ensure your compost bins aren't on wet ground or somewhere they could contaminate ground or surface water. You should also compost your waste for a year before use, and you should use it around fruit trees, berry bushes, and ornamental plants where it won't get on food crops. Modern Farmer has a more detailed piece on humanure you can find here.