Eating from your garden or even just eating locally seems like it can be toughest in winter. No matter how much you ferment, dry, can, and freeze, it can be challenging not to reach for the fresh produce readily available in every supermarket. This beet, carrot, ginger salad is one of my favorites for creating a delicious side that's fresh, light, and colorful but can also be made with ingredients from your root cellar or local winter farmers' market.
For this recipe, you'll need:
Fresh Ginger

Rice Vinegar

Lemon or Lime Juice

Onion (can be a green or bulb onion)

Salt & pepper

Optional Fresh mint, cilantro, or lemon balm
Another great thing about this recipe is that it doesn't need to be exact. I like to keep the ratio of grated carrots to beets at about 1 to 1. However, you may find you prefer it a little differently.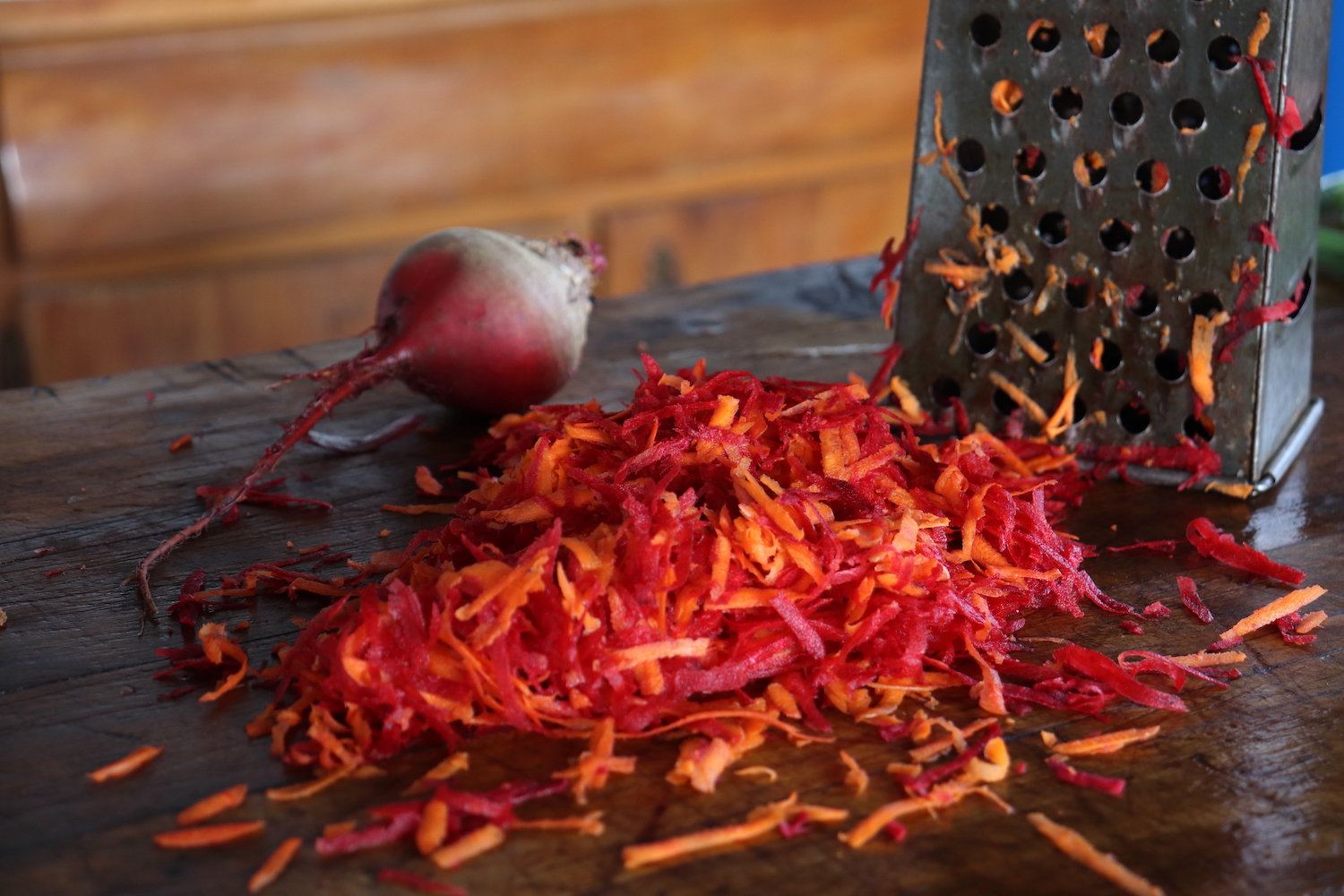 Begin by peeling your beets and grating them and your carrots. You can then toss them together. If you're using bulb onions, I would also finely dice up a handful or two and toss them with the grated root vegetables at this time.
After I grate and mix the beets and carrots, I begin grating and adding fresh ginger about one tablespoon at a time to taste. Especially if you're not used to cooking with fresh ginger, you may want to start with less than you think you'll need. You can always add a bit more later. 
Next, toss everything with a small amount of rice wine vinegar and lemon or lime juice. I would use about two tablespoons of vinegar and one tablespoon of lemon juice for every one pound of beets. 
The last step is to season with a bit of salt and pepper and any roughly chopped fresh herbs or vegetables you'd like, such as green onions, mint, cilantro, or lemon balm.
You can serve this salad fresh at room temperature or chilled. It's a perfect healthy, quick recipe that's sure to impress guests at holiday get-togethers.