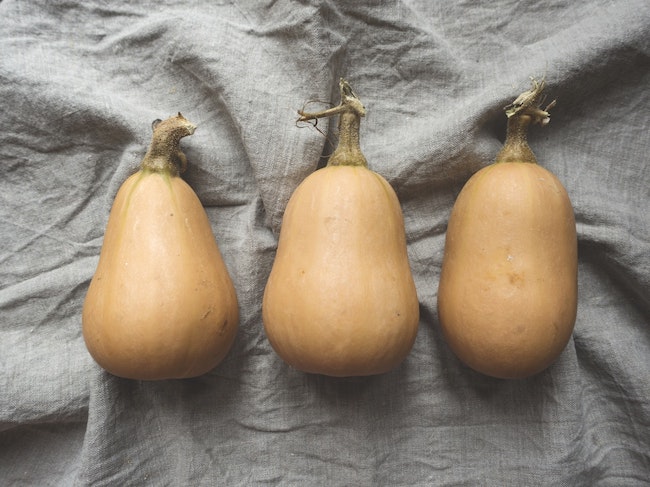 How do you tell they're ripe?
If you've never done it before determining if winter squash is ripe can be a bit more difficult than picking tomatoes or green beans. It's also very important that it is ripe if you want it to store well through the winter.
The biggest indicator that winter squash and pumpkins are ready to be harvested is their stems. The stems should be hard and dry. Often you can tell that the plant is beginning to die. The fruits should also be their mature color and sound hollow when patted with an open hand.
Harvest
When they're ready it's time to harvest! Simply cut the fruit from the plant, leaving about 1 inch of stem with a knife or garden shears. Lightly wipe off large clumps of dirt with your hand.
Never carry your squash or pumpkin by their stem as breaking them off often drastically reduces their storage ability. Also try to avoid handling them roughly to reduce bruising and nicks.
If a hard frost is imminent you should go ahead and harvest any squash left on the vine even if it's not perfectly ready. Hard frosts can damage squash and make them rot. Just keep in mind that squash harvested early may not keep quite as long so it should be used first. Leaving a longer stem can help them finish maturing properly.
Curing
Before you can store your winter squash it needs to be cured for about 7-10 days depending upon the variety. The best way to cure squash is to lay it out on a dry surface with enough space for air to move around it. Every day or so your squash should be moved or turned over to a new position.
A picnic table in your yard will work if the weather's still warm enough, a pallet in your hoop house, your kitchen table, or even sunny windowsill.
The curing process allows the skin to toughen up so that your squash will be ready for storage.
Storage
Winter squash is one of the lovely foods that takes little effort to store at home. Ideally you should find a dry place to store your squash where the temperature stays between 50°F and 68°F degrees.
You might find a place in a spare bedroom, office, under a bed, or in a coat closet. You should store your squash in a single layer and not touching. That way if one begins to rot it won't effect the others.
While your squash is in storage you should be careful to check it at least once a week for soft spots or mold. Use any squash that are starting to go bad immediately.