Heirloom vegetables are favorite crops for many gardeners and farmers. We value them for their flavor, stories, diversity, and beauty. While some heirlooms can be tricky, many heirloom vegetables are as easy to grow as their hybrid counterparts. Many gardeners get started with hybrids because that's what's often available at local hardware stores and garden centers, but that doesn't mean those beginners can't grow heirlooms. Here are a few tips to ensure you have success growing heirloom vegetables. 
So What is an Heirloom Vegetable?
There's no official definition of an heirloom. Heirlooms are just open-pollinated varieties that farmers and gardeners have saved for generations. At Southern Exposure Seed Exchange, we consider heirlooms to be open-pollinated varieties bred before 1940. Read more about why we grow heirloom seeds.
1. Select Varieties Carefully
You may find heirloom vegetables that are particularly well-suited to your gardening conditions. Growers carefully selected heirloom varieties over generations for specific traits. Sometimes these were traits like appearance and flavor, but often, these included good adaptation to local climatic conditions, disease resistance, drought tolerance, and other handy characteristics. 
2. Be Vigilant About Disease
No crop is resistant to all diseases, and heirloom vegetables are no different. Careful crop rotation, soil management, and cover cropping can help prevent a myriad of diseases. You should also practice good garden hygiene, removing diseased plant material and sterilizing tools that may have come into contact with diseased plants or soil.
3. Water Consistently
Avoiding over or under-watering can significantly improve your yields. Overwatering can lead to tomato splitting issues, increased fungal diseases, and poor-quality produce. Underwatering can lead to poor germination, failure to thrive, increased disease pressure, and other problems. Learn how to water correctly and consistently. Use a timer and drip tape if necessary.
4. Get Your Soil Tested
What seeds you bought doesn't matter if your soil isn't healthy. The best way to build good soil is to understand what you're starting with. Getting your soil tested is quite affordable and well worth the effort.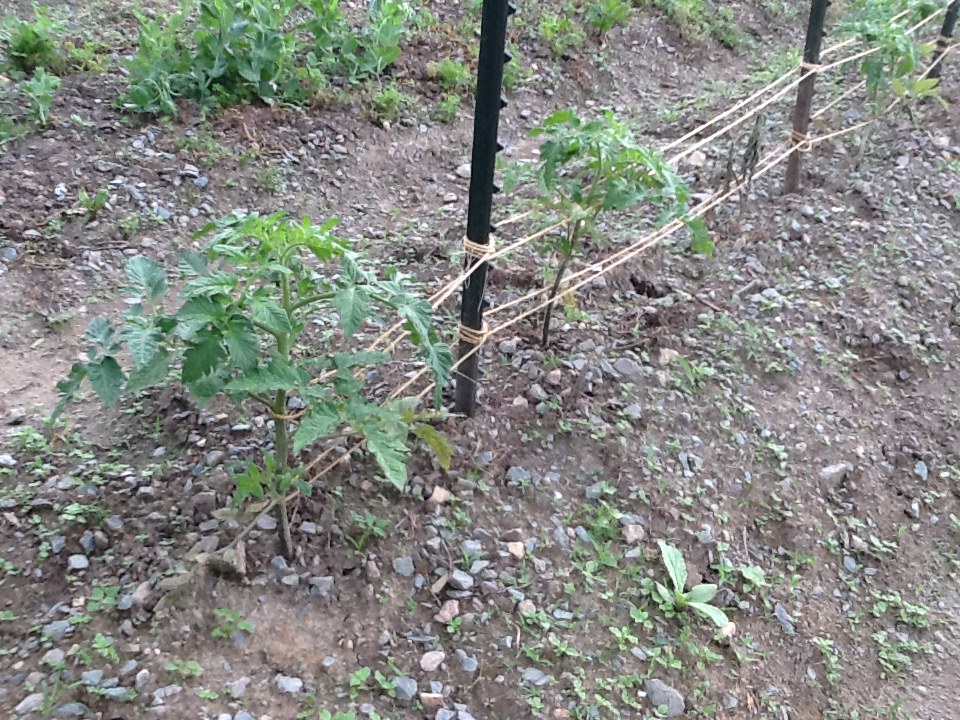 5. Prune and Trellis Heirloom Vegetables
Especially in the hot and humid midsummer months in the south, good circulation is vital in helping prevent fungal disease, so prune and trellis your plants as needed. Trellises may also be necessary to avoid lodging on plants with heavy crops like larger pepper varieties. Crops you can trellis include tomatoes, peppers, winter squash, cucumbers, peas, pole beans, and more.
6. Space and Thin Generously
It can be tempting to cram more than is advised into your garden, but it may not be worth it! Follow spacing recommendations for larger plants like watermelons and tomatoes and thin smaller crops like carrots and beets as needed. A few appropriately spaced plants will be healthier and produce more than many tightly-packed unhealthy ones.
7. Use Mulch Around Heirloom Vegetables
We recommend mulching around any heirloom vegetable crop as soon as possible. Mulch helps prevent soil splash during watering or heavy rain, conserves moisture, surpasses weeds, adds organic matter, and helps regulate soil temperatures. 
8. Harvest When You're Ready to Eat
While it's not always possible, many heirloom vegetables especially tender crops like lettuce and sugary crops like sweet corn, are tastiest when prepared quickly after being harvested. If possible, try to eat, cook, or preserve produce soon after harvesting.
9. Get Transplants Off to a Good Start
If you're starting heirloom vegetables like peppers, eggplants, tomatoes, and onions indoors, it's essential to do it properly and ensure you grow healthy, productive transplants. Provide supplemental light, adequate water and drainage, proper temperatures, and pot them up as needed.
10. Save Seed
Saving seeds from your heirloom vegetables can help adapt a variety to your local conditions over time. You're also helping to preserve a variety with future generations, saving a little money, and developing a new skill. Beans like those pictured above are a great crop to start with! Check out this post to learn to save bean seeds.
Growing heirloom vegetables is well worth the effort. They add incredible diversity, flavor, and beauty to your garden. If you're growing heirlooms this year, follow these tips to help you succeed.