Hollyhocks are tall, easy to grow, biennial flowers. They're perfect for adding a colorful backdrop to garden beds and look excellent along fences. Hollyhocks are a mainstay in English and cottage-style gardens and are great for attracting bees.
As biennials, they don't bloom their first year. They spend the first year growing attractive dark green rosettes of foliage and storing energy. In the second year, the tall stalks grow, and the hollyhocks bloom and produce seed. They typically bloom from around June until August.
These incredible flowers are native to Southwest and Central Asia. Their roots were often used in herbal medicine. The blooms are also edible and can be used to make tea.
At SESE, we offer two hollyhock varieties.
Black Hollyhocks
This dramatic heirloom is a show-stopper in any cottage garden and dates back to pre-1830. It features magnificent spikes of satiny blue-black single flowers that form the second year from first-year leafy 18 inch leaf rosettes. 
Find seeds here.
Outhouse Hollyhocks
This mixed-color beauty was traditionally grown around outhouses. The spires of single pink, white, red, and burgundy flowers grow up to 9 feet tall and made perfect screens for outhouses. You didn't have to ask where the bathroom was; you could just look for the hollyhocks!
Find seeds here.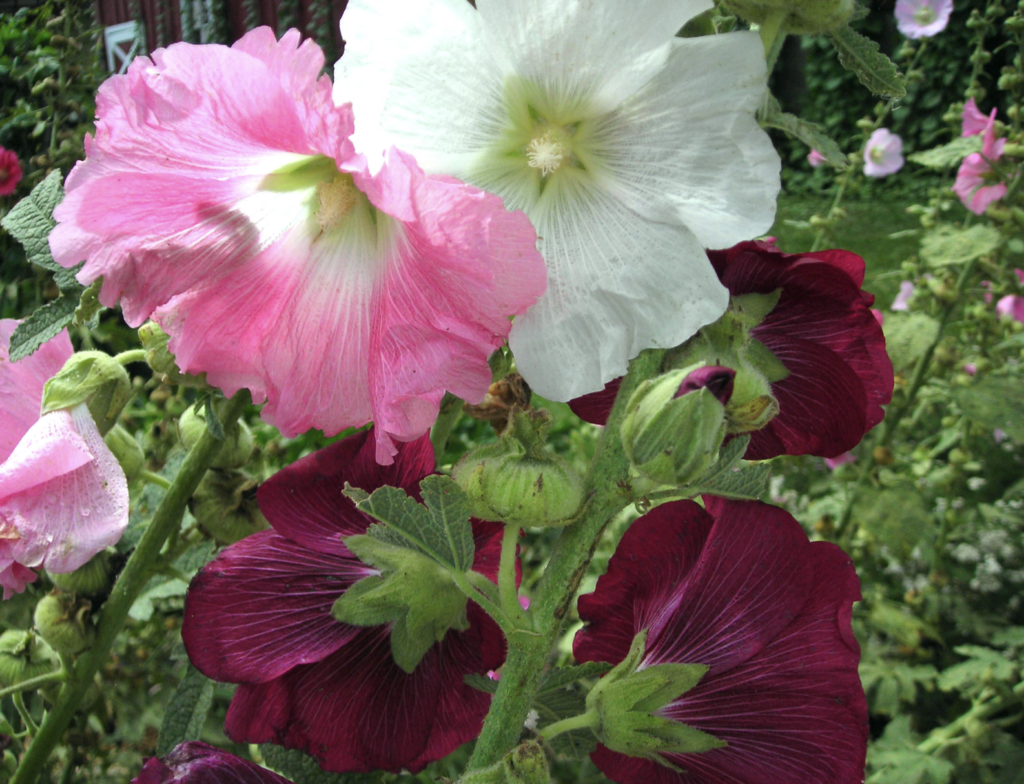 Planting & Care
Hollyhocks can be grown with relative ease. They can be started indoors or direct sown. They germinate best when the soil temperature is around 60°F. Germination can take 14 to 21 days; you'll have to be patient with these flowers!
Location
When planting out, select a location with well-drained soil and full sun. As tall plants with heavy flowers, Hollyhocks do best in areas sheltered from the wind. They thrive in fertile soil with a neutral pH.
Spacing
Hollyhocks are large, tall flowers, so proper spacing is crucial, plant them 12 to 24 inches apart. If they're too crowded, hollyhocks are also susceptible to rust (Puccinia malvacearum), a fungal disease that typically begins on the lower leaves.
Watering
Watering your hollyhocks is most important when they're germinating and newly planted. Keep them consistently moist during this time. After they're established, hollyhocks are quite drought tolerant. Over-watering established plants can make them more prone to lodging and diseases.
Staking
Hollyhocks benefit from a bit of support and can be prone to lodging, especially in windy areas. Grow hollyhocks along a fence, trellis, or use stakes to keep flower stalks upright. 
Should I Deadhead Hollyhocks?
As with many flowers, deadheading hollyhocks isn't necessary, but it can encourage them to bloom more. However, deadheading hollyhocks means you will get fewer seeds. Many gardeners like to save seeds from hollyhocks and re-plant or let them self-sow. Allowing plants to self-sow or re-planting them yourself will ensure that you have some hollyhocks blooming each year.
Soil Care
Hollyhocks aren't super heavy feeders, but you still need to take care of the soil, especially if you allow hollyhocks to keep re-seeding in the same bed. Adding a layer of compost each spring can help keep the soil healthy.
Hollyhocks are a fun, easy-to-grow flower great for adding lots of color and height to your garden. Following these tips can help you have success with them.