By Jordan Charbonneau, photos by Southern Exposure Seed Exchange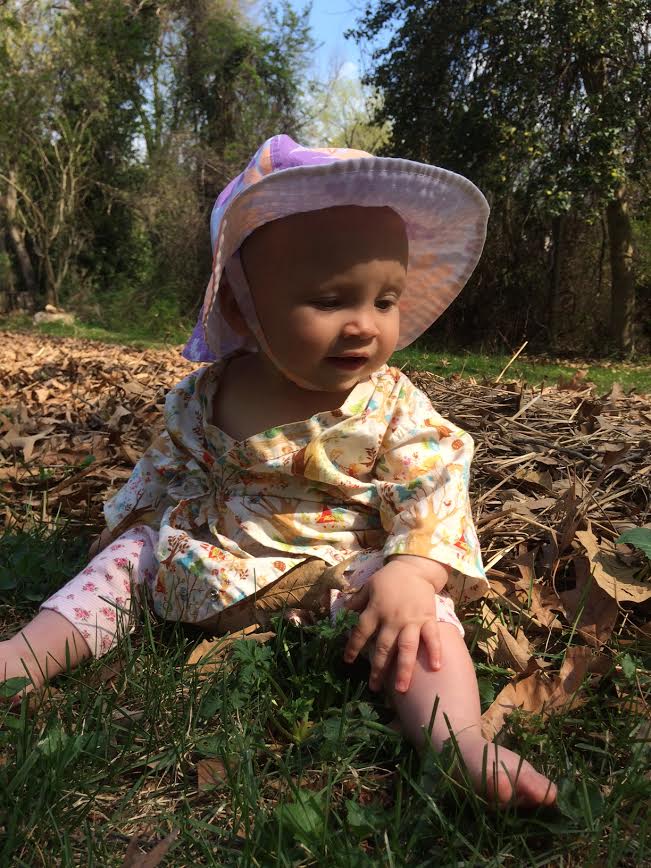 Depending on their age an interest level involving children in garden activities can be a challenge. Older kids would rather be inside playing video games and young children sometimes do more harm than good in the garden.
However teaching kids to garden is so important! It gives them time to be active and experience nature. It can also be a great tool to teach valuable life lessons. Children who garden develop a bit a self sufficiency, a knowledge about where their food comes from, and patience. They also learn science. They can measure how far apart to plant seeds, learn about the life cycle of plants, find out about how bacteria decomposes compost material, and so much more.
The best way to start your children's gardening career is to inspire them.
While many young children enjoy being involved in any adult activity for older kids it might be necessary to provide them with a reason to get out in the garden.
A great way to start is read age appropriate books that talk about gardening with them. When I was a child my mom read Little House on the Prairie to me and when we worked in the garden I would pretend that we were pioneers living off the land. You could try coloring books too. They make some awesome garden/nature coloring books that will help with the introduction.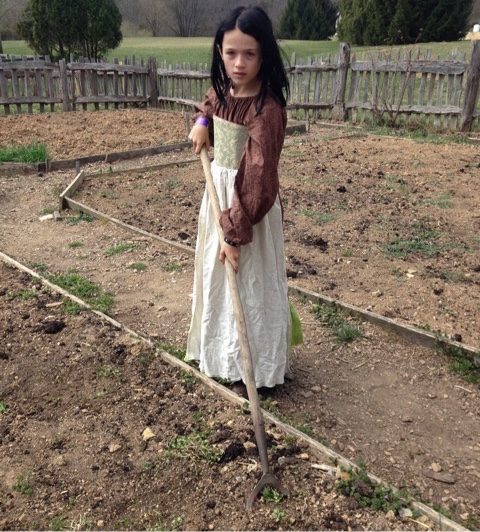 Make gardening their project not just something they're helping you with. Let them have a hand in planning the garden from start to finish. Ask them what they'd like to grow and let them start their plants from seed. For older kids you can get their input on garden layout too. Make sure they're involved in the garden's care throughout the summer and then help them do something with the finished product. You can help them look up a recipe and prepare a meal with what they grew or help them try to sell a bit of produce. When other kids in my neighborhood set up a lemonade stand I set up a tomato stand and I absolutely loved it.
One of the best ways to ensure everyone has a good experience is to make your garden child friendly.
Keep a few child size tools on hand. Trying to use adult size tools can be frustrating for small children. By giving them they're own set you can help them feel like they're a real member of your gardening team.
Try to design your garden with distinct paths or raised beds. Paths and raised beds are great for a number of reasons but they can be really handy when gardening with kids. It's easy to show children where they can walk (or run!) through the garden and where the plants that shouldn't be stepped on are.
Have a separate kids garden. For children who are too young to differentiate between weeds and crops and what's ready to be harvested or not, it may be advisable to create a small separate children's garden. Of course you can still supervise them in your main garden but in this area they could plant whatever they want and go wild without you worrying about your crops.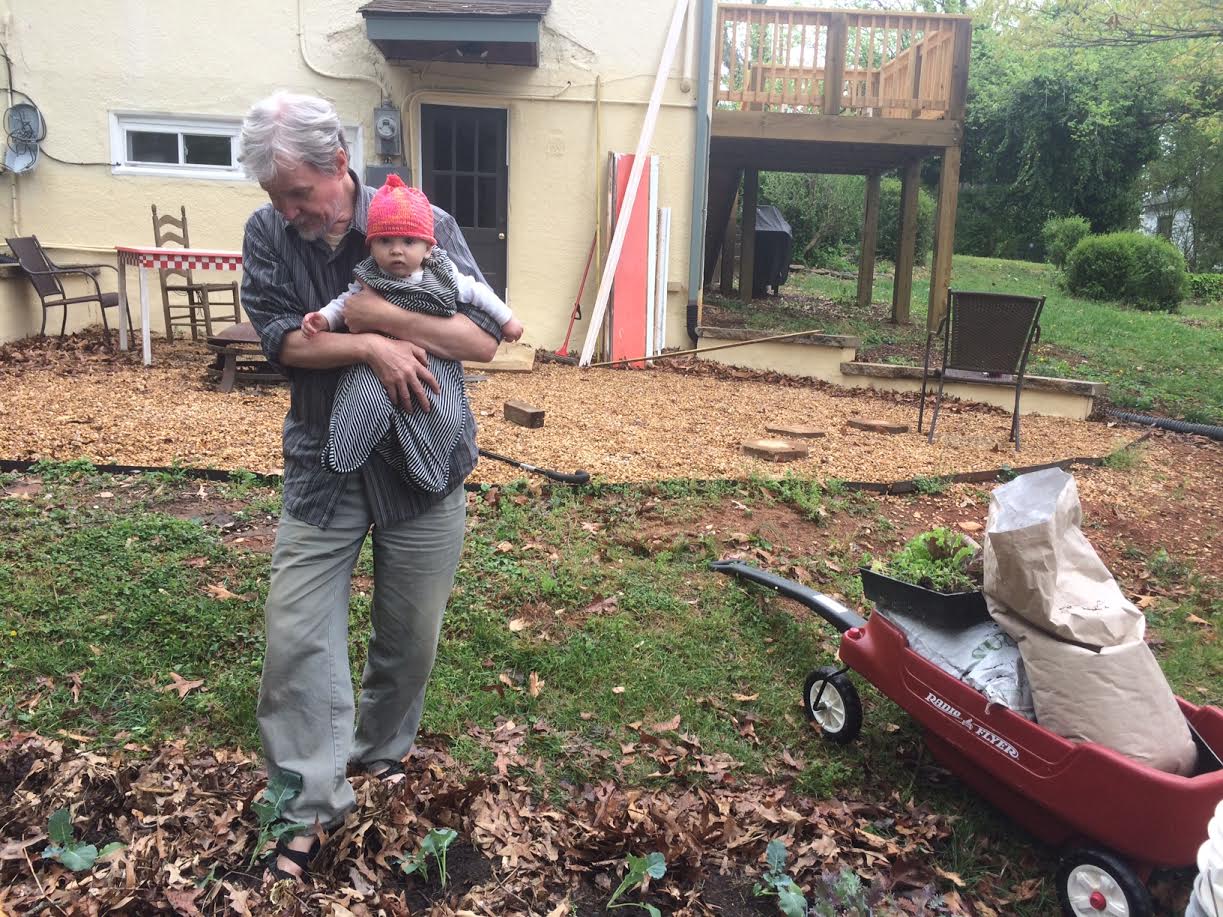 Grow a fort! Create bean teepees and leave an opening as a door or set up tunnel trellises like those made from cattle panels. When the plants are mature the kid's will have a shady little retreat. This is a great process to involve kid's in too.
Plant fragrant varieties! Kids love to smell plants and it doesn't just have to be flowers though those definitely work. As a child my favorite parts of my grandmother's garden were her patches of mint and creeping thyme. Other great options are sage, basil, or rosemary.
Let them graze! If there's fruit or veggies they want to munch while they meander around the garden let them go for it even if you wanted to harvest them for later. You're cultivating a love for healthy food straight from the earth. 
Teach them about local wildlife.
Have them help make or at least fill bird feeders. There are many easy bird feeders that can be quick children's projects. For example putting strings on a few pine cones and then coating them in peanut butter and rolling them in bird seed.
If the bird feeder was a hit you may also want to try a bird bath. They're fun for kids to fill up and watch birds in or if you're ready for a challenge try making your own.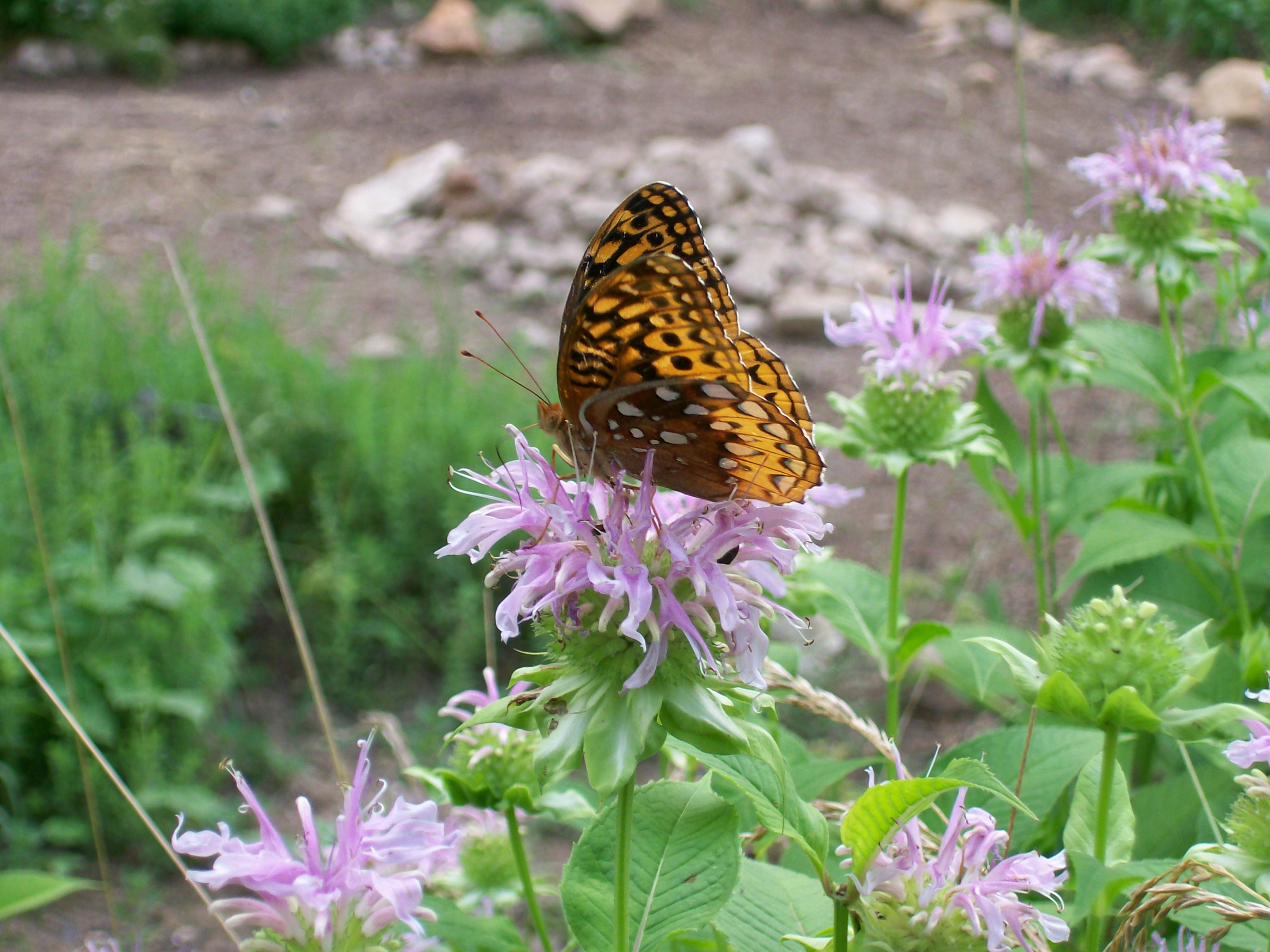 Insect hotels and pollinator or butterfly gardens are also fun projects for kids that can really help local pollinator and beneficial insect populations which helps you and your children have a more successful garden.
With any of these projects helping the child identify and learn about what species are visiting can be rewarding. For older children a kid's guidebook to local birds or insects might be a great option.
Pick projects that are easy for kids and peak their interest.
Many children are easy to get excited about projects but for some picking up plants from the hardware store and popping them in the ground just isn't that cool. Teach them how to start plants from seed and they'll be in awe about how big their plants are by the end of the summer. For and even better effect take photos along the way for you to look back on together. You could also choose fast growing crops like radishes for added excitement.
Plant a themed garden. Pizza and salsa gardens seem to be popular but there's plenty of other options. You could plant a garden as habitat for a specific species or try a rainbow (plants with every color) or alphabet gardens (plants with names starting with every letter of the alphabet). Another great option is a fairy garden or garden they design for one of their favorite book or movie characters.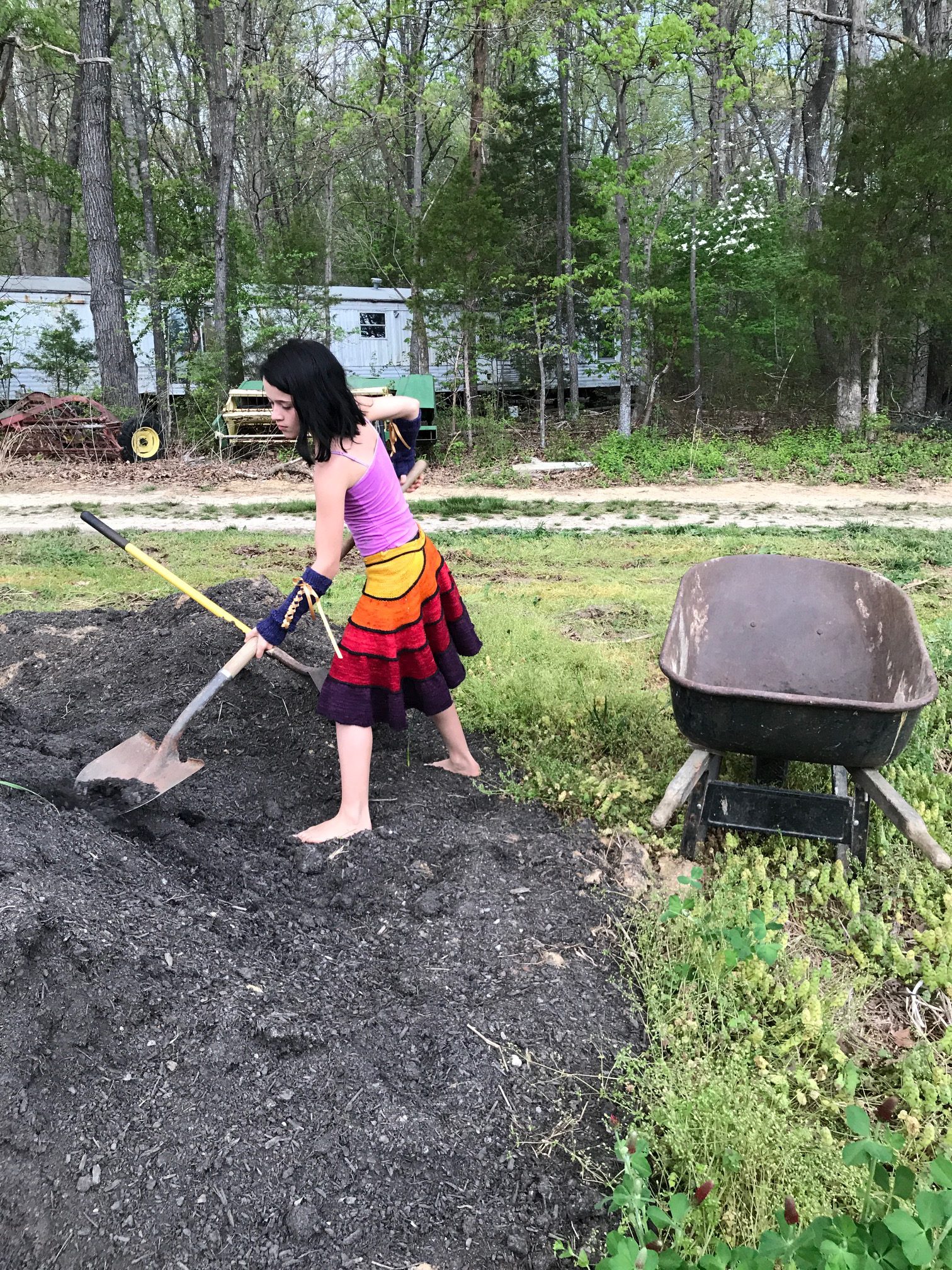 Especially if you have multiple children or a child's friends over making concrete stepping stones can be a great project. They can personalize a stone and help you create a pathway that will preserve memories for years to come. For more crafty garden project ideas try browsing Pinterest.
Assign age appropriate tasks. It's frustrating to try to get kids who can't reliably tell the difference between a tomato seedling and a dandelion to weed the garden. However even for kids who are too young to weed without tearing up the garden or can't be trusted to harvest on their own can be given a small watering can to help water the plants. They can also help with processing food once it's harvested. Many people probably remember sitting on the porch shelling peas or shucking corn as kids.
For those trying to garden with very young children you may just have to have them sit beside you or ride in a backpack to get some fresh air and take in the sights and sounds while you do the gardening.
You can also make sure to include some fun easy to harvest crops in your garden. Plants like strawberries, blueberries, and raspberries are always a big hit as long as you don't mind missing a few! If you have loose soil carrots, radishes and other root crops can be fun for kids to pull. Gathering potatoes after an adult forks them up can be a good option too. Other large fruiting crops like beans, tomatoes, and cucumbers can be a good job for children as long as they're gentle enough.
Many children also enjoy planting large seeded crops like sunflowers, squash, and cucumbers that are easy to hold and place. You could also have them try planting garlic or potatoes. My favorite for kids to plant is onion sets because they can plant them anywhere in the garden and they can be harvested as green onions if they end up in a tight space.
If they like planting you can consider introducing them to seed saving. My favorite plant to start with is sunflowers. It's a lot of fun for kids to remove the seeds from the sunflower head in the fall and then you can remind them of their hard work when they plant them in the spring.
Let them get dirty.
Know that children are going to get way dirtier than necessary in the garden. If you're worried about it you may want to set a few pairs of clothing aside just for "garden days."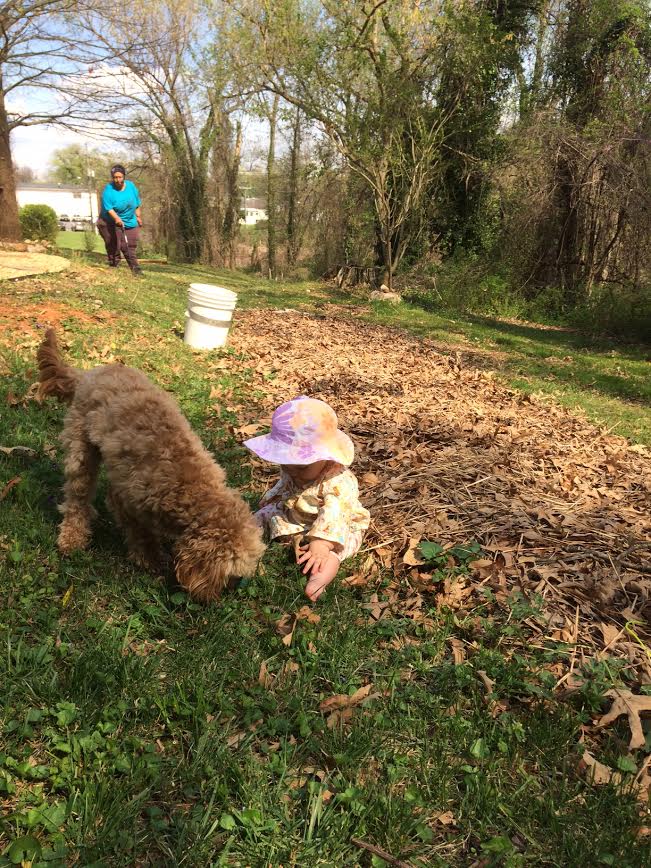 Teach them about compost. It can be fun for kids learn about how a compost pile breaks down. Let them hold the earthworms. Invest in a thermometer and teach them about how compost heats up. They'll be amazed.
Another fun project is teaching them to make compost tea and fertilize the plants with it. They can go wild mixing and then you can show them how to apply it to certain plants. For older kids it could be a great science lesson about plant nutrient requirements.
Keep your kids safe.
Obviously backyard gardens are generally pretty safe places. However there's a few things to ensure your children have a safe gardening experience.
First take the time to teach your children to properly use tools. Learning things like not leaving a rake on the ground tines up seems simple but can save little bare feet.
Also be aware of anything toxic. Young children have a tendency to put things in their mouth. Be sure to watch them if there's garden amendments or toxic plants like rhubarb leaves within their reach. Also if you use any powdered amendment (even organic) be sure children aren't breathing it in.
In today's world there's a severe disconnect between children and nature. They don't get outside enough. They have little education about plants, wildlife, or where their food comes from. Gardening with your kids is one of the best ways to fix this. Gardening with kids affords them so many great opportunities and though it may be stressful at times it certainly won't be dull. Even if they pick your unripe strawberries or "weed" out the peppers you just transplanted it's still worth it. They learn and grow and might even remember to thank you later (probably not).