Many garden articles and books out there suggest carrots as one of the easiest crops for beginners to add to their garden. However, that isn't always the case. You're not alone if you didn't have great success with carrots! Thankfully, a few techniques can help make growing carrots so much easier.
Start with the Soil
A great garden always starts with the soil, but this is especially true for carrots. They need light, well-drained soil to grow full beautiful roots. Many folks in the Southeast are starting with heavy clay soils, which can hinder carrot root development. 
One quick way to get great soil is to build a raised bed and fill it with finished compost. Raised beds can be the perfect solution for root crops; however, they also come with some downsides we discuss in our post, The Pros and Cons of Raised Beds.
You don't have to build a raised bed, though, and it is possible to improve your soil no matter what you're starting with. If you want to get a good carrot crop this year, it will take some work. Broadfork or garden fork your bed to a depth of at least 9 inches and add several inches of finished compost. If you're working with heavy soil, it's a good idea to add peat moss or leaf mold to provide good drainage, loose structure, and adequate moisture-holding capacity.
It's also a good idea to have your soil tested. Carrots, like other crops, have specific growing requirements. They need a good bit of potassium and phosphorus and a pH between 6.0 and 6.8. 
Soil that's too acidic or low in potassium and other nutrients can lead to poor growth. You can correct these issues with amendments like wood ash which is rich in potassium, bone meal which is rich in phosphorus, and lime to make the soil more alkaline.
Avoid adding fresh manure or fertilizer before planting. Too much nitrogen encourages top growth but causes rough and highly branched roots.
Select an Adaptable Variety
Not all carrot varieties are created equal. If you're dealing with less than ideal soil conditions, you'll have better luck with a variety adapted to such conditions.
Chantenay Red Core Carrots are an heirloom variety introduced from France in the late 1800s. They're a blocky, broad-shouldered variety with blunt tips that do well in clay and a wide range of soils.
Another heirloom that dates to 1884, Oxheart Carrots produce shorter, wider roots great for heavy clay, shallow, or rocky soils. Give them plenty of growing space! Oxhearts can weigh up to one pound.
Danvers 126 Carrots are a popular variety for a good reason. Dating to 1947, these carrots are widely adapted, productive, and heat-tolerant. They're especially suited to growing in clay soil, and the strong tops aid harvesting.
Sow Your Carrot Seeds
Always direct sow carrots. Sow carrots 1/4 inch deep and cover them with fine, light soil. Keep the soil moist be careful not to wash away soil and seeds with a strong water source. Sprinkle wood ash along the row to prevent wireworm damage. 
Carrots need consistent moisture to germinate and do best with relatively cool soil temperatures. Seeds take about five days to germinate but may take longer in cool weather.
Planting carrots in hot, dry, midsummer weather for a fall crop can be a challenging task. Thankfully, there's a trick to make it much easier. After sowing carrot seed, cover your rows with boards or cardboard. This keeps the soil cool and moist and improves germination. Check under the boards every day and remove them as soon as you see that the carrots have germinated.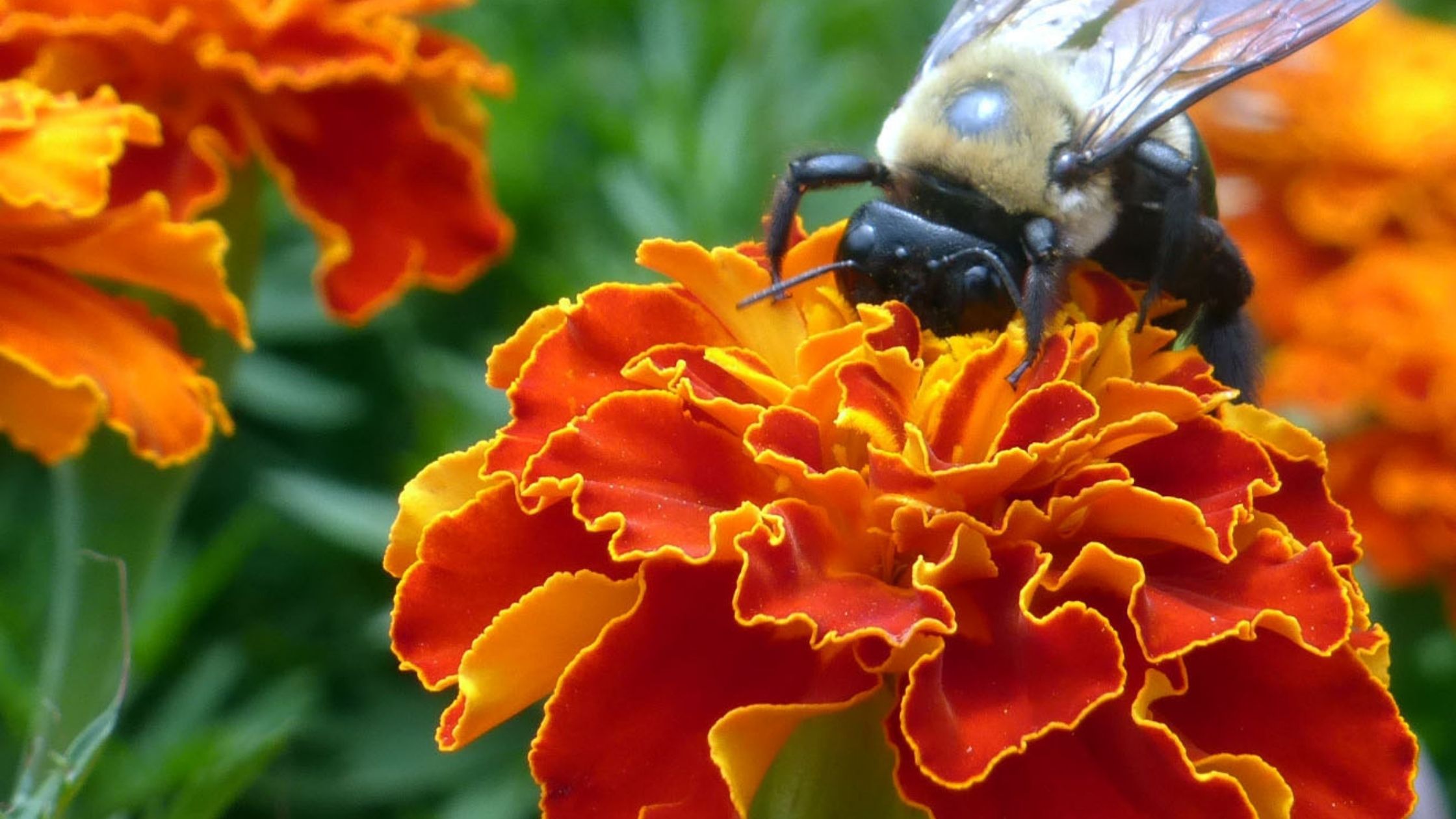 Companion Plants for Carrots
Onions, garlic, and chives can help repel carrot pests like aphids and carrot rust flies. Interplanting carrots with onions in a ratio of 1 to 2 reduces carrot fly damage by 70%. Carrots also help onions by repelling thrips which can damage onions.
Radish seeds are super quick to germinate! Sow then with carrot seed to prevent the soil from crusting. 
Strong smelling marigolds deter carrot rust flies. There's also some evidence that intercropping marigolds or calendula with carrots increases carrot roots' sugar content. 
Caring for Carrots
Once your seedlings put out true leaves, thinning them is essential. It feels like you're destroying good plants but remember that none of your carrots will produce nice roots if they're overcrowded! Thin to 1-2 inches apart in rows 12 inches apart.
When your seedlings reach several inches high, it's a good idea to mulch around them. Mulching keeps the soil cool and moist. Water as needed to keep the soil moist but not soggy. Extreme fluctuations of soil moisture between dry and wet conditions may cause cracking of the roots.
Harvesting & Storing Carrots
Most carrot varieties are best when harvested when they're no larger than 1 inch in diameter; Oxhearts are one of the obvious exceptions to this. If you're having trouble pulling carrots, carefully use a garden fork to lift them from the soil.
For storage, cut off the tops to about 1/4 inch. Store in the refrigerator or overwinter in the garden by covering with a thick, loose mulch such as straw.