Peppers are an excellent crop for gardens of the Southeast. They're beautiful and incredibly productive. Peppers are available in various shapes, colors, and flavors, so every gardener can find a variety to fit their tastes.
We carry three species of peppers at Southern Exposure: Capsicum annuum, Capsicum chinense, and Capsicum baccatum. Most peppers easily found in the U.S., and almost all sweet peppers, fall under the species Capsicum annuum.
Worldwide, there are 26 known wild pepper species and five domesticated species. The domesticated species include the three we carry as well as Capsicum frutescens and Capsicum pubescens.
Wild Peppers
Peppers originated in parts of South, Central, and southern North America. Scientists believe that C. annuum evolved in Mexico. C. frutescens probably evolved in the Amazon basin. Capsicum chinense is a misnomer; this species also originated in the Americas and is thought to have evolved from Capsicum frutescens. Capsicum pubescens is native to Peru, Bolivia, and Ecuador. Capsicum baccatum is also believed to have originated in Peru and Bolivia, the Andean region of South America.
The first wild peppers probably produced small, red, pea-sized fruits, which attracted frugivorous birds. Unlike humans, birds don't have the receptors in their mouths for capsaicin, the chemical that gives peppers their heat. Bird digestive systems also leave pepper seeds intact, making them ideal distributors for wild peppers.
Domestication
Pre-ceramic remains of C. annuum have been found in east-central Mexico in the Valley of Tehuacán. These remains date to 9000–7000 B.P. (before present) and are "the oldest macrobotanical evidence for pre-ceramic chili pepper in the New World." Archeologists found them in association with other domesticated crops such as maize and squash, leading them to believe these may have been cultivated.
C. frutescens probably evolved and was domesticated in the Amazon Basin. Today it's cultivated and grows wild in many regions across South and Central America. It's also grown in India and Ethiopia and has become an essential part of Ethiopian cuisine.
The exact origin of C. chinense is still unknown. It's believed to have evolved from Capsicum frutescens and was cultivated in the Amazon Basin in what's now Southern Brazil and Bolivia. Later it was brought to the Caribbean and Cuba, where it was given the name Habanero.
Domestication of C. pubescens dates back to pre-Incan times. It was grown by ancient Peruvians of the Paracas, Nazca, Moche, and Chimu cultures. Records of this species can be seen in the textiles, ceramics, and domestic remains of these societies.
Using DNA analysis in combination with archeological evidence, scientists have determined that C. baccatum was most likely domesticated in the lowlands of Bolivia and inter-Andean valleys of Peru at least 4000 B.P. These peppers were most likely domesticated by pre-Incan peoples, including the Arawak and Guarani.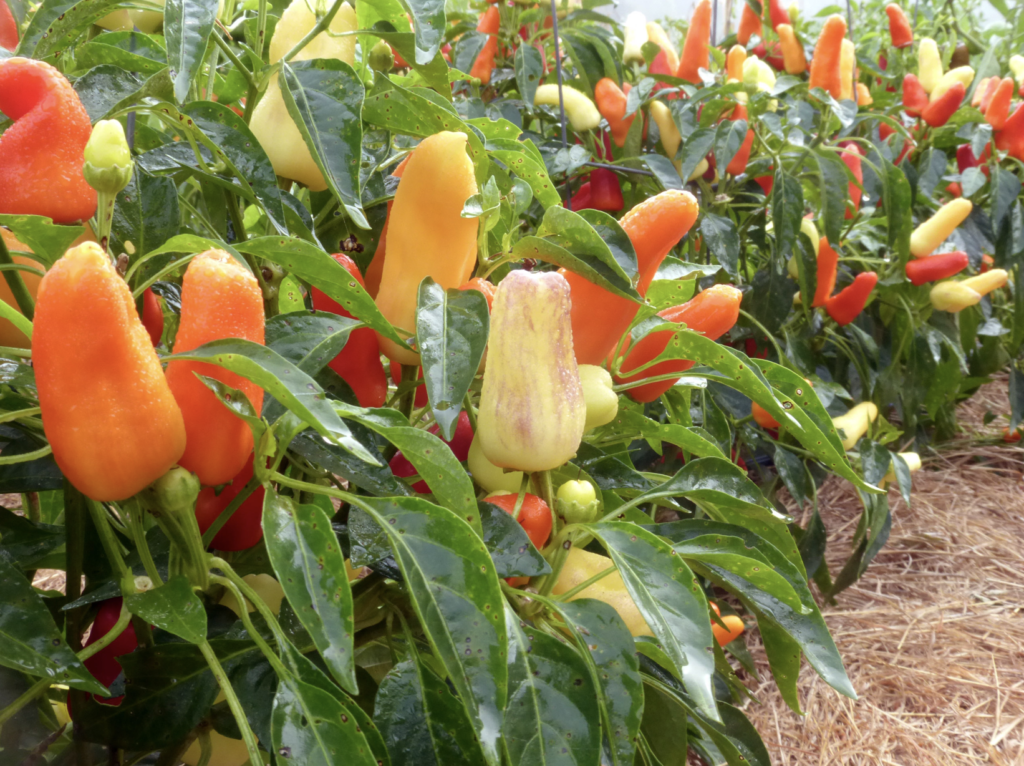 Pepper Varieties
As with many crops, commercialized farming shifted away from heirloom and open-pollinated peppers starting at the beginning of the 20th century. Farmers began growing more and more hybrids that produced uniform, sturdy crops that were ideal for shipping. Thankfully, many heirloom and open-pollinated peppers are available for backyard gardeners and small farmers, including those listed below and more.
***If the name is listed in green, it's a variety we carry. Others are listed for educational purposes, but you may be able to locate seeds from another source.***
Capsicum annum
This species is the most commonly found in the United States and is the most extensively cultivated. It includes a wide variety of pepper shapes and flavors. Almost all sweet pepper varieties are cultivars of C. annuum. They generally have thicker walls than C. chinense or C. baccatum making them ideal for sauces.
Capsicum chinense
These peppers are generally thin-walled and commonly known as "habanero-type" peppers. Their heat is relatively dispersed throughout all parts of the pepper, and they have a fruity flavor. Most of the world's hottest peppers, including the "Carolina Reaper," come from this species though not all varieties are that intense.
Capsicum baccatum
C. baccatum peppers are typically the best for drying. They have a spicy, fruity flavor and are generally disease-resistant. They're an important ingredient in Bolivian and Peruvian cuisine and are sometimes exported as ornamental plants.
Aji Panca Hot Pepper
Lemon Drop Hot Pepper
Piquanté

 

Pepper
Capsicum frutescens
Often used as ornamental peppers, C. frutescens typically bear colorful, lance-shaped upright fruits. They are small and very pungent. They're often cultivated and used in India and Ethiopia. 
Tabasco Pepper
Xiaomila Pepper
Malagueta Pepper
Piri Piri (African Devil Pepper)
Siling Labuyo
Capsicum pubescens
This species is probably the most unique. It typically produces meaty, juicy, apple-shaped fruit with black seeds. The plants also have notably hairy leaves and withstand cooler temperatures than other pepper species. They don't dry well and are typically eaten fresh or made into a paste.
Rocoto Longo
Canário
Mexican Manzanos
Peruvian Rocotos
Bolivian Locotos
Perón