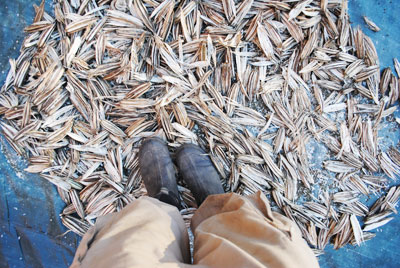 40th Anniversary Regional Seed Savers Exchange Meet and Seed Swap
Thursday, January 28, 2016, 11 a.m.–4:30 p.m.
Virginia Association for Biological Farming Conference, in Smith Mountain Lake, VA.
Register Now: vabf.org/conference/seed-saving-school/
Join us for this one-day seed saving pre-conference intensive to celebrate 40 years of Seed Savers Exchange members working together to preserve the diversity in our food crops through saving heirloom seeds!
Learn more about the importance of using open-pollinated seeds to preserve plants for their historical significance and their value as a recurring food supply.
Explore techniques for seed saving, maintaining seed purity, and ways to ensure your seeds will last in storage.
Informative lectures will alternate with practical demonstrations of small scale seed saving, cleaning, and storage tools.
Meet other seed savers and participate in our community seed swap.
Everyone will leave the workshop with new knowledge and some heirloom open-pollinated seeds to grow in your gardens. You will be ready both to continue your seed saving and to share with others. Help us to build more more independent and resilient seed systems in our communities!
Workshop leaders:
Tor Janson, Collections Curator at Seed Savers Exchange
Ira Wallace, Education and Variety Selection Coordinator at Southern Exposure Seed Exchange
Rowen White, Native American Seed Keeper of Sierra Seeds
Rosalind Creasy author of "Edible Landscaping"
and Seed Savers Exchange board members