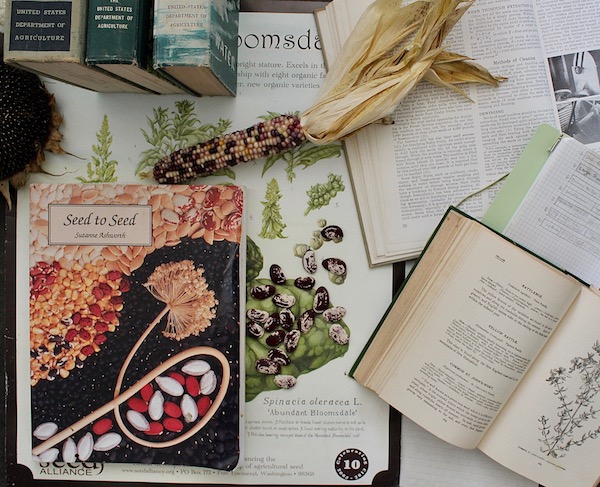 From the outset, seed saving can seem like a rather simple affair. How hard could it be to collect seeds from your vegetable plants right? When you start trying to learn, it becomes apparent that things are a bit more complicated then that. All of a sudden your thrown into the world of seeds and you're trying to learn about things like isolation distances, pollination dynamics, and seed cleaning methods. This fall, add one of these five books to your garden shelf for all the seed saving information you need.
Written by Suzanne Ashworth , Seed to Seed provides a comprehensive look at seed saving. It's perfect for complete beginners or those looking to improve their knowledge. Find information about both common and rare vegetables and herbs from seed collection and storage to maintaining variety purity.
This wonderful book was a partnership between The Organic Seed Alliance and Seed Savers Exchange. It's a great companion to Seed to Seed. It focuses more on main vegetable varieties with helpful guidelines for both farmers and home gardeners. It also features new seed saving research.
Create your own locally adapted varieties. Carole Deppe provides an informative look at seed saving and plant breeding for both farmers and gardens. Plus, the book is filled with inspiring tales of such interesting vegetables as popping chickpeas, hairy mustards, purple peas, rainbow corn, storage watermelons, and many more.
"An essential guide to high-quality, organic seed production: well grounded in fundamental principles, brimming with practical techniques, thorough in coverage, and remarkably well organized, accessible, and readable." – Jeff McCormack, Southern Exposure founder. This book is a valuable tool for any seed saver, covering topics like seed-borne diseases, reproductive biology of crop plants, seed crop climates and more.
This book obviously doesn't provide a comprehensive look at seed saving like those mentioned above, but it is perfect for any tomato enthusiast. Author Craig LeHoullier introduced Cherokee Purple tomatoes to SESE and the world. His book offers incredible insight into all aspects of tomato growing and breeding.
Perfect for your fall reading list, these 5 books can help you save seeds of your own, whether you want to help preserve your favorite heirlooms or breed a local cucumber variety. They're also a great option to keep in mind for the holidays.