Keeping Up with SESE
Recently, we here at Southern Exposure have had the pleasure of participating in two lovely, sustainability-focused events: our 4th annual Heritage Harvest Festival, held at Thomas Jefferson's Monticello right here in Virginia, and the inaugural Mother Earth News Fair at the Seven Springs Resort southeast of Pittsburgh.
Heritage Harvest Festival at Monticello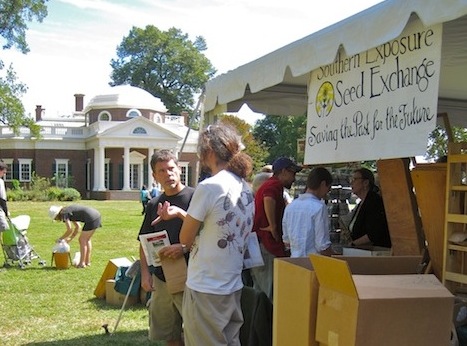 Thomas Jefferson was an avid gardener and agriculturalist and, if alive today, would surely be a passionate advocate of the organic food movement. In honor of this, Monticello and Southern Exposure have been co-hosting the Heritage Harvest Festival (HHF)–a celebration of local food, gardening and sustainable agriculture.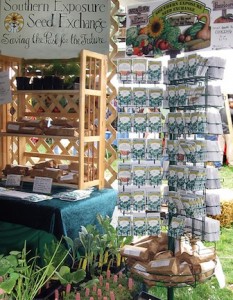 On Saturday, September 11th, 3,000 people flooded Monticello's West Lawn to attend workshops and hands-on demonstrations as well as to admire Jefferson's beautifully-restored gardens.
Experts from around the country shared their knowledge with participants at a variety of wonderful lectures. Among these master gardeners were our very own Ira Wallace and Ken Bezilla. Ira educated listeners about heirloom garlic and later, she threw a tea party! At her workshop Herbal "High" Tea, Ira served fancy herbal teas and delicious anise cookies while teaching participants how to grow the herbs needed to make such sweet and savory delights.
At Ken's lecture, he delved into fall and winter gardening for Zone 6. Besides recommending winter greens and roots that participants could begin growing as well as naming crops such as garlic and onion that could be started for next year, Ken talked about frost preparation for summer crops, row cover, and what to do for your plants when it snows.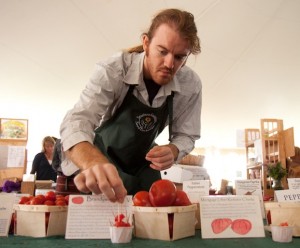 Over at our Southern Exposure booth, we hosted pepper, melon and tomato tastings that enveloped us in a flurry of activity all day long. The continuous stream of people wanting to try our numerous heirloom tomato varieties kept our ex-line cook Andros chopping tomatoes at lightening speed for hours.
Mother Earth News Fair
The first ever Mother Earth News Fair, held at the Seven Springs Resort in Pennsylvania, was a huge success, with over 9,000 participants and nearly 200 workshops. The fair was a hands-on sustainable lifestyle event that featured an eco-friendly marketplace, organic and local food tastings, and lectures by leading authorities on gardening, green building and renewable energy. We're glad we got to be there and that we were asked to be a Supporting Partner of the event.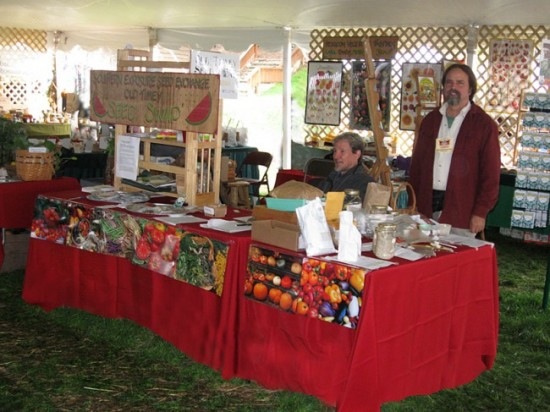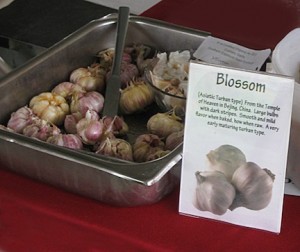 An entire table of our booth was dedicated to seed swapping. We happily looked on as friends of Southern Exposure exchanged all sorts of seeds, from passion fruit to wildflowers, amongst each other.
People perusing our booth could also sample squash, tomato, pepper and garlic varieties–all of which we grew in our garden.
And Ira, ever a fountain of useful information, gave four lectures.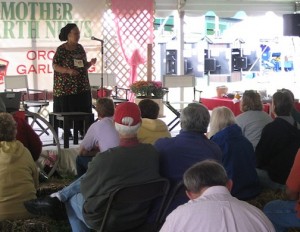 When she wasn't teaching attendees how to grow garlic, perennial onions, herbs and heirloom tomatoes, she was instructing people on how to eat fresh from their gardens all winter long.
If you missed the fun in Pennsylvania, come visit our booth next year! We'll definitely be back, and with even more Southern Exposure goodness.
If you'll be on the West Coast in June or September next year, you can also find us at these Mother Earth News Fairs:
June 4-5, 2011 – Seattle Metro Area, Puyallup Fairgrounds, Puyallup, Wash.
Sept. 3-5, 2011 – San Francisco Metro Area, Marin Center, San Rafael, Calif.
Upcoming Events: Where to Find Us This Winter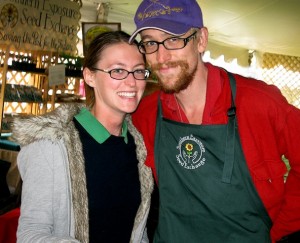 We're donating ten percent of our sales from winter events to the Organic Seed Alliance, so come on out and celebrate seeds with us!
| | |
| --- | --- |
| Dec 3-5 | Carolina Farm Stewardship Association's 25th Sustainable Agriculture Conference in Winston-Salem, NC |
| Dec 12 | Appalachian Seed Swap in Bristol, TN |
| Jan 19-22 | Southern Sustainable Agriculture Working Group (SSAWG) in Chattanooga, TN |
| Feb 10 | Organic Seed Intensive in Portland, OR |
| Feb 11-12 | Organicology in Portland, OR |
| Feb 11-12 | Virginia Association for Biological Farming (VABF) in Danville, VA |
| Mar 5-6 | Organic Growers School in Asheville, NC |
| Mar 10-12 | Georgia Organics in Savannah, GA |