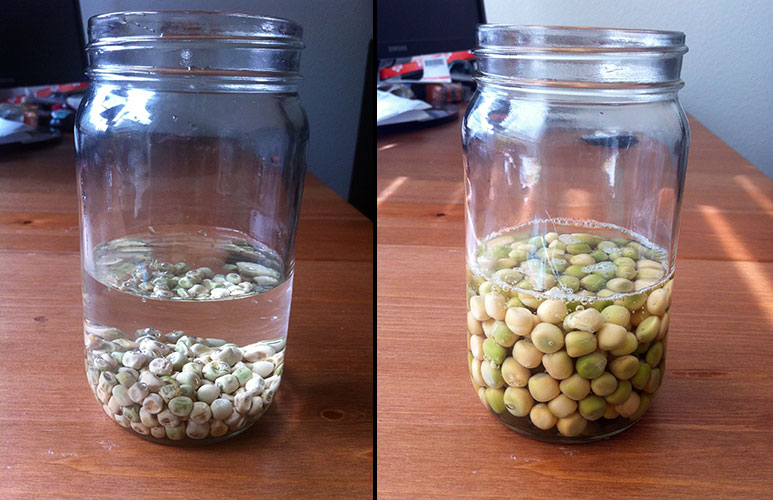 Watch them grow! These Wando English (Shelling) Pea seeds change dramatically with just an overnight soaking, the first step in pre-sprouting. (Wando is a favorite variety for excellent production in hot weather.)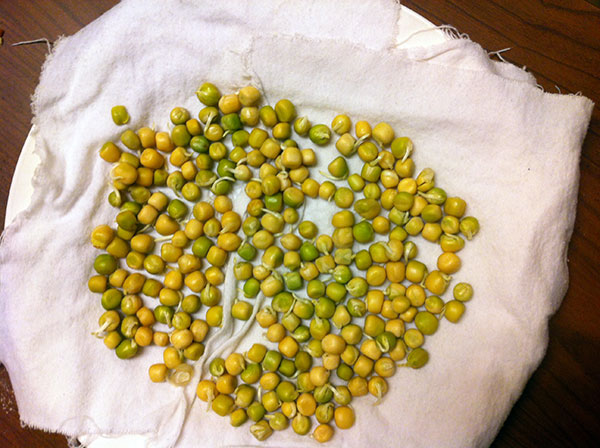 The final product! These are VERY ready to sow — don't let the rootlets get any longer! I kept them moist after soaking by laying a damp cloth over them.
Pre-sprouting your seeds is an ideal technique for letting you see how well your seeds are germinating before you sow. If your seeds are old or haven't been stored properly, you can pre-sprout them to make sure they're still viable.
We only recommend pre-sprouting for large seeds, like beans, peas, spinach, and corn. Smaller seeds become difficult to handle when wet.
You don't have to go all the way to sprouts: soak your seeds for at least 4 hours, but not more than 12 hours, to get much of the benefit of pre-sprouting, but without the hassle.
To pre-sprout the seeds, drain them after soaking and keep them evenly moist until the tiny first rootlets just barely emerge. We keep our seeds moist by rinsing them at least twice a day and covering with a damp cloth.
Watch your seeds very carefully! You should sow them as soon as the tiny rootlets emerge: they should only be about a quarter inch long. Wait just one or two days longer and you'll have long, easily-damaged roots and stems.