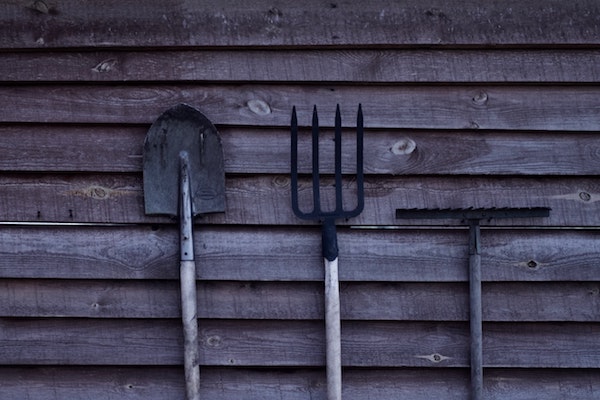 Let's talk about swales. These landscape features have become a quintessential part of permaculture. They're touted for their productive ability; saving water and reducing erosion while providing a bounty. But do you really need a swale? 
Swales are basically ditches with mounded beds in front of them. They do work extremely well to prevent erosion and are the perfect way to turn hillsides into productive agricultural land. They're also excellent for preventing water loss. Any rainwater will get caught in the ditch and be slowly absorbed over a long period rather than flowing downhill. This is a key feature for areas without frequent rainfall. 
However, if your property is mostly flat or you don't see much runoff from your hillside you may not need a swale. Many people create swales only to be disappointed that they never see water in them. A simple hugelkultur mound can be a great alternative if you determine you don't need a swale.
Contour Swales
While small swales can simply be placed perpendicular to the general slope of a hillside larger, longer swales should be constructed on contour. This simply means that the swale follows the hillside at a single elevation. This keeps it level, preventing water from flowing to one end or part of the swale. 
While some large projects are done with laser levels you can find a contour with a simple homemade A-frame level. This video is a great DIY tutorial on how to make one for cheap or free. 
Once you have a level you can use stakes to mark out your contour. 
Building a Swale
To begin building your swale start with the mound. It sounds backward but to start you should create a mound of organic material like sticks, leaves, compost, and even logs if your swale is going to be large. The mound is basically going to be a hugelkultur mound. Then you can dig the ditch behind it, using the soil that comes out of it to cover the mound. The ditch should be roughly 3 times as wide as it is deep.
Small swales can be dug by hand with shovels and mattocks but larger swales are frequently created using large machinery. Before getting into creating larger swales it's important to consider how beneficial they'll be to your property. Starting with a hand-dug swale can be a good test run!
Planting a Swale
What you plant in your swale will largely depend on its size. Large swales are frequently printed with larger perennials like fruit trees. Fruit tree guilds are perfect for planting on swales! In any case, deep-rooted perennials are ideal plants for swales because they help to hold the mound in place. They also use water throughout the year preventing the mound from becoming overly saturated. However, annuals can also be planted in combination with perennials. Here are a few good options for swales:
Fruit trees: apple, peach, cherry, etc.
Comfrey
Strawberries
Rhubarb
Asparagus
Grapes
Perennial flowers: bee balm, coneflower, etc.
Chives
Berry bushes
Creating a swale is hard work. However, if you have erosion problems on your property a swale may be worth the investment. Follow this advice to create a productive swale of your own.