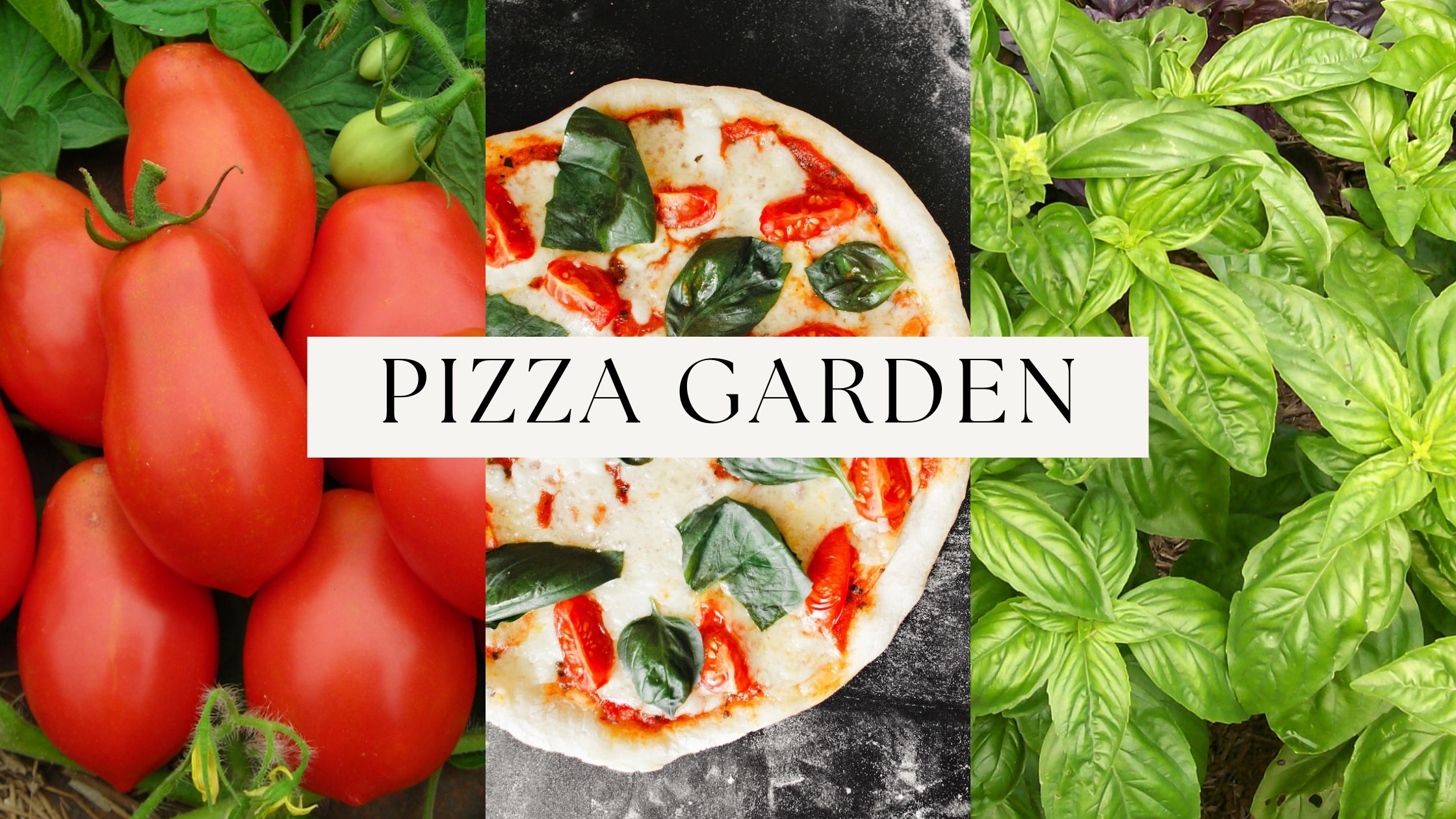 Gardening doesn't have to mean growing all your vegetables or getting your family to eat insane amounts of zucchini and kohlrabi. This winter, try planning a pizza garden! You can grow the ingredients you need to make a delicious homemade pizza for you and your family. Pizza gardens are also a great way to get kids started in the garden and show them how food can go from seed to plate. 
Preparing a Bed for Your Pizza Garden
You don't need a huge bed for a pizza garden; you can even grow one in containers which I'll discuss further below. A single paste tomato plant can yield 6 to 20 pounds of fruit!
Select an area that receives at least 8 hours of sunlight per day. Depending on the toppings you decide to grow, your tomato will probably be the biggest plant, and it should have about 24 inches of space between it and other plants for the best production.
Loosen the soil with a tiller or garden fork. Add a couple of inches of finished compost to the soil. 
Container Gardening
Even if you don't have an actual garden space, you can grow a pizza garden in containers. For large plants like tomatoes and peppers, look for large pots or upcycle containers like totes or 5-gallon buckets. 
You can grow herbs like basil and oregano in smaller containers, about 1 gallon in size, especially if you keep up with harvesting. Property harvesting basil by pinching off leaves just above two sets of new leaves will encourage a bushier, fuller plant rather than a tall one. 
To fill your containers, select potting soil. Don't use ordinary garden soil. Garden soil will compact over time in containers and won't provide adequate drainage. You can also mix quality, finished compost with your potting soil.
Selecting Plants for Your Pizza Garden
What you choose for your pizza garden is up to you, but here are some great choices that are easy to grow and taste great on a pizza!
Paste Tomatoes
Paste tomatoes are dense and have drier flesh and fewer seeds than slicing tomatoes, making them better suited to making sauces and pastes. They also tend to be some of the hardiest, most disease-resistant tomatoes and adapt well to containers. 
Don't think of paste tomatoes as dull, though! There are many fun varieties, from the classic red Amish Paste to the orange Illini Golden Paste, or mahogany Black Plums. 
If it's what you already have, you can use slicing tomatoes to make a sauce. You'll need to cook them down more to thicken your sauce.
Basil
Basil is a pretty easy-to-grow herb but does best in rich, well-drained soil. There are many types of basil, including some fun purple varieties! Start your basil indoors or direct seed it after all danger of frost has passed.
Basil is also an excellent companion plant for tomatoes! Anecdotally, basil is believed to improve the flavor of tomatoes growing near it. Its potent oils and aromas are also believed to help repel pests like hornworms and whiteflies. 
Oregano
Oregano is the classic pizza herb! It's perennial in zones 5 through 10, so you'll only need to get it started once. Start your oregano indoors and transplant it out after the danger of frost has passed. 
Peppers
Several bell peppers like Carolina Wonder, Bull Nose, and California Wonder make excellent additions to the pizza garden. Try a smaller pepper plant like Doe Hill Golden Bell Peppers if growing in containers. These cute little peppers are sweet and delicious despite their small size!
Sweet banana peppers are a fun choice. Any abundance can be pickled, canned, and used for future pizzas or other recipes.
Onions
Onions are also popular additions to pizza and sauce. They're also great in the garden because they help deter pests. You can add bunching onions, bulb onions, or perennial onions to your pizza garden.
Start bulb onions indoors well in advance. Here in zone 7a, we start them indoors in January. You need to start perennial onions in the fall. 
Garlic
Like perennial onions, you'll need to plan well in advance to have garlic in a pizza garden. It does best when it is fall-planted.
Greens
Greens are another popular pizza topping, but they can be trickier to incorporate into your pizza garden. Many greens like spinach thrive in the cool weather of early spring and fall but will bolt in the summer heat when your peppers, tomatoes, and herbs are flourishing.
If you want greens for your pizza, try to select varieties that are late to bolt and tolerate warmer weather. Alternatively, you can also employ shade cloth to help keep them cooler. 
Pizza Garden Planting & Care Tips
Carefully read seed packets and growing guides for your chosen varieties. Start plants inside or direct seed at the appropriate times for the variety and your zone.
When transplanting, properly harden off transplants and plant on an overcast day. Plant the peppers and herbs at the same level as they were in their pots. You can plant tomatoes deeper, up to the bottom of the first branches, and the stem will grow additional roots.
Use stakes or cages for the tomatoes and peppers. Tomatoes will do best when properly trellised and pruned. Peppers may also need some support, particularly larger varieties. 
Water consistently. All of your plants will produce best if they receive adequate moisture. This is especially important for container plantings and raised beds, as these tend to dry out more quickly.
Next season, get the whole family involved in the garden by planning and growing a pizza garden! You can grow all the produce you need, like paste tomatoes, oregano, basil, peppers, and onions, to make a delicious homegrown pie! Pizza gardens are a fun, easy, and enjoyable way to teach children about food production and cooking.