It's hard not to love the birds that visit our yards and gardens. We love them for their beauty, their cheerful melodies, and because they're a joy to watch. Many birds can also help you have a more productive garden. These are five of the many species native to the eastern U.S. that play important ecological roles in the garden.
Eastern Bluebirds
These stunning little beauties (seen above) are workhorses in the garden! They are heavy feeders, especially during the nesting season. Eastern Bluebirds (Sialia sialis) eat a variety of insects that would otherwise be feeding on your plants. They can be found throughout much of the Eastern U.S. year-round in woodlands, farmlands, and orchards.
Populations of Eastern Bluebirds have seen severe declines primarily due to competition with House Sparrows and Starlings for nesting sites. To attract them to your garden and give them a helping hand, you can create or purchase Blue-bird specific nest boxes. These nest boxes should have an entrance hole 1.5 inches in diameter. This size is large enough for the Eastern Bluebird but too small for many other species. 
You can also make your garden more attractive to them by adding a birdbath or other clean water source. Additionally, you can stock feeders with mealworms and plant sumac or elderberry, providing some of their favorite meals. 
Hear the Eastern Bluebird here.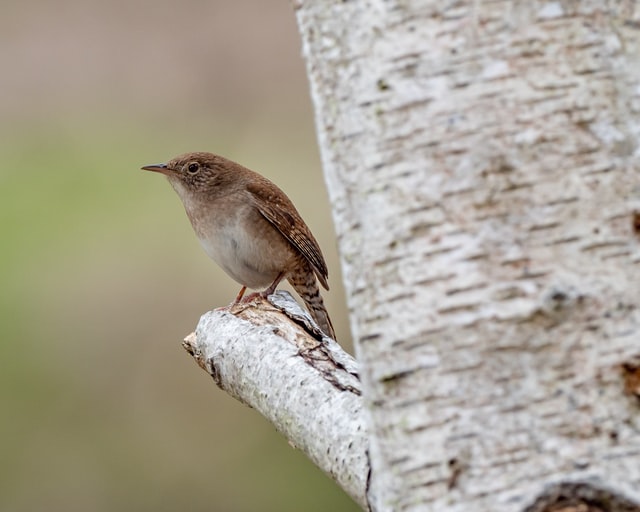 House Wrens
Odds are you've seen a House Wren. They earned their name from their tendency to nest around human homes or in backyard birdhouses. While they lack the Bluebird's vibrant colors, their cheerful personality and beautiful, bubbling song makes them just as fun to have around. 
During the spring and summer, you can find House Wrens throughout most of the eastern United States. They can be found year-round in parts of South Carolina and farther south. They feed on a wide range of insects, including moths, caterpillars, beetles, flies, and other troublesome pests!
As cavity nesters, House Wrens will use a variety of human-made birdhouses. You can upcycle old watering cans or scrap wood into suitable wren houses. You can also help them feel more comfortable in your garden and yard by planting dense shrubs or leaving some thick natural areas for them to use as shelter. If you have woodlands, leaving standing dead trees also helps make more natural cavities available for them and other birds.
You can hear the House Wren here.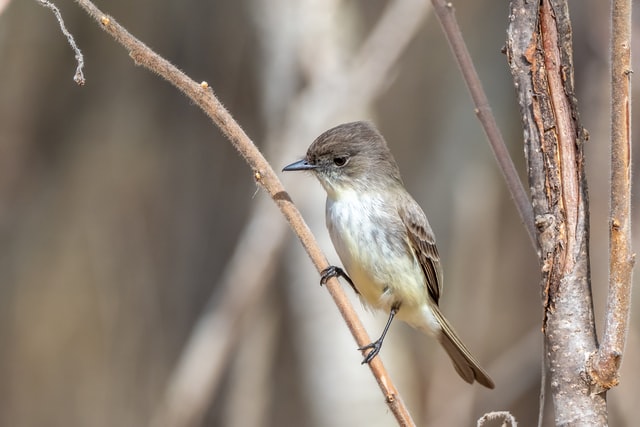 Eastern Phoebes
You may already be able to recognize these birds by the call they're named for, which sounds like "fee-be." They also have the adorable habit of bobbing their tails when perched. Like the House Wren, they spend at least the spring and summer in most of the eastern United States and may also be seen year-round in the Southeast. They are some of the earliest birds to move north each spring. They're common in woodlands, farmlands, and suburbs and are often spotted nesting under bridges and in eaves and rafters.
Phoebes are members of the family of birds known as the "flycatchers." They catch most of their meals out of midair, feeding on flies, wasps, beetles, and other insects. They will also hover to grab bugs off foliage or drop to the ground to quickly grab an insect.
Eastern Phoebes are in decline in much of their summer range. You can help preserve this species and invite them to your garden by building appropriate nest boxes. You can find plans here. Be sure to get boxes up early! They also eat berries, so planting a few sumacs or elderberries can help attract them.
You can hear the Eastern Phoebe here.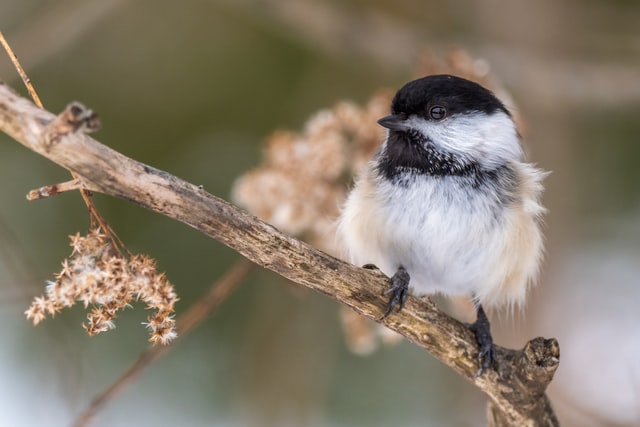 Chickadees

Three different species of Chickadee call the eastern United States home. The Boreal Chickadee (Poecile hudsonicus) is only found in northern New England and into Canada though it has occasionally been spotted farther south. The Black-capped Chickadee (Poecile atricapillus) is found in the mountains of West Virginia and farther north, while the Carolina Chickadee (Poecile carolinensis) is found in southern Pennsylvania down to the middle of Florida. 
All of these species are omnivorous and will feed on insects throughout the year. Having them around can help keep pest populations low. They'll hunt insects in your garden during the summer and find them in bark and dead plant material in the winter.
Thankfully chickadees are easy to attract to your yard. They'll visit clean birdbaths and other water sources. Planting berry bushes like elderberries and seed crops like sunflowers are great ways to provide food for them. They'll also readily visit feeders and particularly enjoy sunflower seeds, suet, and peanut butter. You can also help provide chickadees with protection from wind, rain, and snow by planting evergreen shrubs and other dense plants.  
Hear the Boreal Chickadee, Black-capped Chickadee, or the Carolina Chickadee by clicking their name.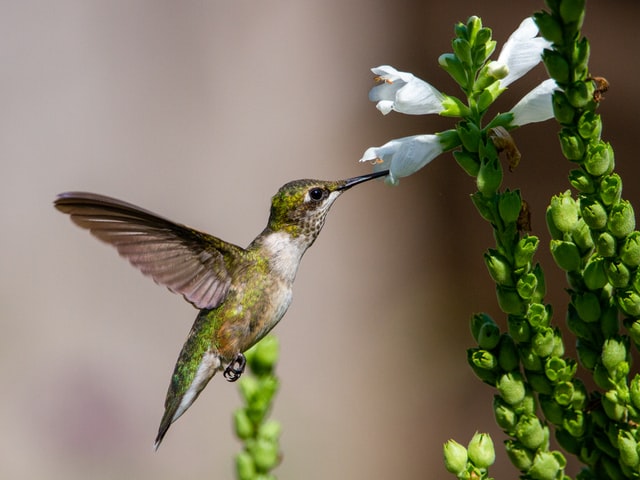 Ruby-throated Hummingbird

Of course, I couldn't leave the Ruby-throated Hummingbird off this list. They're stunning, will help pollinate your plants, and eat various small soft-bodied insects, including gnats, aphids, fruit flies, and tiny spiders. The Ruby-throated Hummingbird can be found throughout the eastern United States during the summer and year-round in parts of Florida. They're commonly seen in gardens and woodland edges.
You can attract these hummingbirds by putting up feeders or planting tubular or trumpet-shaped flowers. If you decide to use a feeder, you should use appropriate food (no red dye!) and clean the feeder often. You can find great information about feeding hummingbirds in this Audubon Society article. Great flowers to plant for these birds include cardinal flowers, sunflowers, bee balm, echinacea (coneflower), Jewelweed, Milkweed, and Fuchsia. You can also add flowering trees such as Flowering Dogwood or Crabapples to your yard.  
You can hear the Ruby-Throated Hummingbird here.
Tips for All Birds
One of the best things you can for any bird species is to stop using pesticides in your garden. Pesticides can make birds sick when they consume insects that have come into contact with these chemicals. 
You can also leave a few wild areas. Sometimes the "untidy" areas of your yard or woodland are the best for sheltering and feeding small birds. Keep this in mind when you have the urge to clear brush, dead trees, and dead plant material.
Lastly, you should plant native species. Native flowers, trees, and other plants help provide habitat and food for a wide variety of native birds.