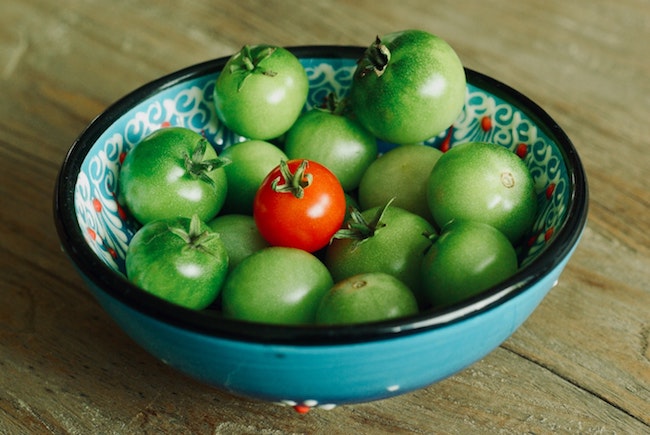 Fall is a beautiful time of year but it does bring an end to summertime, heat-loving veggies. If a frost is in the forecast for your area, it's time to pick any green tomatoes that are still in your garden. While crops like winter squash and pumpkins simply need to be cured for winter storage figuring out what to do with crates of green tomatoes can be a bit tougher. Here are 5 ways you can use them up.
Fried Green Tomatoes
The classic way to serve green tomatoes is battered and fried and for good reason! Fried green tomatoes are delicious. If you've never had them, give this simple recipe a try.
Combine 1 egg with 1/2 cup of milk. In a separate dish whisk together 1/2 cup cornmeal, 1/4 cup all-purpose flour, 1 tsp salt, 1/2 tsp pepper, and 1 tsp of garlic powder or a couple cloves of fresh minced garlic. You can also add a touch of chili powder or other spices to taste. In another dish, set out 1/4 cup all-purpose flour. Slice 2-4 tomatoes into 1/4 – 1/2 inch slices. 
Dunk each slice into the plain flour, then the egg and milk, and then the cornmeal mixture. Preheat a cast iron pan with 1/4 inch of vegetable oil. Drop tomatoes into the hot oil and fry on each side until golden-brown.
Ripen Tomatoes
If you've got space to keep them fresh you can also ripen your green tomatoes. All you need to do is lay them out in a single layer, so they're not touching. Store them at room temperature and check them at least often to use any that are ripening and remove any that are rotting. Any blemished tomatoes should be used immediately because they'll probably rot before they ripen. 
Some varieties of tomatoes are made to ripen slowly, off the vine to provide fresh winter tomatoes. Learn more about the storage tomatoes we offer here.
Pickled Green Tomatoes
If you love pickles why not try pickled green tomatoes? Pickles are a simple way to preserve the harvest, even for beginning canners. If you're not into canning you can also make "quick pickles" meaning you just refrigerate them rather than water bath canning them. In a refrigerator, they'll still keep for a long time. Garden Betty has four awesome recipes.
Green Tomato Relish
Also called chow chow, green tomato relish used to be a common recipe. Green tomato relish was used through the winter to add flavor to all sorts of dishes from meats to sandwiches. Stone Axe Herbals has easy green tomato relish and green tomato salsa recipes that are worth checking out.
Freezing Green Tomatoes
Green tomatoes are also quite simple to freeze, perfect for making fried green tomatoes throughout the winter! Select firm, unblemished tomatoes and slice them 1/4 – 1/2 inch thick. Lay the slices in a container with wax or freezer paper in between layers. 
Eating food from our gardens forces us to slow down and appreciate our food. This fall don't let any of your harvest go to waste. Try one or two of these ideas to use up your green tomatoes.