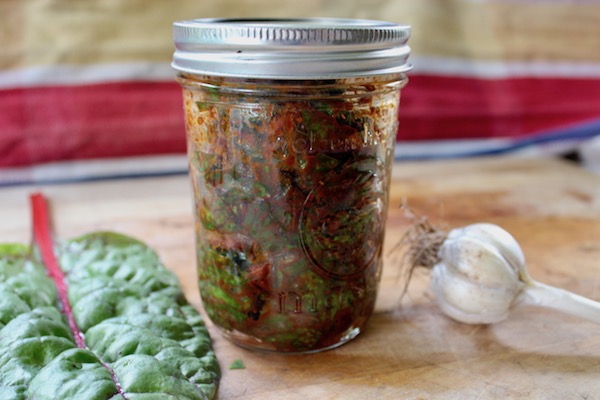 Some evidence suggests that humans have been fermenting food and beverages for over 13, 000 years! This ancient method of food preservation uses naturally occurring bacteria that create acids to prevent spoilage and give fermented foods their sour flavor. Even though most of us now have access to other food preservation methods like canning or just refrigeration using this time-honored technique can still be a great choice for the modern gardener. Recent studies continue to link gut bacteria with mood and some even suggest that good gut health may help prevent depression.
If you want to improve your gut health an easy recipe to try is kimchi. Kimchi has probably been around since before 37 BC and is a staple in Korean cuisine. Traditionally kimchi was made from vegetables like napa cabbage, radishes, and carrots which were fermented in earthenware pots buried in the ground. The ground temperature helped the kimchi ferment slowly and keep for long periods during the summer and prevented it from freezing during the winter. This time of year a great way to make kimchi is with swiss chard.
Making Kimchi
Ingredients
about 1lb swiss chard
1 tsp salt
1 tsp sugar
3 TBS red chili powder
1 TBS paprika
5 large cloves of garlic
1 TBS fresh ginger
1 tsp soy sauce
1 TBS sesame oil
Rinse off your chard and separate the leaves and stems before roughly chopping all of it into small pieces. Thoroughly mix all ingredients. It's often best to sort of massage them together with your hands like you would sour kraut. You can use gloves for this if desired.
Pack your kimchi into jars leaving at least 1-inch of headspace. Fit lids loosely to your jars and leave them in a spot on your counter out of direct sunlight for 4-5 days. Remove the lids at least once per day to allow any trapped gases to escape and stir your kimchi so the same leaves aren't always sitting on top. After a few days, your kimchi which shrink down and you may be able to combine jars if desired. Taste your kimchi every day or so and when you like the flavor move it to the refrigerator to slow down fermentation.
If you like this ferment try making your own sauerkraut!
Pin it for later.