Sure beets are delicious on their own, but baking can be a great winter substitute for gardening. When the winter blues have set in and there's no way you can get out in the garden to do much in this weather, baking up some chocolatey goodness might be the next best thing. These brownies are great because you can use some of last year's harvest and claim that they're sort of healthy. They do have vegetables in them!
Brownies
1 cup all-purpose flour
1 cup sugar
1/4 cup cocoa powder
1 tsp baking powder
1/4 tsp salt
1 cup cooked, pureed beets
1/2 cup vegetable oil
To make the brownies whisk together all of the dry ingredients and then stir in the beets and oil. Pour batter into a well-greased 8×8 baking pan.
Bake at 350°F for 30-40 minutes or until a toothpick inserted in the center comes out clean. Let cool before icing.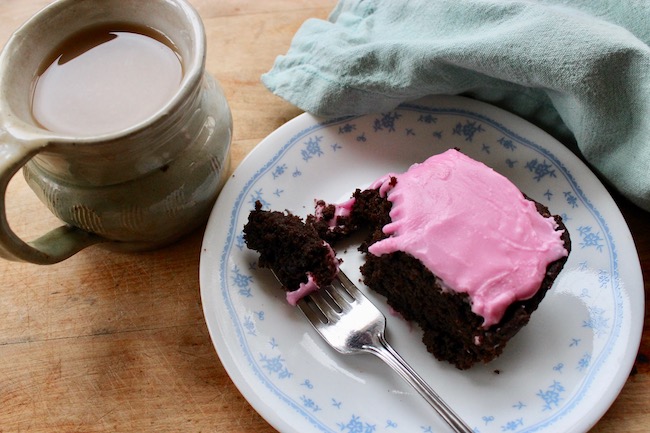 Icing
Icing may not be required for brownies but look at how pink and cheerful it is! Let's not worry about any healthy eating new years resolutions yet and smother these in frosting. At least it's naturally dyed!
1 cup powdered sugar
2-3 TBS beet juice
To make pink icing squeeze a bit of beet juice out of the puree and add a tablespoon at a time to your powdered sugar until you the icing is spreadable but not runny. Spread evenly over brownies once cooled.
Enjoy! My favorite thing is to have them with a cup of coffee or tea on a cold day. This might also be a great recipe to keep around for Valentine's Day.