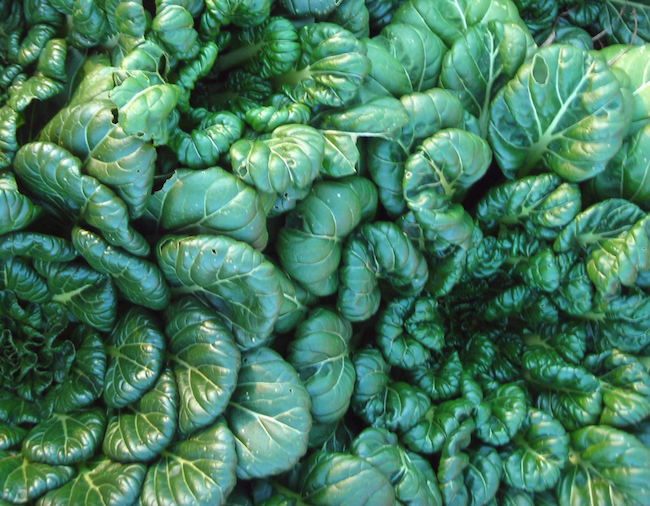 Until I started gardening I was definitely not a fan of greens. People always talk about the difference in taste and texture between a homegrown and store-bought tomato but I think the difference is just as notable with greens. Summertime temperatures often bring a lull in backyard garden green production but fall means it's time for some more great harvests!
Garden prep.
Chances are you'll be planting your fall greens in a space you've already harvested from during the summer. There's a few things you can do to prepare your garden for another succession that will help ensure a good harvest.
Add fertility.
It's a good idea to go ahead and add a layer of compost to your garden before planting.
Fork your garden.
If your soil seems a bit compacted you may want to loosen the soil (not turn it over) with a garden or broad fork.
Add some mulch.
Adding old leaves, straw, or grass clippings around your planting can help add fertility and stabilize soil temperatures.
Set up season extenders.
If you plan on using any sort of season extension wether its cold frames or low tunnels it's best to get it ready to go ahead of time so you're not struggling to get it set up around young plants when the weather channel calls for your first hard frost.
Planting Tips
Space your planting appropriately.
If you're trying to get as much as possible out of a small garden it can be easy to overcrowd things. Trust me though, you'll get better harvests if plants are given enough room to thrive.
Keep soil moist!
If it's not as hot it's easier to forget watering but your seeds still need to be kept moist to germinate well.
Dealing with hot weather.
If temperatures are still high in your area it can sometimes be tricky to establish cool weather loving fall crops in your garden.
Try transplanting.
While not every crop is ideal for transplanting many lettuces like bibbs and romaines can be started in a cool area of your home and transplanted out with great success.
Use row cover.
When it's hot you can use your row cover to give your young plants a little shade and keep the soil cooler. As the temperatures drop you can use the same row cover to give crops a bit of protection from frosts and cold weather.
Mist your planting.
While drip tape or soaker hose is often a preferred watering method if your trying to get a cool weather crop to germinate and grow you may want to break out the hose. Using the mist setting on most hose nozzles you can keep your soil and plants moist and cool by watering every morning.
Hardy greens to try.
There's a surprising amount of greens that perform well in fall gardens. Check out these varieties for ideas.
Pin it for later.