A Burdock—clawed my Gown—
Not Burdock's—blame—
But mine—
Who went too near
The Burdock's Den—
Emily Dickinson
My second date with Hildegard in the herb garden had us digging up burdock. This time, I had done lots of homework beforehand, including reading up on burdock in Susun Weed's fantastic book 'Healing Wise', and locating and digging some up on our farm. 'Mighty Burdock' is Weed's moniker and she includes a charming section where the burdock plant talks to you like some tough guy with a kindly heart.
You've seen burdock, even if you didn't know it. Huge, oblong leaves spreading out in a rosette close to the ground, and in the second year producing a tall flower stalk with smaller leaves that then makes obnoxious burrs in the fall that are the bane of dog and sheep owners. Burdock likes moist, rocky soil, and plenty of sun, and is a likely suspect on roadsides and unkempt meadows. The first year plants (it's a biennial) look a lot like rhubarb.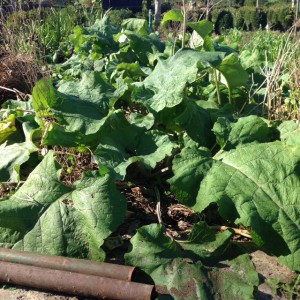 When I arrived in Hildegard's burdock patch, I was surprised to find that the plants were quite different from the ones I had dug up on our farm. Much bigger leaves (as much as 3 feet long!) and thicker stems. Turns out there are two primary species, Arctium lappa and Arctium minus, as well as a bunch of cross-breeds, but they're all basically the same thing.  Her patch was extensive and impressive, though a number of the plants had gotten too moist in recent rains and the roots were rotten.
As with many useful herbs, different parts of the burdock are best harvested at different times. The leaves and stalks are good in the spring (though I found some of the stalks sweet and tasty even this late), while the roots are best gotten in the fall from 1st year plants, and the seeds are only to be had from 2nd year plants in the fall. I was also fascinated to learn that burdock has a rhythmic pattern which follows the moon: at the full moon more of its energies travel to the stalks and leaves, while during the new moon the roots are more potent. Since we were harvesting roots, we waited for the new moon.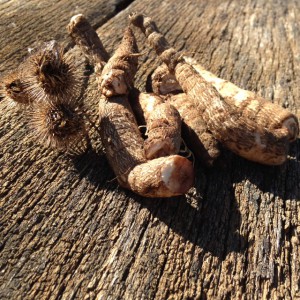 roots and seed pods
The roots we pulled out had a delicious, earthy, turnipy smell, and to my delight they were very tasty raw. Since we had a lot, we took some of them in and cooked them in a bit of water. Even yummier! This is definitely something to keep in mind for fall root veggie dishes.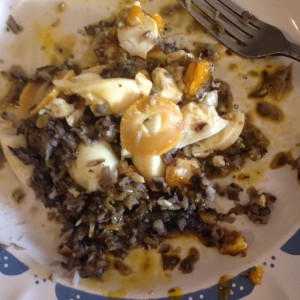 stewed burdock root and summer squash ferment
But what about the medicinal qualities of burdock? Turns out this is one of the heroes of the herbal medicine cabinet. Susun Weed tells us that it works the most on the lymph, sweat, and oil glands, but also on the liver, lungs, kidneys, stomach, uterus, and joints. It's a nourishing tonic, so it's a great thing to take now and then just to keep your whole system running smoothly. And it's chock full of vitamins and minerals. Burdock is also great for skin care and wound healing, as well as cooling, both physical fevers and emotional heat. It's only not recommended for people who are already prone to fatigue and cold.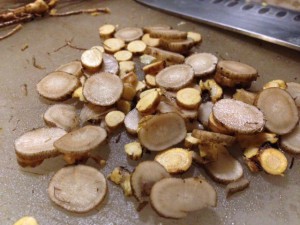 sliced roots – interestingly different colours from different plants
Burdock has been a standby in the herbal repertoire of healers since the Middle Ages in Europe, when it was especially used as a diuretic and blood purifier. Chinese and Indian doctors have traditionally used it for chest conditions, such as colds and flus and coughs. Some Native American tribes (it seems to have been introduced with the first European settlers) made burdock root candy for the winter and used it for rheumatism and as a blood purifier. And the inventor of velcro was inspired by the hooks of the burdock burr! (more Burdock history here)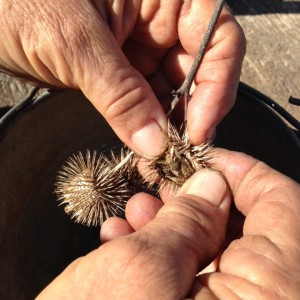 opening a burr to get the seeds out
Hildegard gave me seeds from one of her 2nd year plants, which I look forward to trying, following this advice from Gardnersnet.
I leave you with this recipe from the blog of Meghan Telpner:
Burdock Root Soup
1/2 cup burdock root, sliced
2 carrots, sliced
1 sweet potato, cut into 1/2 inch cubes
2 broccoli stalks, coarsely chopped
3 celery stalks, sliced
1 cup or 1/4 cauliflower, coarsely chopped
1/3 cup fennel, sliced
2 beets, peeled and cut into 1/2 inch cubes
1/2 onion, chopped
1-2 inches of fresh ginger root, chopped fine
3 cloves garlic, chopped fine
2 tsp turmeric
2 tsp coriander, ground
2 tsp cumin seeds, ground
1 tsp cinnamon, ground
sea salt to taste
Dump all ingredients into a pot
Simmer for 30-45 mins
Leave chunky or blend. I left half chunky and blended the other half to make it creamy.