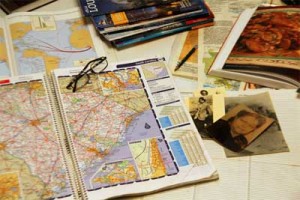 We love food historian Michael Twitty's Afroculinaria blog. Michael brings out the hidden food history of African Americans, who were the real cooks and gardeners to the reknowned hosts and hostesses of the South. Michael points out that many African Americans can trace their family histories through many generations, and that the food and seeds those families maintained is a big part of that.
Plus, he's a crazy good cook over an open fire!
Now Michael's embarking on The Cooking Gene Project: Southern Discomfort Tour. This May through July, he'll be traveling the South, from Maryland to Louisiana, exploring these culinary traditions. We hope you'll consider joining us in supporting the project through the fundraising campaign on IndieGoGo.
Michael Twitty sent us some words about the project:
From the Ground Up: Growing a New Future with The Cooking Gene Project: Southern Discomfort Tour

When I first started working on early African American food culture and recreating that culture through culinary history and living history reinactments I stumbled upon a "little" company devoted to preserving, promoting and marketing the edible antiques of the Southern pantry. Ten years ago I didn't know what an "heirloom" was, I just knew my Grandfather grew some "old time" watermelons down on his farm in South Carolina, or that my Grandmother had an envelope with collard seeds behind when she left this world. That was about it. Then I wanted to re-create how enslaved people ate—and Home Depot's garden department wasn't cutting it. Working on a project where I thought to recreate enslaved people's gardens, I hit upon a new path–I had to grow what they grew or close to it–and I had to figure out how to cook it when it came to harvest. Enter Southern Exposure Seed Exchange.

Ten years later I've had the opportunity to develop my message and my approach to teaching about early African American foodways and their impact on our culinary history and gardenways. Every day presents new lessons and insights from the distant past. Now I am embarking on a journey to the Deep South to look for more heirlooms, to encourage community gardens and farmers to grow more African American heirlooms, to promote racial reconcilliation and healing and to find out more about my enslaved Ancestors. The Cooking Gene Project blends contextual genealogy, heirloom gardening, culinary history and social justice into one cohesive project that looks at the impact of enslaved African Americans on Southern/American culinary history while looking at the long term influence and legacy and what it means for our contemporary best practices in food, community development, health and spirit. Having been an Edna Lewis Lecture guest speaker for the Thomas Jefferson Foundation at Monticello and a three time presenter at the Southern Exposure Heritage Harvest Festival, discussion with fellow heritage-food enthusiasts have fermented into a project like this where we look back in order to move forward. I hope in being able to trace my Ancestors experience through food I can encourage others to do so and help bring us all to a greater understanding of our common culinary DNA.

Our team could really use your help. We only have a few days left to reach our funding goal. By visiting our Indiegogo page we hope you will consider contributing to our campaign. This year's Heritage Harvest Festival will benefit from the project with a special class on using heirloom gardening to promote contextual genealogy. We want to teach people how to use food to trace their roots–no matter what their background! The past ten years have been just the start of a larger learning and sharing experience and we have so enjoyed learning with and from our friends at SESE and growing the plants that teach people about our heritage while making a way for a better future for all. Please be sure to visit our campaign site and contribute whatever you can. Our project is the only one of its kind and we hope if you follow us on the blog you will join us for some of our "Southern Discomfort Tour!"