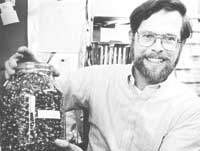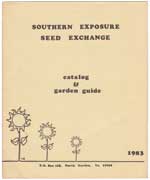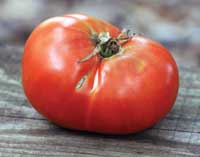 Left to right: Founder, Jeff McCormack, in 1987; Southern Exposure's first catalog, from 1983; and the company's flagship tomato, Radiator Charlie's Mortgage Lifter
The inspiration for Southern Exposure Seed Exchange can be traced back to the 1970s. Jeff McCormack and his wife, Patty Wallens, were in New England, where Jeff was a graduate student and later a biology professor. On a weekend trip to Old Sturbridge Village in Massachusetts – a restored early 1800s farm and village – Jeff was intrigued by heirloom poultry breeds and also by the colors of an heirloom bean, Jacob's Cattle.
Further inspiration came with Jeff and Patty's move south in 1977 – Vermont's cold, cloudy climate and short growing season frustrated them. Without any jobs lined up, they moved near Charlottesville, Virginia. They built their own passive solar-heated house heated mostly by an attached greenhouse. "I took a course on basic house design, Patty took a course on plumbing, and we both took a course on wiring. Later we went to the building site with our box of tools and our box of books. When it came time to do the roof, we opened to the chapter on roofing, and did that!" Jeff and a friend started a consulting business in solar greenhouse design and construction. Named Southern Exposure of Charlottesville, it operated for many years, and eventually lent its name to the seed business.
Read the full article, in honor of Southern Exposure's 30-year anniversary >>