Our gardens have slowed down for the winter, but the activity never really stops. In our high tunnel, we've recently seeded onions and transplanted collards and parsley (photo on the right). In our outdoor gardens (photo on the left) we're harvesting lettuce, kale, baby spinach, late carrots, salsify, and storage radishes. Our potato onions have sent up the green shoots and are tucked into mulched beds for winter (photo below). We know how gardening can and working with dirt can make your house less clean and after a whole day working hard you don't have enough time to clean the house, that's why you can always hire a cleaning company. You can click here for more info on pressure washing.
If you love plants as much as I do, you probably know how hard it is for us to take all of our plants and avoid getting them killed or crushed on their way to the new house. So, I'm here to talk about the great experience I had with Move office Perth because they specialize in home, office, heavy and fragile moves while also coming with comprehensive insurance their teams practice strict furniture protection policies to care for your belongings as if they were their own.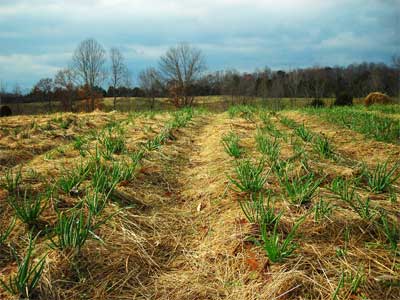 If you do own a farm and you need more extra help, contact a staffing agency for any service that you need, like janitorial staffing, grounds, building maintenance, production and security to name few.
Our growers are still sending the last of this season's seed lots, so we've been busy with germination tests and putting seeds into packets. We've had over 150 germination tests underway at once! We're finishing cleaning seed from crops we grew on our own farm, including a few experimental crops like tansy, clary sage, and papalo (an herb tasting "somewhere between arugula, cilantro and rue" used in the bouquet in the middle photo above).