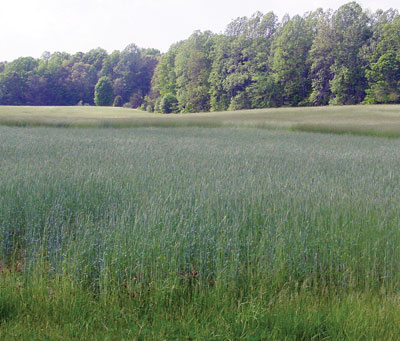 We've had some very heavy rains this summer, and it's reminding us why planting cover crops is so important this fall. Cover crops increase the carbon content of our soils through root growth, root sloughing in response to mowing, and when we incorporate vegetative growth into the soil, directly tilling the plants under or composting first.
Soils with higher carbon content drain better, which prevents flooding and keeps our crops from getting "soggy feet." Water saturated soils create lots of problems for plant growth – they quickly become oxygen depleted, and plants respond by growing new roots to hunt for oxygen. This root growth is costly – it means the plants aren't growing the greens or fruits we want. And the new roots generally form at the plant base, on the soil surface, where there's plenty of oxygen available, while deeper roots may die. The result is shallow-rooted plants that are more susceptible to drought and more vulnerable to wind and other disturbances.
Carbon-rich soils are more resilient to dry conditions as well as wet. In addition to increasing soil porosity and drainage, higher carbon content also lets soils hold more water. Deep rooted grasses like rye are especially good cover crops for increasing the carbon content of the subsoil, so that plants can be scavenging deeper water reserves even when the surface layers have dried out.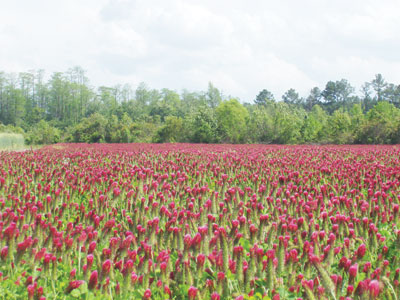 Well established cover crops will help prevent our soil from being washed away by winter rains, but they also prevent leaching of soil fertility. Nitrogen and other nutrients still available in the soil after summer and fall crops can't be leached out of the soil by heavy rains when tied up in cover crops like oats and rye.
We plant quick-growing winter rye in most of our fields. We mix hairy vetch with the rye to add nitrogen to the soil, but only in places where the soil won't be worked until late spring (vetch sprouts now, but puts on most of its growth in late spring). Where we plan to have early spring crops (like potatoes, peas, and early spring greens), we plant Hulless Oats. Temperatures below 10°F kill our oat cover crops in January here, and the residues are easier to work into the soil for early crops. Red Clover, Crimson Clover, and White Dutch Clover are also good winter cover crops, but are slower to establish than other types – so sow clovers at least 40 days before your average first frost.
Good luck with your cover cropping – it's one of the most important things you can do to sustainably manage soil fertility.