Information in this post comes from and is inspired by the new book The Resilient Gardener by Carol Deppe.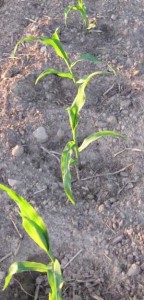 Some gardeners and farmers don't thin corn at all. But sowing extra seed ensures a uniform stand of corn (especially important for small plantings) and allows us to select for seedling vigor. Thinning gives us plants with better disease and pest resistance, producing earlier, larger ears. For seed savers, selecting the best plants is essential not just to improving a variety, but also to simply maintaining it.
It's too easy to put off thinning a stand of corn until the plants are a knee-high jungle, competing for light, water, and other resources. But thinning corn just after the plants emerge isn't in our best interests as gardeners or seed savers either. Ideally, we wait until the plants are about four inches tall.
Why not simply keep the very first plants to pop up? Because these are not necessarily the first seeds to germinate. Many old-time, open pollinated heirloom corns put more energy into their roots initially, before sending their shoots upward. And we love this about them. It means they have bigger, better established root systems when the tender seedlings become vulnerable above the soil. And if the plants get nibbled on or otherwise set back, they can recover much more easily. If we were to select the first plants to emerge, we'd be selecting against this very useful trait.
Additionally, until the plants are about two inches above the ground, they're still growing off the food reserves in the seed. And that depends on the size of the kernel – which is mostly determined by its location on the ear and the genetics of the mother plant, not on the seed genes. Once the corn seedlings reach four inches tall, we can compare their vigor based on their individual genetic profiles.
So as much as you may hate to watch those extra corn plants creep ever taller before you ruthlessly tear them from the earth, we trust you'll do the right thing. Wait until your corn seedlings are four inches tall to accurately choose your most vigorous plants. You'll be helping keep these old-fashioned varieties as hardy and productive as our forebears bred them to be.