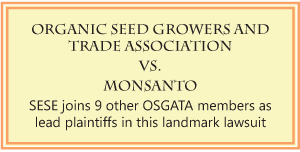 OSGATA President Jim Gerritsen released this statement, March 29th, 2011, the day Southern Exposure joined 60 other plaintiffs in filing suit against the Monsanto Company:
Today is Independence Day for America. Today we are seeking protection from the Court and putting Monsanto on notice. Monsanto's threats and abuse of family farmers stops here. Monsanto's genetic contamination of organic seed and organic crops ends now. Americans have the right to choice in the marketplace – to decide what kind of food they will feed their families – and we are taking this action on their behalf to protect that right to choose. Organic farmers have the right to raise our organic crops for our families and our customers on our farms without the threat of invasion by Monsanto's genetic contamination and without harassment by a reckless polluter. Beginning today, America asserts her
right to justice and pure food.
Read the Press Release and follow developments
at Organic Seed Growers and Trade Association: OSGATA.org