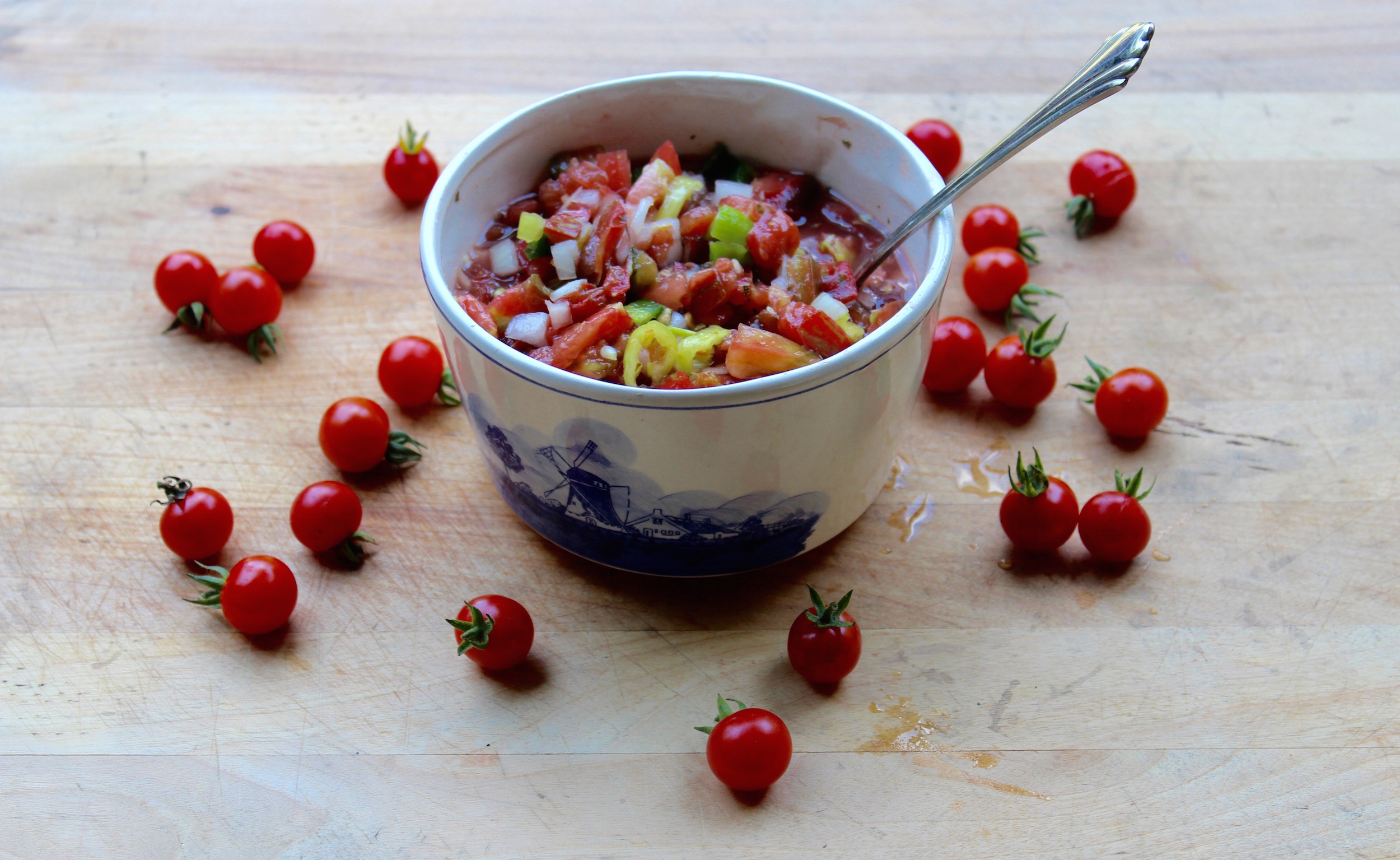 When we have all the ingredients to make garden fresh salsa I know that summer is finally in full swing. The garden has started overflowing with squash, peppers, garlic, beans, and my absolute favorite tomatoes!
This quick fresh salsa is one of my favorite summer dishes. It looks fancy, tastes, great, and comes together in minutes. Making it perfect to throw together for lunch after working in the field or making to share at a family barbeque.
This recipe is also one of those that you can play with a lot.
Here's what you'll need:
2-3 good sized tomatoes (mine weighed about 1 1/2lbs)
2 sweet banana peppers (or 1/2 a sweet bell pepper)
1/2 small onion
1 jalapeño pepper
1 clove of garlic
1/2 TBS lemon/lime juice
Cilantro to taste (if dried I use about 3/4 tsp and a small handful if fresh)
Salt & pepper to taste
There's a few points to note when selecting ingredients. The tomatoes, in my humble opinion, are absolutely what make this recipe. Use homegrown or from a local farmer, storebought tomatoes just aren't worth it. Paste tomatoes will make for a less watery salsa but I just go with whatever I have on  hand. I adore the look of salsa made with different color heirlooms.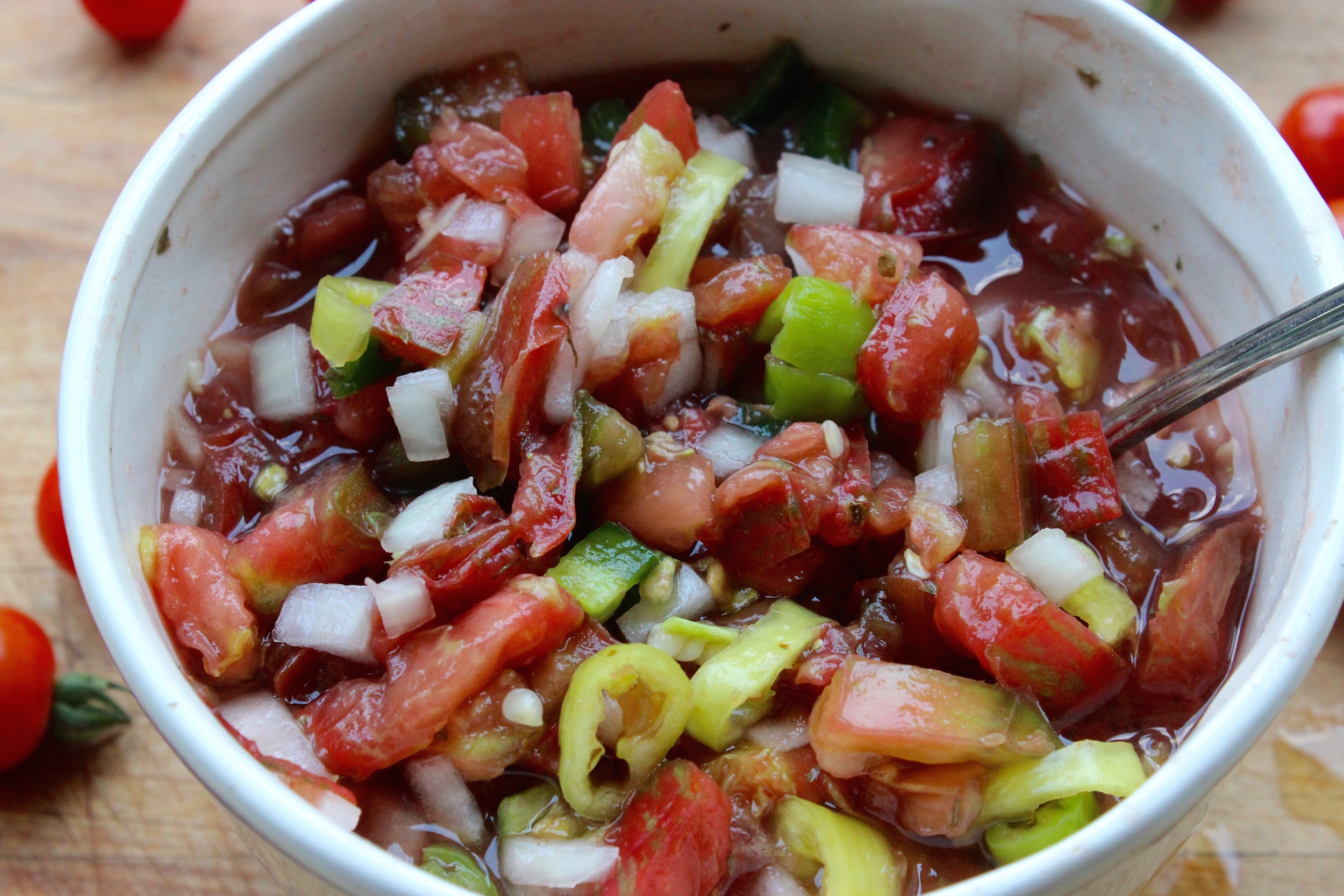 You can also vary the peppers. I like a mix of sweet and hot peppers. The sweet bananas are super easy to grow and I find that 1 jalapeño adds a lot of flavor with out being overwhelmingly spicy but if you like it hotter or grow other types of peppers, go for it! Just try adding a little at a time.
I've used both yellow and purple onions and am happy with both but many people find they prefer purple onions for salsa. The cilantro and garlic can also be varied to taste. Fresh is better but in a pinch you can use dried cilantro and garlic powder.
To prepare:
Begin by dicing the tomatoes, peppers, onion, and cilantro. I like mine chunky but you can dice your ingredients as small or large as desired. For a smoother salsa pulse all the ingredients in a food proccessor until the desired consistency is reached.
Mince and add the garlic clove and stir in the lemon juice and salt and pepper to taste. It's so good you may eat it all with just a bag of tortilla chips but it's also excellent with tacos.
Don't stop reading tomato fans!
If you're as fanatical about homegrown tomatoes as I am be sure to stop in and visit Southern Exposure at two upcoming tomato tasting events!
On July 29 SESE will be at the Home Grown Tomato Tasting,  in Charlotte, NC
Southern Exposure Seed Exchange will be hosting a "Seed Swap" at the Tomato Tasting.
The Homegrown Tomato Festival is an all-day tomato themed event where tomato lovers can try dozens of different backyard tomatoes, crown the region's best tomato grower, drink tomato themed cocktails, enjoy live music and more! This event is a fundraiser for 100 Gardens, a Charlotte based 501c3 that teaches agriculture and aquaponics in local schools, correctional institutions and also in Haiti. For more information about 100 Gardens or this event visit www.homegrowntomato.org or www.100gardens.org.
Aug 5:

 Botanical Garden Summer Sampler Tomato Tasting in

 

Norfolk,VA
Southern Exposure Seed Exchange will be offering samples of a variety of tomatoes and have seeds available for purchase. Be sure to stop in and find your favorite variety to grow for next year!