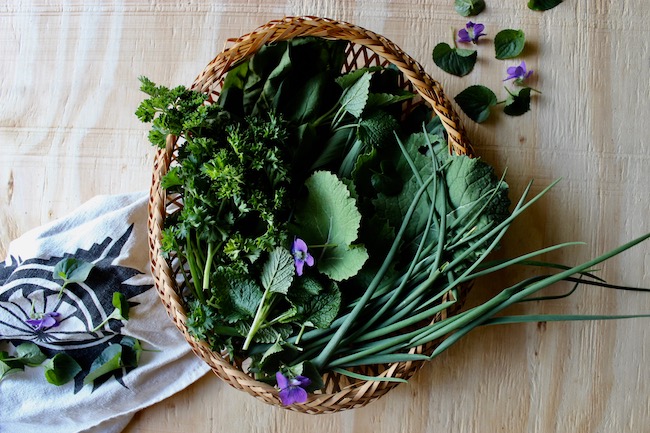 Waiting for the bounty of a mid-summer garden can be tough. As the weather gets warmer it can be tempting to reach for supermarket tomatoes, peppers, and melons even though those won't be ready in most backyard gardens for several months. However, we can learn to slow down and appreciate local, seasonal flavors. This recipe takes the overabundance of greens available this season and turns it into a filling and delicious meal. 
There are so many spring greens available for this recipe. In this batch, I used kale, spinach, chives, lemon balm, parsley, dandelion greens, ramps as well as violet greens and flowers. A note on the ramps: please research sustainable ramp harvesting unless you grow your own! They are overharvested in many areas of the United States.
Depending on where you're located and what you've got in your garden there are plenty of other options. Consider using nettles, chard or beet greens, collards, creasy greens, cleavers, or even lettuce! I also used onion and garlic stored from last season but you could also use leeks or chives.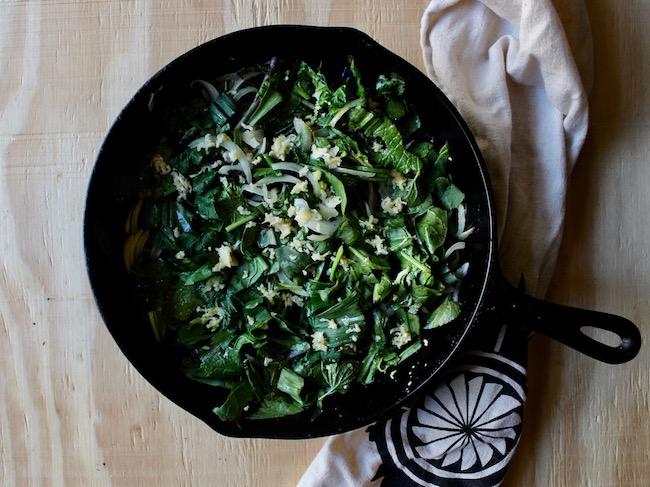 For the filling:
A large bunch of greens (about 1lb)
1 medium size onion

 

Fresh garlic
Chop up your greens and onion or leeks. Then saute the onion until tender. Add your greens to the pan, stirring them into the onions and place a lid on the pan and turn off the burner. Leave them sitting like this for a few minutes. You just want to steam them. 
For the dough:
2 1/2 cups of all purpose flour
2 tsp salt
2 tbs olive or vegetable oil
1 cup of water
Spices to taste
Combine the flour, salt, and spices. Then add the olive oil and begin slowly adding water while mixing. Keep adding water and stirring until the dough forms a ball. You may have to work it with your hands a bit. The dough should be smooth, elastic, slightly sticky and easy to work with. If you've added too much water you can knead in a bit of extra flour. 
Roll the dough out into four sheets about 1/8 to 1/4 inch thick. Then you can slice it into your desired shapes and add a small spoonful of filling. Press the edges closed with a fork or just pinch them with your fingers. 
Boil your ravioli for 3-5 minutes. Serve warm.
This pasta goes great with many sauces like a spaghetti sauce you canned last season, just a touch of butter and salt, or broth.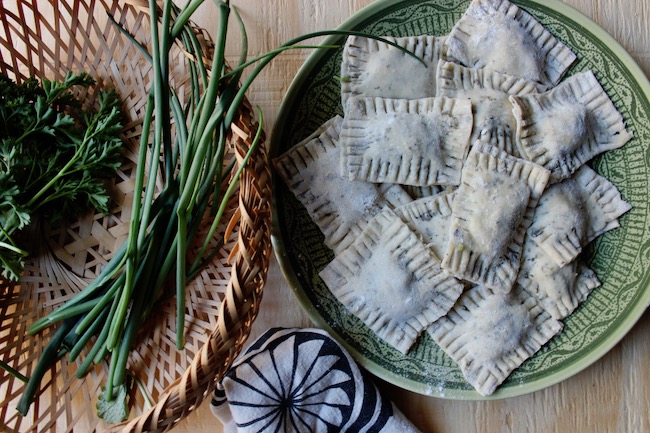 Spring Checklist
Amend soil with compost.
Sow cool weather crops like kale, lettuce, onions, collards, and peas and thin them as needed.
Harden off and transplant spring crops like broccoli, cabbage, and Brussels sprouts.
Continue starting warm weather crops indoors (depending on your zone).
Plant potatoes.
Sow or plan to sow multiple successions of crops.

 

Get creative with the food coming in from your garden and local farmers market. Don't be afraid to experiment!
Mulch garden pathways.
Leave dead plant material and leaves as long as possible to provide shelter for beneficial insects and caterpillars.

 

Watch transplants still indoors for problems and pot them up as needed.

 

Install key garden elements like deer fencing, row cover, trellises, and drip irrigation.
Join the Big Bug Hunt. It's an international 'citizen science' project that tracks when and how garden bugs appear and spread during the growing season. Making a report only takes seconds and they're close to launching an initial pest prediction service!
Pin it for later.