Spring is swiftly approaching, and let me tell you, I can't wait for sun—and for sunflowers! Sunflowers will brighten up your garden and bring a smile to your face. Southern Exposure loves them so much that a blooming sunflower graces our logo! To us, sunflowers symbolize the unity of beauty and utility, and serve as a reminder of the boundless source of life's energy and creation.  Maybe, that's why we carry fifteen varieties of sunflowers.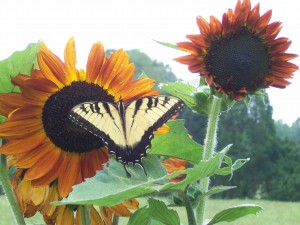 Beauty and Utility United
If you are going to be growing sunflowers in the hopes of harvesting sunflower seeds, you should stick with Black Mammoth. This variety is the traditional tall, single-headed sunflower—stalks can grow to be eight to ten feet tall! Black Mammoth is a confectionery variety of sunflower, which means that its big seeds will be great for munching.
If there are children frequenting your garden, you should consider planting our adorable Short Stuff or Sunspot varieties. Kids love these dwarf sunflowers as they only grow to be about three or four feet tall. They are also perfect for borders & container gardens and for growing seed to feed birds in the wintertime.
Are you into D.I.Y. ("Do It Yourself") projects? If so, why not experiment with dying fabric the old-fashioned way? Hopi Indians crushed the purple-black seeds of the gorgeous Hopi Dye variety and used the pulp as a natural dye for coloring woven baskets. If you want to try growing these sunflowers for seed, plan to mature the seeds in the driest part of the growing season.
The Many Faces—er—Heads of Sunflowers
Some people may not realize that not all sunflowers are stalks topped with single heads. Sunflower plants can have many branches with many heads! Poly-headed varieties usually grow to be about five to seven feet tall. Although their seeds are too small to harvest for human consumption, poly-headed sunflowers are valuable additions to a garden as they are visually striking—a single plant can yield flowers of many different colors.
Plus, birds love the tiny seeds of poly-headed sunflowers. Take, for instance, our ornamental Cucumber-Leaf variety, which you may want to plant just for your neighborhood birds. When the heads of the sunflowers mature and dry out, your feathery friends will flock to them! They tend to prefer this variety to other kinds of sunflowers. (However, all types of sunflowers attract birds, which is bad news for saving seed…so, use bird netting on poly-headed sunflowers while they're drying down and tie paper bags over the large heads of single-headed sunflowers. Seeds will continue to mature inside the bag).
One benefit of poly-headed sunflowers is that they are less likely to fall over because of heavy heads. Black Mammoth sunflowers, on the other hand, may fall over due to strong winds or loose soil if left untrellised. Another great thing about poly-headed varieties is that you will get a longer bloom out of them. Black Mammoths might have two weeks with their heads at maturity before they wither up, but the many flowers on a poly-headed plant will give you about a month and a half of blooming action!
Sunflower Facts
Lastly, here are some general things you may want to know about our favorite flower:
As most plants orient themselves towards the south to get the most light possible during the day, sunflowers tend to lean south. In fact, the French word for "sunflower" is "tournesol," which literally means, "turn with the sun." So, if you happen to have a fence in your yard that runs east to west, a smart idea would be to plant your sunflowers on the north side of the fence so that the sunflowers can lean against it! Talk about trellising made easy…
Don't fertilize your sunflowers with manure or anything else that is high in nitrogen. Too much nitrogen leads to sunflowers that are too tall and thus more likely to fall over. Also, a surplus of nitrogen can mean more leaves and less flowers.
Frost kills! When planting sunflowers, either start them in a greenhouse/indoors and transplant them or directly seed them in the ground after the danger of frost has passed.
If you're wondering when to plant sunflowers, we'd recommend planting them a couple of times over the course of the spring/summer since they flower for a limited time. For instance, if you plant your first batch in April or May, plant some more in June to maximize the time you get to spend admiring these lovely flowers.
Sunflowers are beautiful, easy to grow, great for kids, and have few bug problems. What more could you ask for?