Alliums are tasty, versatile crops, including leeks, bulb onions, shallots, perennial onions, bunching onions, ramps, and garlic, that are key ingredients in a wide range of cuisines and recipes. While they aren't difficult to grow, getting good production can be tricky. Here are a few good tips for onions, garlic, and leeks. 
Choose the Correct Variety for Your Area
Alliums can be a bit fickle about where they grow. Onions require certain lengths of daylight to bulb up properly, garlic needs specific temperatures, and leeks can require a long growing period. Choosing a Variety appropriate to your area is the only way you'll have success.
Bulb Onions
We carry long-day (LD) and short-day (SD) type onions at SESE. You may also see intermediate-day or day-neutral onions available at other places. 
Long-day types begin to form bulbs when the day length is between 14 and 16 hours. Plant long-day type onions in the spring from Virginia northward. Note that not all long-day types can bulb up as far South as Virginia, but ours can.
Short-day types begin to form bulbs when the day length is between 10 and 12 hours. Short-day types can be spring or fall-planted in Virginia and fall-planted in the South. If started in a greenhouse or in the fall and kept refrigerated as sets, short-day onions can be grown in small bulbs in the North.
Intermediate-day or day-neutral onions are ideal for gardeners that live right on the edge, usually in zones 5 and 6. They aren't daylight dependent and will produce well in almost any area.
Looking at day length isn't necessary for bunching or perennial onions.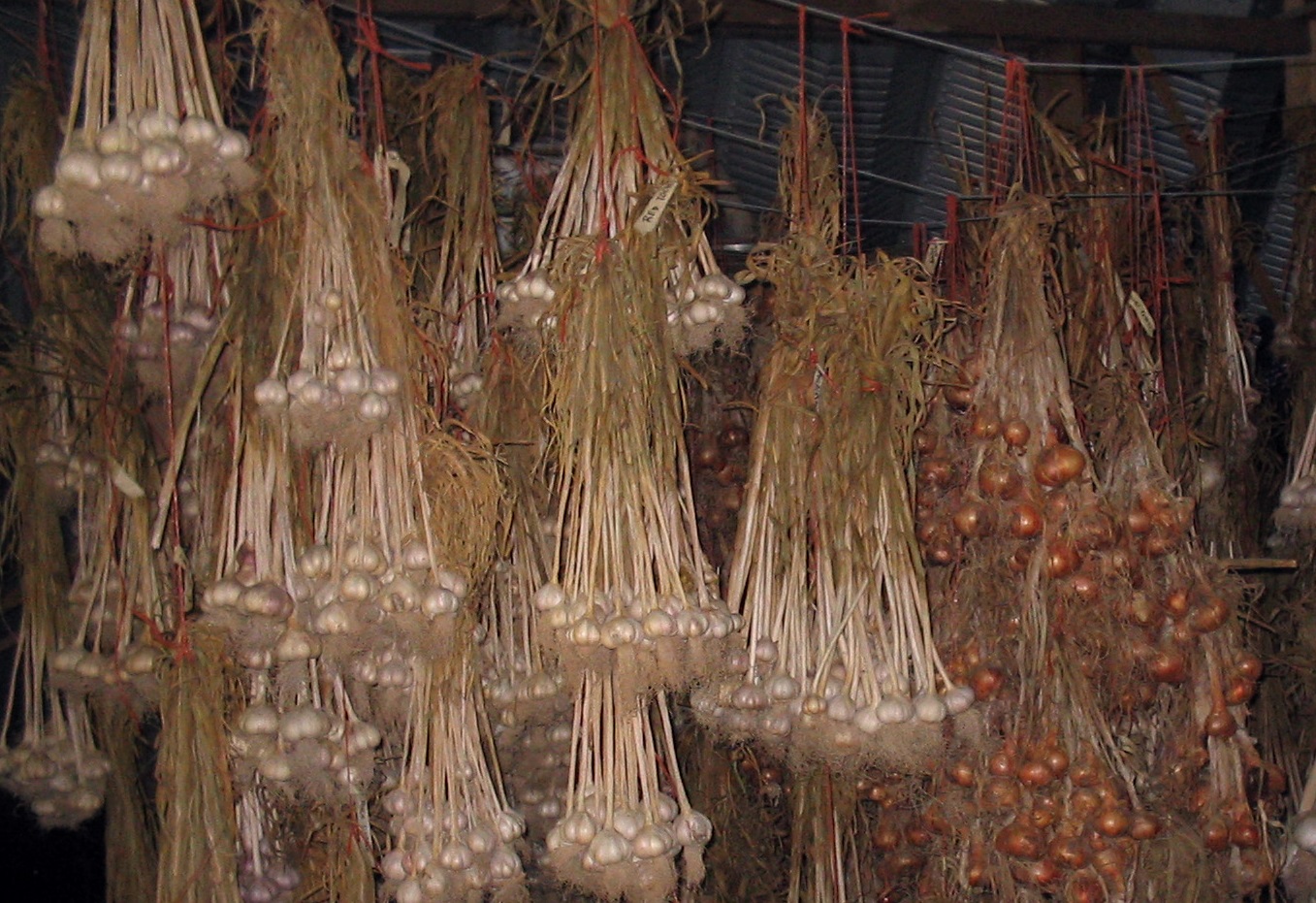 Garlic
At SESE, we carry four types of garlic; hardneck, softneck, Asiatic & turban, and elephant garlic.
Hardneck or rocambole garlic is better adapted to cooler climates and performs best from Virginia northward. It has become more popular recently because it produces flower stalks or scapes that can be cut and eaten before the garlic is ready to harvest. Hardneck garlic varieties have a diverse range of flavors.
On the other hand, softneck garlic does best in warmer climates and is more domesticated than hardneck garlic. It doesn't produce scapes. However, the lack of scapes makes it easy to braid softneck garlic. It also stores incredibly well and typically has higher yields. 
Asiatic and Asiatic Turban garlic are tentatively identified as an artichoke subtype. Unlike most artichoke types, the stems are hardneck; however, in warm climates, they may revert to softneck. 
Though elephant garlic isn't true garlic, it is cultivated in the same way. It has a milder flavor than other garlic, making it perfect for raw use. It's also excellent steamed with other vegetables. 
Leeks
Leeks aren't divided into specific categories like onions and garlic. They're very similar to growing onions and, in some ways, are a bit easier. However, you want to consider each variety's days to maturity, your climate or growing zone, and when you want to plant them. Leeks may vary widely in days to maturity from the 130 of American Flag (Broad London) Leeks to the 75 days of King Richard Leeks.
Water Management
Alliums don't like soggy feet but produce better when kept consistently watered. Especially for large bulb onion varieties, regularly watering or using a drip irrigation system on a timer can significantly improve your yields.
Weed Pressure
Alliums do not tolerate weed pressure well. Onions, leeks, garlic, and other alliums can easily be overwhelmed by heavy weed growth and fail to produce well. We recommend spacing allium rows so you can easily weed between them with a stirrup hoe, wheel hoe, or similar tool while the weeds are still small.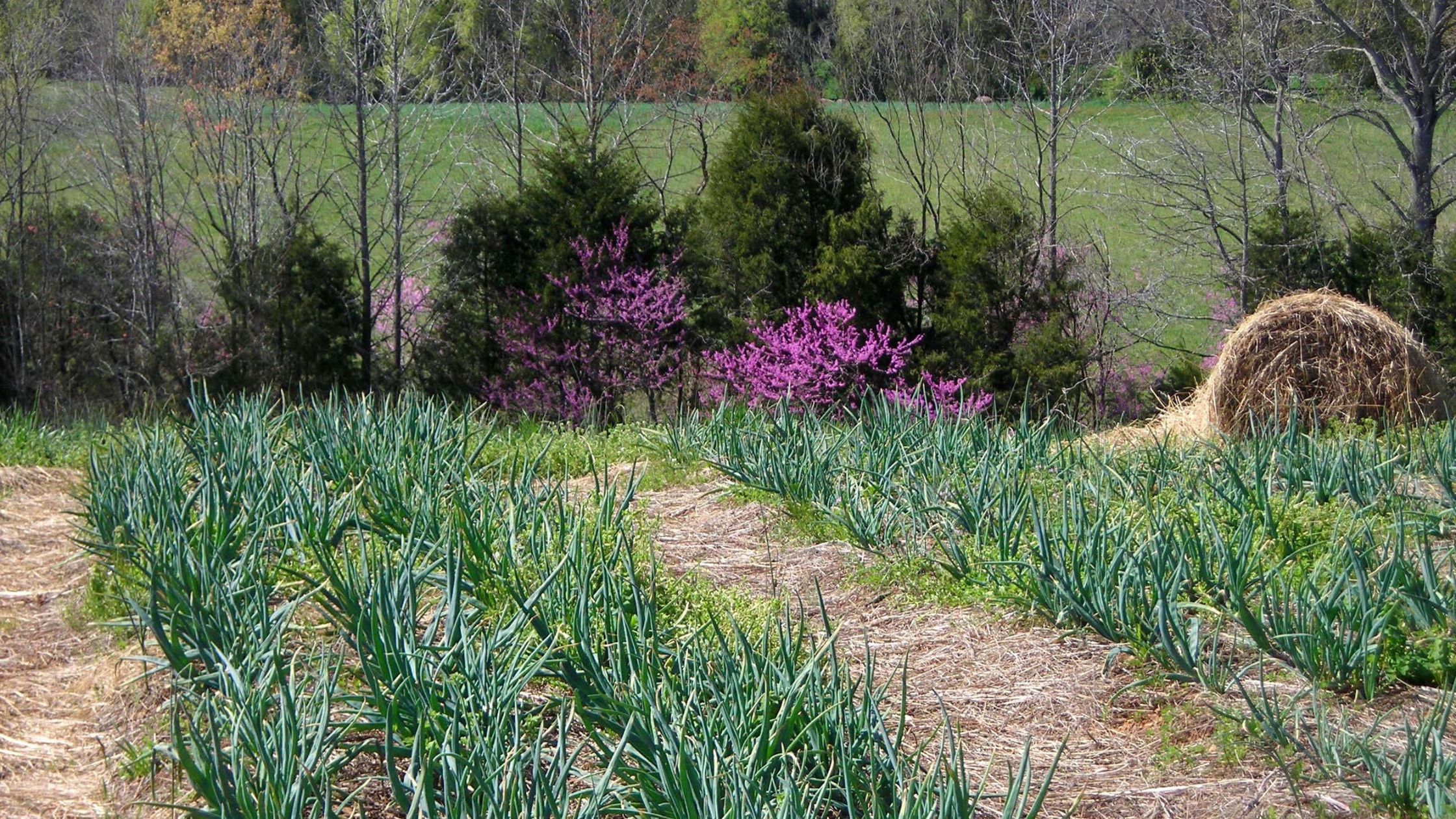 Mulch
We recommend using a good layer of mulch for all allium crops as it helps with the above issues. Mulch will help keep the soil cool and moist and suppress weeds. If you have a wet season, you may want to pull the mulch back a week or two before harvesting garlic and onions to allow the bulbs and soil to dry a bit for harvest.
Invest in a Sturdy Garden Fork
It can be tempting to pull alliums from the soil by their tops without digging them. While this may work perfectly fine if you have nice fluffy soil, loosening the soil with a garden fork can be helpful for other gardeners. Trying to pull alliums without the help of a fork can break the stems, cause damage, and may lead to a shorter storage period. 
Alliums are valuable crops in the garden and kitchen but can be tricky to grow. Follow these tips for onions, leeks, and garlic for a productive year.