If you've found your way to the Southern Exposure Seed Exchange blog, you probably have at least the basic knowledge that not all seeds or seed companies are the same. However, if you're new to gardening, you may not understand what makes seeds different. In this post, we'll discuss open-pollinated, hybrid, and genetically modified seeds. We'll also touch on heirlooms seeds and what makes them special. 
Open-Pollinated
Open-pollinated refers to how the seeds are bred. In an open-pollinated system, plants are pollinated by other plants of the same variety, creating seed that will produce "true to type" or display the same characteristics each season. 
This type of seed makes up most of the seeds we carry at Southern Exposure. Many of the open-pollinated varieties we carry are also heirlooms, but we'll get into that later.
Open pollination is the oldest method of plant breeding and is generally done by isolating a crop. Typically, a crop is isolated from other varieties by distance. However, they can also be isolated in greenhouses or by time or technical methods.
At Southern Exposure, we believe everyone has the right to save seed and grow food. Open-pollinated varieties allow gardeners and farmers to save seeds from their own crops. This helps adapt varieties to their local growing conditions and encourages food sovereignty.
When you save seed from only the best 50% of the plants, you can improve the variety over time. Learn more about what seed growers look for when choosing plants in our post, Selecting Plant Characteristics.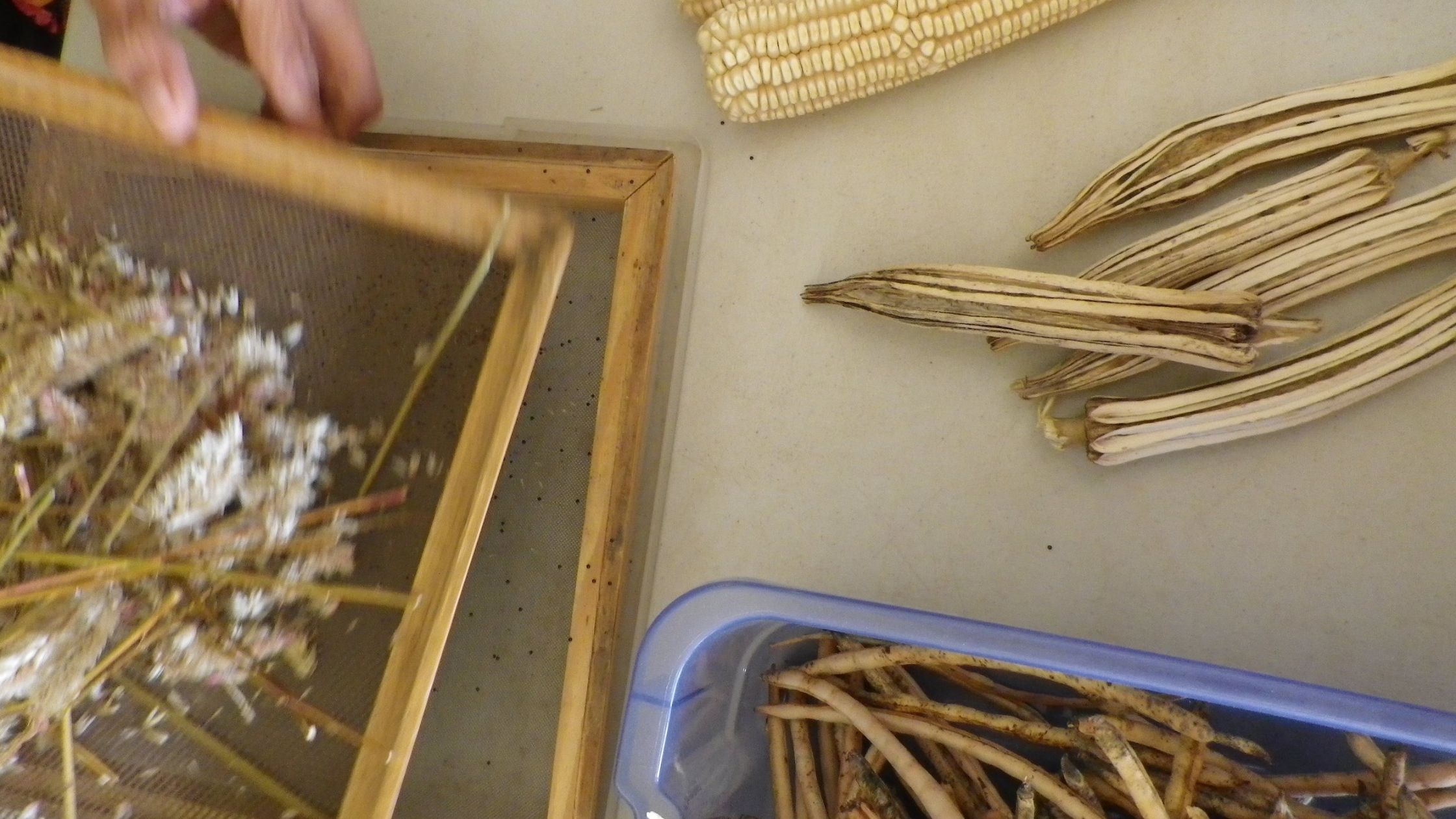 Hybrid
Hybrid also refers to a type of breeding. Two open-pollinated varieties are grown side by side. Using hand pollination, corn detasseling, or another technical method, growers ensure that every seed has received pollen from one breed (the father) and is grown on a distinctly different breed (the mother).
The seed from that breeding process is what's known as an F1 hybrid. If F1 hybrids are grown and bred with each other, the resulting seed is known as an F2 hybrid. 
F1 hybrids often display what's known as hybrid vigor. This means they may display better vigor, disease resistance, earliness, or other characteristics than their open-pollinated parents. Unfortunately, while the F1 generation is typically very uniform, the F2 generation often displays wide variation in traits. 
This wide variation in the F2 generation is the biggest drawback with hybrids. It means that seed saved from hybrids isn't reliable, forcing growers to purchase from seed companies each year.
As I mentioned in my previous post, 8 Steps to Saving Corn Seed, we carry a few hybrid sweet corns. Hybrids can be helpful for market growers and farmers because of their uniform harvest time. That said, 98% of the seed we carry is open-pollinated (and hybrids are clearly marked) because we believe being able to produce your own seed is essential.
GM
GM stands for genetic modification. It's the process of creating seeds by taking a gene, through laboratory means, from one species and implanting it into another species where it would have never naturally occurred. 
At Southern Exposure, we have many concerns about these types of seeds. GM seeds cannot be saved year to year, meaning that gardeners and farmers must rely on the big companies that produce them and have the financial ability to purchase new seeds each year. 
These huge companies produce just a few varieties which are now grown all over the United States. The switch to just these few varieties has significantly decreased seed biodiversity. This loss in biodiversity has negatively impacted our food system and could have unknown ramifications in the future. As we lose biodiversity, we may be losing genetics resistant to certain diseases or that could handle the effects of climate change better. It's also a loss of culture.
"The number one threat to seed biodiversity: corporate takeover of commercial seeds by major chemical/biotechnology companies." – The Center for Food Safety
GM seeds also come with other drawbacks. Many GM varieties are specifically designed to be grown in combination with chemical fertilizers, herbicides, and pesticides. These chemicals negatively impact farmers' health and force them to rely on these companies even more. They also harm water quality, wildlife, and soil health.
Many studies have also shown that these crops are detrimental to our health. The chemical herbicides and pesticides don't just wash off; they make it into consumers' systems. These crops also tend to have lower nutritional values than those open-pollinated varieties grown in gardens and on small farms.
In 2011, Southern Exposure joined nine other members of the Organic Seed Growers and Trade Association and over 80 total plaintiffs in taking a stand for the protection of organic seed. Plaintiffs include agricultural organizations, seed companies and farmers. Read more about this landmark lawsuit here.
So What's an Heirloom?
There's no official definition of an heirloom. Heirlooms are just open-pollinated varieties that have been saved for generations. At Southern Exposure Seed Exchange, we consider those open-pollinated varieties bred before 1940 to be heirlooms. 
We love heirlooms for many reasons. First is their incredible flavor. Farmers and gardeners saved heirlooms year after year primarily because they tasted good. Sure, there were other considerations such as size, storage ability, and earliness, but generally, vegetables that didn't taste great weren't saved.
Many modern varieties and hybrids, on the other hand, also have to meet other standards. They must be uniform, ship, and store well, and be easy to grow. This is a great thing for large growers, but as anyone whose eaten a supermarket tomato will tell you, it's not always great for their flavor.
Heirlooms are also important parts of our culture and heritage, help diversify our diets, can be adapted to our local growing conditions, and much more. Read more about why we love heirlooms here.
What Should You Do?
So, now you understand the importance of open-pollinated and heirloom seeds. You can support and join the movement of growers, foodies, and activists working to protect these varieties.
This year, if you're growing a garden, we encourage you to choose open-pollinated varieties and try saving seed. We created a list of 22 reasons you should save seed in 2022!
Then you can share seed with others. Go to seed swaps or share some of your favorite open-pollinated varieties with neighbors and friends. You could even try to sell some seed and earn a little extra cash from your garden.
Lastly, even if you don't have the space for a large garden, you can support those who do. Visit your local farmers market and ask if anyone has any heirlooms for you to try or encourage your local community garden to grow and save seed from open-pollinated varieties.