Fall planting is upon us! Where we're located in zone 7a and many other areas, August is a great month to plant your fall garden. These are some of our favorite plants for fall. They help keep fresh produce on the table longer into the winter months. 
Lutz Winter Keeper Beets
This beet will get you farther into winter with fresh beets on the table! As the name suggests, Lutz Winter Keeper Beets store very well and are an excellent addition to any fall garden. They're an old heirloom variety that was bred before modern refrigeration. 
Unlike many beets, which become woody, Lutz Winter Keepers stay sweet and tasty even when they grow large. Their leaves make delicious salad greens too!
We've had problems finding good "true" seed for Lutz Green Leaf, but finally, this is the good stuff – thanks to the fine folks at Uprising Seeds for sharing theirs!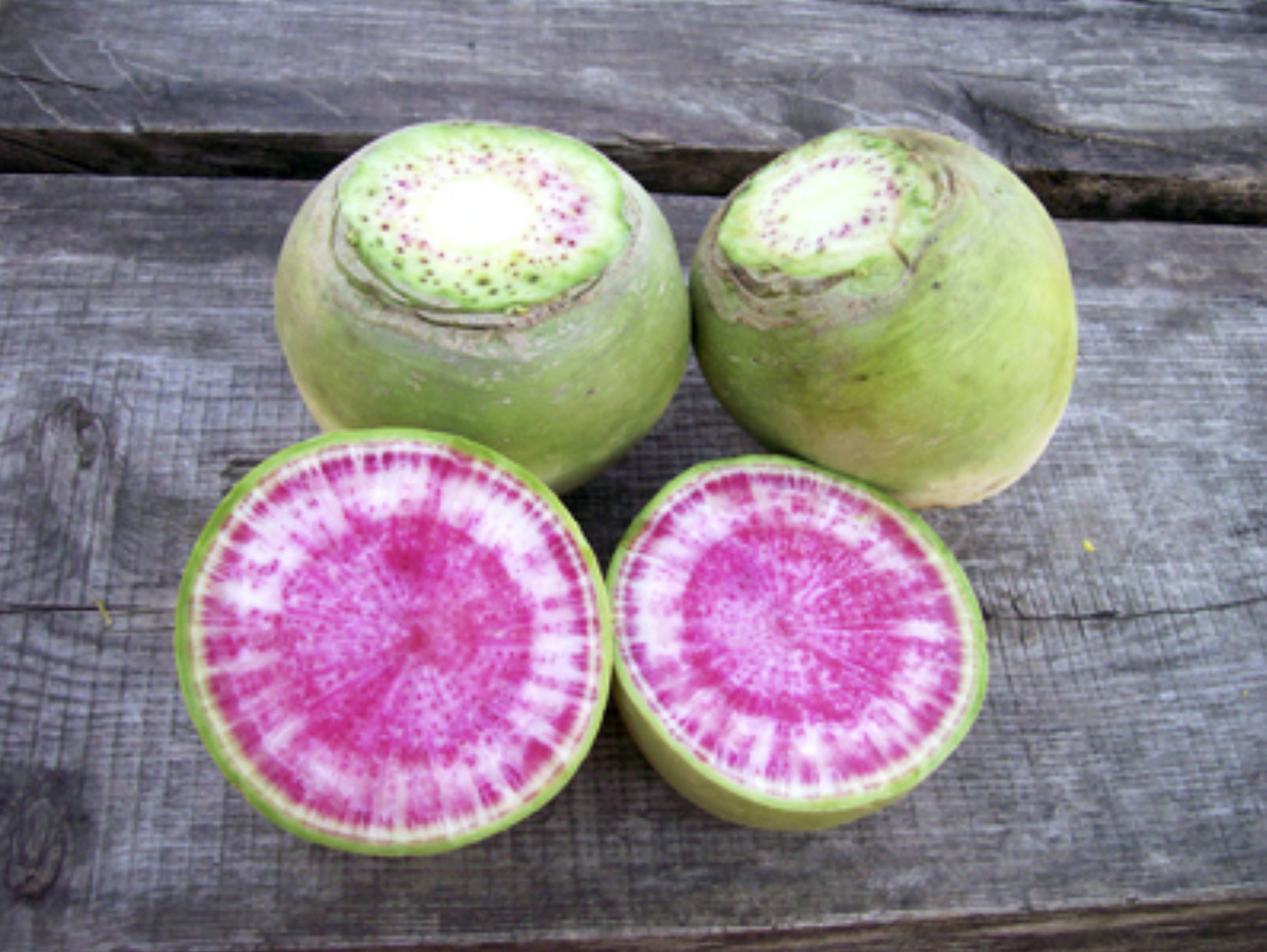 Misato Rose Fall Radish
In case you're unfamiliar, there are two types of radishes. There are spring radishes that are small, quick to mature, and best used fresh. Then there are fall or winter radishes which are slower growing, large, and better for storage. These radishes thrive in autumn's cooler temperatures, making them a great fall garden choice.
Misato Rose is our favorite fall radish! It's beautiful and very forgiving. Unlike many radishes, it will still bulb even if crowded or thinned late. It's a great fall crop for beginner gardeners.
American Purple Top Yellow Rutabaga
Rutabagas are a versatile, easy-to-grow crop for the fall vegetable garden. They're often overlooked in modern gardening and cooking, but rutabagas were once an important staple crop for many families. 
American Purple Top Yellow Rutabagas are the classic rutabaga for home and market gardeners. They're an improved strain of Purple Top Yellow (pre-1850) introduced in 1920. They have mild, yellow, fine-grained flesh.
Oxheart Carrots
These unusual-looking carrots date back to 1884! Like many root crops bred before grocery stores and modern refrigeration, these carrots are an excellent storage variety. In good conditions, they grow 5 to 6 inches long and 3 to 4 inches wide and may weigh up to a pound!
Oxhearts get their name from their thick, blunt, "ox-heart" shape. This short wide shape means they're excellent for areas with shallow, rocky, or heavy clay soils where longer varieties struggle. However, their size means they need plenty of space.
Sandwich Island Mammoth Salsify
Salsify may not be the prettiest vegetable, but it is tasty and easy to grow. The roots have an oyster-like flavor (some say scallop-like or artichoke-like) and are excellent baked, stewed, or cooked in a cream sauce. In the past, it was sometimes called the vegetable oyster.
Salsify is one of those crops that used to be very popular in Europe and North America but faded from widespread use with the advent of modern refrigeration. It's still an excellent fall crop. This variety dates to before 1900 and keeps well in the ground. Harvest roots after they've been through a frost.
The dog days of summer will be gone before we know it. While your kitchen may be packed with produce now, it's time to get your fall crops started if you want to keep fresh produce coming in through the fall and winter. These five heirloom root vegetables are lovely additions to any fall garden.
Bonus Tip
Did you know you can seed flowers in the fall? Several flower varieties can be planted in the fall for extra-early spring blooms. Check out our guide to fall flowers to plant for spring blooms.