When you harvest your winter squash and pumpkins, sometimes the actual size of your harvest can come as a bit of shock. These prolific plants are excellent at hiding even more produce under their large leaves than you thought was possible. Thankfully, if you properly cure them, they'll keep for months. Plus, there are so many fun ways to use them. Here are some of our favorite pumpkin and winter squash recipes perfect for this time of year. 
Dehydrated Pumpkin Pie Leather Roll-Ups
Ever wish you could take pumpkin pie on the go? These Pumpkin Pie Roll-Ups Colleen shared on her blog Grow Forage Cook Ferment are the perfect fall snack. They're sweet even though they're sugar-free. If you've got a dehydrator, give these a try.
Pumpkin Spice Waffles
Who doesn't love a big stack of waffles on a cool, crisp morning? Adding a bit of your pumpkin or winter squash with this Pumpkin Spice Waffle recipe makes them extra special for fall.
Chocolate Hazelnut Pumpkin Pie Truffles
These Chocolate Hazelnut Pumpkin Pie Truffles from Kathie of Homespun Seasonal Living are a great treat, even if you're not an experienced candy maker or baker. These truffles are decadent yet straightforward and perfect for fall get-togethers.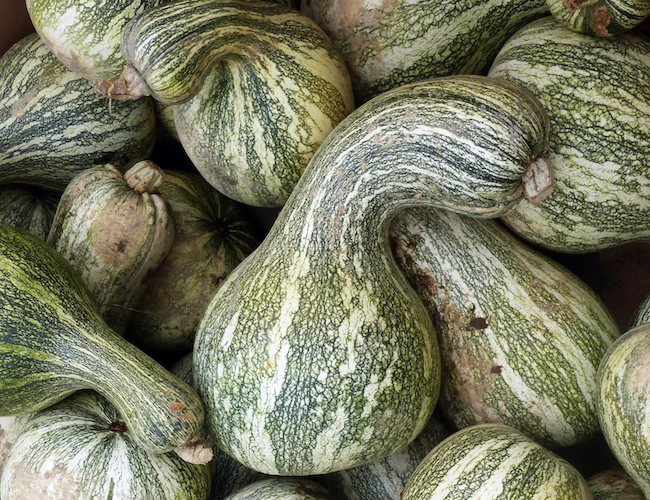 Moroccan Cushaw Salad
Cushaws are popular southern winter squashes that were commonly grown by enslaved people in the late 18th century. One of our favorite culinary historians, Micheal Twitty, shared a great recipe for Moroccan Cushaw Salad on his blog, Afroculinaria. 
Pumpkin Butter
Pumpkin Butter is one of our favorite pumpkin recipes at Southern Exposure, and it's surprisingly simple to make. While some people pressure can pumpkin butter, we use this easy recipe and store it in the refrigerator. 
Pumpkin Soup
Eva Kosmas Flores has tons of pumpkin and winter squash recipes that are as tasty as they are beautiful. If you're looking for something to warm you up on a chilly fall day, we recommend her pumpkin soup recipe that she learned in Germany.
Pumpkin Spice Cinnamon Rolls
These pumpkin spice cinnamon rolls are a delicious treat that pair perfectly with your morning cup of coffee or tea. They also make excellent gifts. 
Pumpkin Peanut Butter Dog Treats
Last but not least, you can't forget your furry friend! This Pumpkin Peanut Butter Dog Treat recipe from Timber Creek Farm is perfect for including your pet in the fall festivities or gifting to a dog-loving friend. 
What's your favorite pumpkin or winter squash recipe? Let us know if we missed any great ones on Facebook.