Starting a garden from scratch isn't always easy especially if you don't have access to a lot of tools. These methods can be done with little or no tools and a perfect for beginner gardeners or experienced gardeners looking to expand their growing area this season.
Lasagna Garden
The lasagna or layer garden method has recently gained popularity and is a fairly easy way to start a brand new garden if you've got easy access to a good amount of organic materials.
To start you'll need to lay down brown cardboard in the shape you want your garden. Don't use shiny cardboard. It doesn't decompose as well and may contain harmful chemicals and/or plastics.
Cover your cardboard shape with a thick layer of hay, straw, and leaves. Some food waste, sawdust, and/or shredded paper can also be incorporated into this layer. Follow this with a layer of compost or manure.
The last layer which you'll be planting into should be soil or well-aged compost. You'll want it to be fairly thick to give your plants a good starting medium while the lower layers begin to break down.
Hugelkultur Mounds
Similar to lasagna gardens, hugelkultur mounds are a no-till option built of layers of organic material. However, hugelkultur mounds typically include much larger material like branches or even logs.
These materials break down more slowly meaning hugelkultur mounds may not be ready to support large, deep-rooted plants during the first couple of years. However, this slow decomposition will provide nutrients and moisture retention for years to come.
To learn more about hugelkultur mounds and how to build them check out our post How to Build a Hugelkultur Garden Bed.
Hand-Tilled Garden Beds
Long before the advent of rototillers or even plows, humans were gardening. Even if all you have is a shovel you can turn over a garden by hand.
Decide where you want your garden bed. Laying it out with stakes and string can be helpful for visualizing your design.
If desired you can solarize your soil at this point. You'll need clear plastic, something to weigh it down, and a few weeks of patience at minimum. Lay the plastic over your plot, pulling it as tightly as possible so it's flat against the soil. You'll need to leave this in place for at least a few weeks depending on your weather, but this will kill grass, weeds, and even pests in the soil.
Otherwise, start turning over the soil one shovelful at a time. You want to get all the grass and roots but don't dig too deep. You don't want soil layers that aren't suitable for growing (subsoil) ending up on top.
If you have one, a garden or broad fork can help you loosen deeper layers of subsoil. Use the fork to lift the soil but not turn it over.
At this point, it's ideal to let your plot sit for a couple of days to kill the grass if you'd didn't choose to solarize your bed.
Next, rake out your soil. Depending upon your soil type you may need to chop it up a bit with your shovel or a hoe before raking it out. Remove any large plant material and add it to your compost. If the area has lots of leaves falling from the surrounding trees,  you can use a leaf blower to efficiently clean the area.  There are recommended cordless leaf blowers for quiet clean ups available in the market that you can check out.
Ideally, you want to add a few inches of compost on top of your soil. You should also add a scoop of compost to each transplant hole.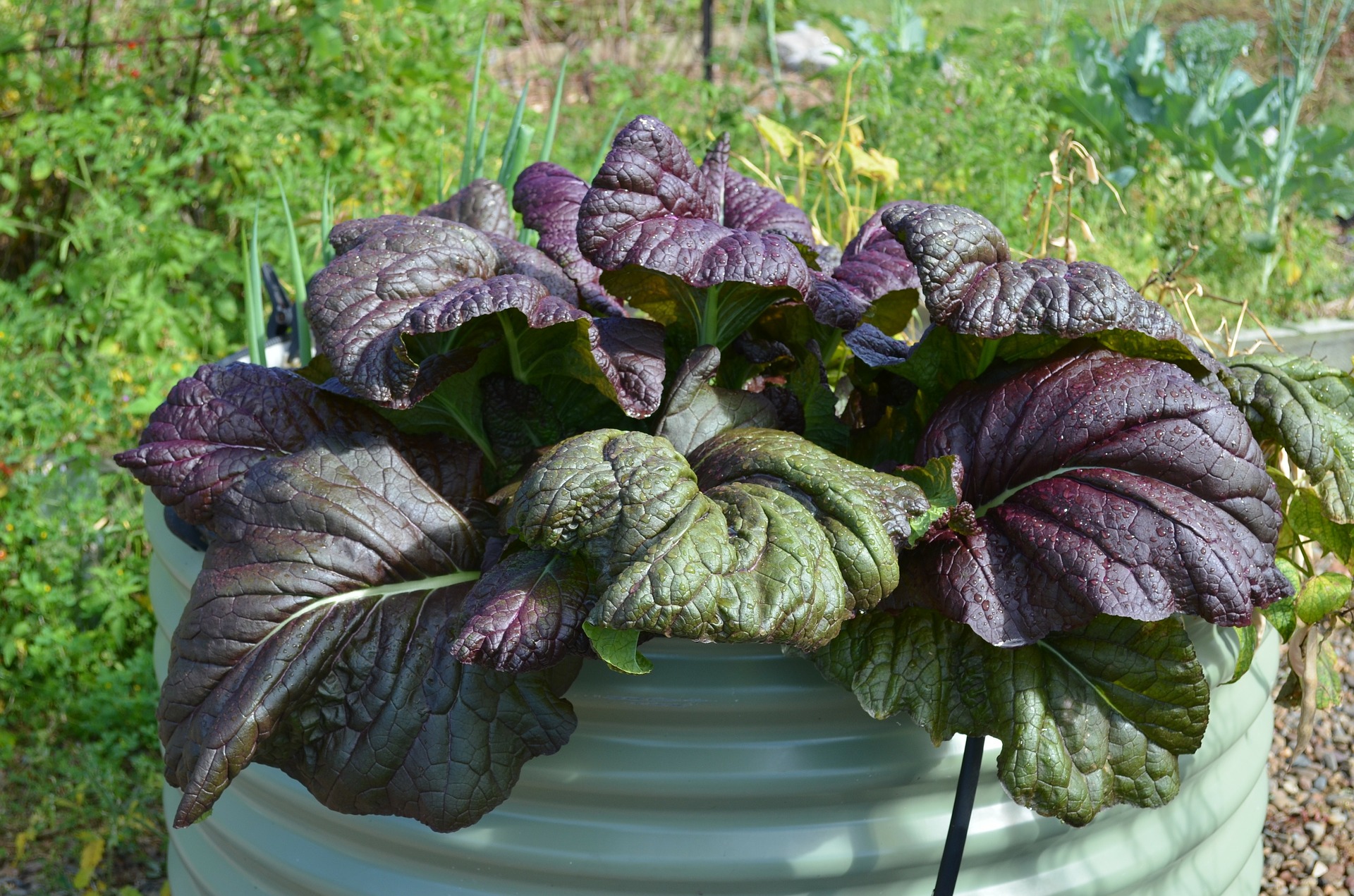 You may be wondering what is the most important tool for gardening? We have come to the conclusion that having a pole pruner will allow you to remove branches from trees that cannot be reached from the ground, you can use it with a blade or saw. Also, it helps you reach fruits from any height you need.
Traditional Raised Beds
Raised beds can help you get started gardening quickly and are perfect for utilizing places that lack quality (or any) soil like rooftops, driveways, or contaminated ground. If you're using them on contaminated ground, be sure to build them with a bottom so roots don't grow into the contaminated soil below.
However, they also come with some downsides like that they can be expensive if you don't live somewhere with ready access to free material like lumber, logs, compost, etc. Before building raised beds, check out our post, The Pros and Cons of Raised Beds.
Thankfully, if you don't care what they look like, there are many materials you can use to create raised beds. Logs, boards, stones, bricks, even woven sticks (like wattle fencing) can be used to create the sides. Just avoid pressure-treated lumber or other treated materials like railroad ties
Fill the inside with good quality compost or garden soil.
Container Gardens
Anyone can start a container garden, even if you only have indoor space! You don't need actual plant pots, you can make a container garden from nearly anything. Plastic totes, five-gallon buckets, even old shoes all work. Some people just cut open bags of soil and plant right into them. Just remember that larger plants typically grow deeper roots and will need larger containers to thrive.
To ensure your garden drains well, you should drill a few holes in the bottom of your planter. If this isn't possible, I like to add some woody material like broken up sticks or a few handfuls of wood chips to the bottom to help absorb excess moisture.
It's best to use potting soil for container gardens because it drains much better than regular garden soil. You can also use a mix of potting soil and compost.
Check out the 12 Varieties Perfect for Container Gardening!
Additional Resources