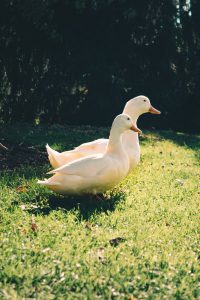 Animals are part of any natural ecosystem. Adding small livestock to your garden can provide a host of benefits. One great option is ducks. However, there are pros and cons to adding ducks to your garden.
Pros
They're great at slug patrol.
Having a couple ducks roam through your garden is one of the easiest ways to deal with your slug problem. They love slugs! They'll happily wander around keeping your plants or mushrooms slug-free. They'll also eat a host of other pests. 
They don't scratch like chickens.
Unlike chickens, ducks don't scratch to forage for food. While chickens are helpful to turn over a plot after or before the growing season they can be destructive to plants in the garden. Their vigorous efforts tear up roots and shorter plants. Ducks on the other hand simply plod flat-footed through the garden. They're generally not destructive. However, they may eat or trample seedlings and some greens. 
They provide fertility.
Ducks obviously produce manure which is an excellent source of fertility for the garden. If they're allowed to roam the garden during the day they'll add fertilizer as they go. Ducks should be kept in a coop at night and you can compost the manure/bedding from their coop.
Concrete, natural stone, and brick pavers are commonly used to create a more beautiful outdoor space. An increasing number of residential and commercial property owners are using pavers to construct driveways and patio spaces that also included ceiling mounted patio heaters  to fully take advantage of the entire space. Read on to learn more about the paver materials and design considerations.
Contact to Pavers Guys of Fort Worth, In case you're thinking about completing a paver installation.
Cons
They need a water source.
Ducks need a water source big enough for them to bath in. It helps keep their feathers in good condition. Muscovy ducks, native to South America, need less water than other breeds but still benefit from being able to bath.

They're noisy.
I've heard some people claim that ducks are a quiet alternative to chickens but in my experience it isn't true. Ducks quacking can rival a rooster's crow. They may not be a great choice if you have close neighbors who wouldn't appreciate barnyard noise.
They need a coop, space, and other care.
Ducks aren't free. You'll need to build or buy a sturdy coop, predator proof coop as well as feed. You'll also need to care for them at least twice a day all year round which can make it tougher to leave for family vacations. The more space you can offer them to roam the happier they'll be/
They can be destructive. 
They'll dabble in wet areas adding to any mud problems you may have. As mentioned above they can also destroy small plants and won't hesitate to sample your lettuce!
If you decide to add ducks to your garden system consider the pros and cons. They can be very helpful and rewarding but they still require money, time, and patience.