Also called coneflower, echinacea is both useful and beautiful. It's a commonly used medicinal herb and great for attracting a variety of butterflies. It's also native to North America, perennial in zones 3-9, and drought-resistant, perfect for a low maintenance flowerbed.
Growing Tips
Echinacea is a little trickier to grow from seed than many common vegetable plants. Most echinacea species require cold stratification and germination is typically only about 50%. Seeds can be stratified by sowing them in flats or pots in a cold frame over winter or a refrigerator. You can also direct seed them in the fall. When planting cover seeds with about 1/4 inch of soil.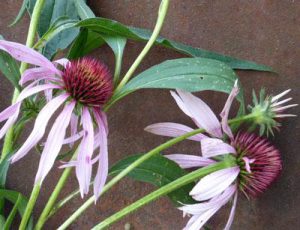 This variety is native to the dry prairies of the central U.S. They are the smallest of the echinaceas and require stratification for 90-120 days. 
Native to open woods and rocky prairies from NE Texas to central Illinois. This variety requires 60 days of stratification.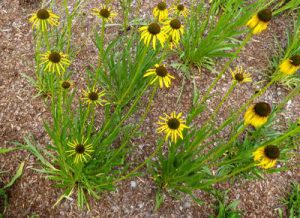 This lovely yellow variety is native to the open woods, balds, and the rocky prairies; especially common to Arkansas Ozarks and Missouri. It requires 60 days of stratification.
Unlike other species, Echinacea purpurea seeds don't require cold treatment. However, to increase germination stratify them at around 40°F for 7 days. 
In order for echinacea to thrive it's important to keep young plants well weeded. Plants perform best in full sun to partial sun with at least 4 hours per day. They thrive in well-drained soil and will tolerate poor, rocky soil. They don't do well in heavy, wet soils.
Medicinal Properties
All species of echinacea have medinincal properties. It has a long history of use in herbal remedies, Echinacea angustifolia in particular was used by the Native American tribes of the Great Plains.  
Several pharmacological studies have demonstrated immunostimulant, bacteriostatic, and anti-viral activity. It may be used as an anti-microbial anywhere in the body. It activates macrophages, increases white blood cell levels, and inhibits microbial hyaluronidase (an enzyme that causes host cells to break down.) Echinacea is often used as a short term immune stimulant (2 weeks maximum), but it is contraindicated in autoimmune system disorders and progressive diseases.
Another cool thing about echinacea is that much of the plant can be used. You can harvest the flowers, leaves, and roots for your herbal creations. 
Tea
Herbal tea is one of the easiest ways to reap the benefits of echinacea. Chop or slice your echinacea roots, leaves, and flowers into small pieces. Use echinacea fresh from the garden or dehydrate some for later use. To dehydrate, lay on a dehydrator rack in a single layer and dry on a low setting (about 130°F) until the material is completely dry and brittle. Store in airtight containers for up to a year.
Echinacea can also be mixed with other herbs to create customized tea blends. Anise Hyssop with its sweet licorice flavor and minty horehound are great to add for coughs, lavender and lemon balm for their calming qualities, or mint to soothe an upset stomach. 
Tincture
If you don't love the taste of echinacea in tea, making a tincture may be the right choice for you. A tincture begins the same way as tea. Chop up your echinacea roots, leaves, and flowers and place them in a glass jar. Cover the echinacea with high proof alcohol like vodka (about 1 part echinacea to 2 parts alcohol). Close with an airtight lid. Store your tincture somewhere dark like inside a cupboard and shake it every few days for 2-3 months. 
After a couple months, you can begin using it for its wonderful immune boosting properties. Take about 1-2 teaspoons per day as needed for up to two weeks.