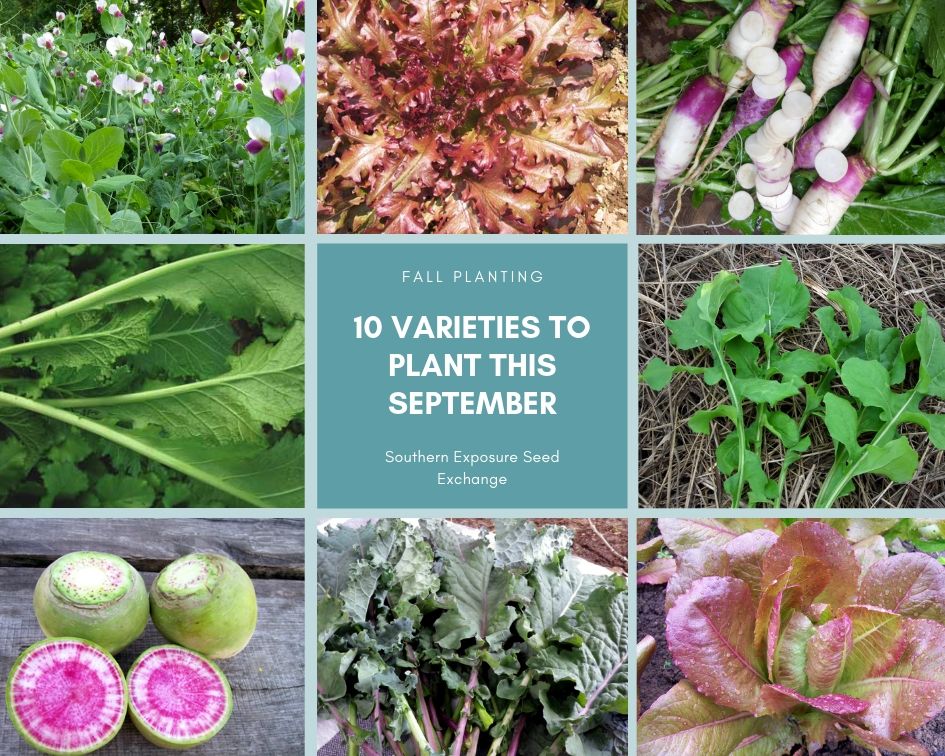 Cool crisp September mornings are a pleasant time to spend in the garden. While fall brings cooler temperatures and dwindling sunlight it can still be a productive time in the vegetable patch. Here are a few plants you can sow this September and a few of our favorite fall varieties. In Virginia we're sowing:
Mustards

Kale

Arugula

Lettuce

Endive

Radishes

Spinach

Turnips

Austrian Peas

Winter Wheat
Always keep in mind that exact planting dates will vary with your location. For those farther south, you'll still be planting less cold-hardy crops while those in the far north should be preparing to plant garlic and perennial onions. September is also a good time to think about season extension.
This variety from Even' Star Farm offers superb cold tolerance and is hardy down to 6°F. It also has excellent flavor and can be eaten raw or cooked. Though not quite as cold tolerant, Red Giant Mustard can also be used for fall planting and adds a nice pop of color.
This variety offers the delicious flavor of Lacinato kale and gorgeous colors. Created by crossing classic Lacinato with Redbor hybrid kale; this kale is extra-cold-hardy! The 2014 seed crop went through a -6°F freeze and seed was saved from the plants that survived. This OSSI variety was bred by Frank Morton of Wild Garden Seed.
Another Even' Star Farm variety, this arugula is cold-hardy down to 6°F. It can be grown in open fields or hoop houses and does well with little watering and poor soil fertility. 
A great fall variety with gorgeous color. Salad Bowl is also a good choice for a green fall lettuce.
Rouge d'Hiver (Red Winter) Romaine Lettuce
Here in Virginia, we've had good luck overwintering this variety under row cover. It's a tasty French heirloom that dates back to 1840. Rouge d'Hiver forms semi-open romaine heads.
Beautiful and forgiving, this radish deserves a place in your fall garden. Perfect for adding color to autumn salads this radish will bulb properly even when crowded or thinned late.
Adapted for fall planting and overwintering, these slow-bolting plants are resistant to blue mold, blight, and mosaic. They have dark green, well-savoyed leaves.
These long white, purple-topped turnips are widely grown in Portugal as a dual-purpose crop. They're excellent for fall planting and can be used as fodder as well as great eating for the winter table.
Hardy to 0°F, Austrian Winter Peas make an excellent edible cover crop. They fix nitrogen in the soil and the tendrils or growing tips can be snipped off for use in salads!
Bred in the Southeast, this new variety produces excellent grain for baking or can be used as a cover crop. It provides high yields and has very good wheat rust resistance.
This September, try a couple of SESE fall favorites in your vegetable patch. It's also an excellent time to plant cover crops which can help improve your soil's health. This time of year can also be used to add perennials to your landscape.