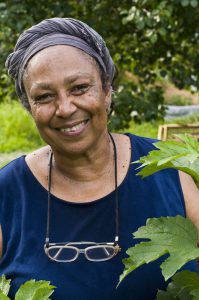 Alexandria, VA (March 19, 2019). Ira Wallace, co-owner of Southern Exposure Seed Exchange (SESE), has been named the 2019 recipient of the American Horticultural Society's (AHS) Paul Ecke Jr. Commercial Award, which is awarded to an individual or company whose commitment to the highest standards of excellence in the field of commercial horticulture contributes to the betterment of gardening practices everywhere 
The award is one of the Great American Gardeners Awards that the AHS presents annually to individuals, organizations, and businesses that represent the best in American gardening. Each of the recipients has contributed significantly to fields such as scientific research, garden communication, landscape design, youth gardening, and conservation.
A passionate proponent of heirloom and open pollinated seeds, Wallace cooperatively manages SESE with other members of the Acorn Community Farm in Mineral, Virginia. She has been instrumental in growing SESE into a successful supplier of more than 700 varieties of seeds that are carefully selected for superior flavor and performance in the Southeast and Mid-Atlantic. 
With SESE as a successful model, Wallace advocates for democratizing the seed supply and providing broader access to healthy, flavorful food. She cofounded the annual Heritage Harvest Festival in 2007 at Thomas Jefferson's Monticello estate, which exposes thousands of visitors to heirloom plants and promotes their preservation. She also works on a global scale through partnerships with Seed Programs International, providing seeds and education to impoverished farmers abroad. She is the author of The Timber Press Guide to Vegetable Gardening in the Southeast (2013), and a board member of the Organic Seed Alliance. 
On Friday, June 21, 2019, the AHS will honor Wallace and the other award recipients during the Great American Gardeners Awards Ceremony and Banquet, held at the Society's River Farm headquarters in Alexandria, Virginia. For full descriptions of each award and brief biographies of this year's recipients, please visit our 2019 Award Winners.
About the American Horticultural Society
The American Horticultural Society, founded in 1922, is an educational, nonprofit, 501(c)(3) organization that recognizes and promotes excellence in American horticulture. One of the oldest and most prestigious gardening organizations, AHS is dedicated to making America a nation of gardeners, a land of gardens. Its mission is to open the eyes of all Americans to the vital connection between people and plants, to inspire all Americans to become responsible caretakers of the Earth, to celebrate America's diversity through the art and science of horticulture, and to lead this effort by sharing the Society's unique national resources with all Americans.
*The above is a copy of the AHS press release.