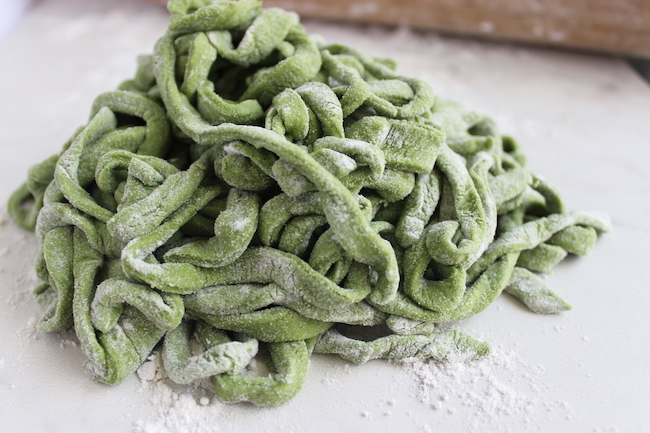 One of the best parts of springtime is the abundance of fresh greens that start flooding in from the garden. The lettuces in their wide array of colors, the spicier arugula and milder spinach, and the wild greens like nettles, dandelion, creasy greens, all making a local diet suddenly more appealing than it had been a month ago.
It's easy to eat tons of salads this time of year but I also try to mix things up. One of my favorite spring dishes is spinach pasta. I cannot get over how easy it is to make gorgeous green noodles. This recipe can be also used with other greens if you've got an abundance of something else. I've had success using nettles in the past.
Here's what you'll need:
1 1/4 cup of all purpose flour
1/2 cup cooked spinach
1 tbs olive or vegetable oil
3/8 cup water
spices to taste (ex. fresh garlic or basil)
The first thing you'll want to do is prepare your spinach. It's best to give it a light steam or blanching then measure your half cup. You don't want to cram your measuring cup full, squishing all the spinach but do pat it down lightly to ensure you get a good bit of spinach. 
Next place your spinach, oil, and water in a blender and blend until smooth. While it's blending place 1 cup of all purpose flour in a mixing bowl. 
Stir the spinach mixture into the flour until it's well combined and forms a ball. If it's too dry you can add a bit more water and if it's too wet add additional flour. Then knead it on a lightly floured surface. It should be a ball of dough that's tacky but not sticky.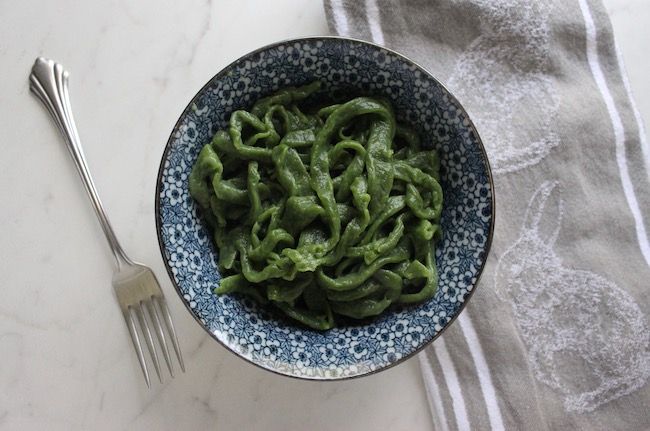 Then using a rolling pin, roll out the dough about and 1/8 – 1/4 inch thick before slicing it into noodles. Alternatively you can use a pasta crank. 
To cook bring a pot of water to a boil and add your pasta. Once the pot returns to a boil cook your pasta for 2-5 minutes to taste. 
Making your own gorgeous green pasta is a great way to make use of the spring abundance. It's also a great way to show off your gardening and cooking skills if you're having company over.
Pin it for later.